Angel's Blush
February 6, 2015
by Jennifer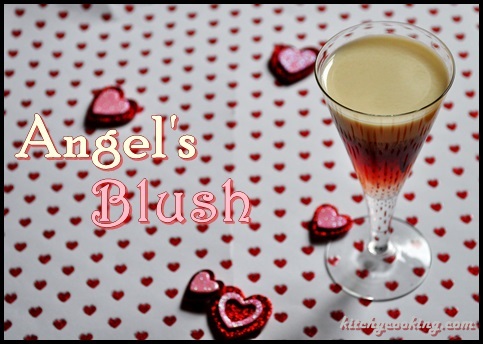 Valentine's Day is a week from Saturday. So the next two Fridays will be devoted to those classic Angel cocktails. A few years ago I made an Angel's Kiss, but there are five other Angels that are just as tasty and perfect for the holiday all about love.
Why are they perfect? Because they use bright red liqueur and thick heavy cream. They're sweet and yummy and a few even allude to sex before your first sip. But since they're heavy (the cream) and sweet (the Maraschino), these cocktails are strictly for after dinner. They're so sweet in fact, they could be dessert all by themselves. But since Valentine's Day is also all about chocolate, any of these Angels will pair quite nicely with a dark chocolate dessert.
Listed by Charles H. Baker in his 1939 cocktail book as the reason behind many a proposal in their hey day, these Angels are hard to find today. But trust me they are well worth a sip. There are plenty of men out there though who believe heavy cream (whipped or straight from the jug) doesn't belong in a cocktail. On the other hand, plenty of women like the creamy libations. So, since this holiday really is all about what the girl wants, trust me when I tell you, you want this Angel (or any of it's sisters) on your Valentine's menu.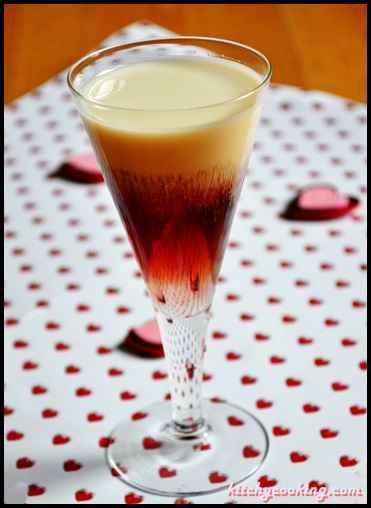 Angel's Blush
Ingredients:
1/2 ounce Maraschino
1/2 ounce Crème Yvette
1/2 ounce Benedictine
1/2 ounce heavy cream
Directions:
Pour the Maraschino in an aperitif glass.
Add the Crème Yvette by pouring it slowly over a bar spoon so you'll get a nice layered effect. Repeat the same process with the Benedictine and heavy cream. Serve.