Citrus-Marinated Pork Chops
February 4, 2015
by Jennifer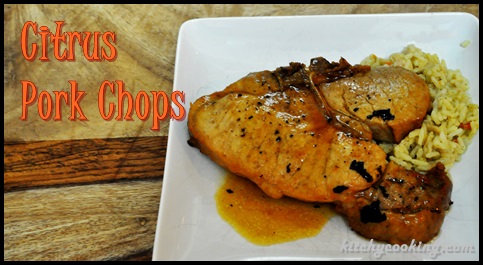 I first discovered the farmer's market in high school when my mom and I would go to the one located near the Civic Center in Marin County. We'd go on Sundays starting in the spring because that's when our favorite fruits, the stone fruits, came into season.  I continued the tradition through college and even into my post college years. But like my mother, I only went during the spring and summer because that's when the best fruit was available. I'd occasionally go in the fall and winter but that was usually only when a holiday was coming up and there was a special vegetable I needed.
Shortly after I became a mom I started going to the farmers market more and more until I was making a trip at least once a week year round. See, I thought the good fruit was only available in the spring and summer. But once I started going year round, I discovered that spring wasn't the only season for fruit. There was a ton of delicious fruit available in the dead of winter too. What fruit you ask? Why all those delicious citrus fruits.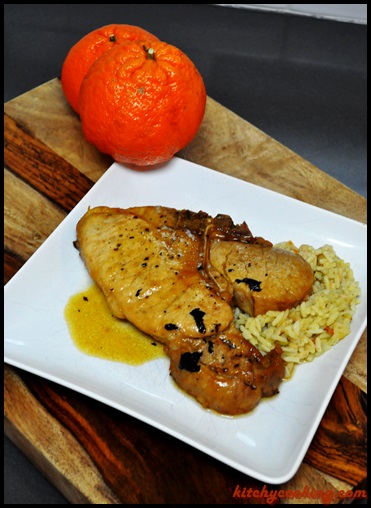 Starting in late December and early January is when all those wonderful Meyer Lemons, Blood Oranges and Tangerines become readily available. The winter is when you can start squeezing fresh orange juice, stick tangerines in the kids lunches and make wonderful, bright sauces and marinades. So, when I found a recipe in Food & Wine Magazine for citrus-marinated pork chops, I knew now was the time to make it. The fact that I had just received a bunch of Shasta Gold Tangerines from Melissa's Produce made the decision even easier.
While the recipe calls for mostly orange juice, it also calls for lime and lemon juices, so of course I used the limes and Meyer lemons I'd just bought at the farmer's market. All that citrus juice brought those tender chops to a whole new level of yumminess. But the best news of all is that these chops don't need to marinate all day. They only need to marinate for 20 minutes. That plus another 10 minutes of actual cooking time, makes this an automatic go-to meal any night of the week.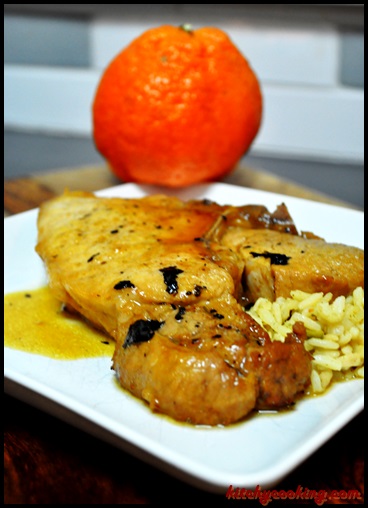 Citrus-Marinated Pork Chops
Ingredients:
3 Shasta Gold Tangerines
1 teaspoon lemon zest
1/4 cup Meyer lemon juice
1 teaspoon lime zest
1/4 cup lime juice
1/4 cup honey
2 garlic cloves, minced
1 small red onion, sliced
4 bone-in pork chops
2 tablespoons olive oil
4 tablespoons butter
Directions:
Juice the tangerines. Mix the tangerine juice with the zest, lemon and lime juices, honey, garlic and onion in a medium bowl. Add the pork chops and let stand at room temperature for about 20 minutes.
Remove the chops from the marinade. Strain and reserve the marinade for later.
Heat the oil in a large skillet over medium heat. Season the chops with salt and pepper, place in the skillet and cook over medium-high heat until golden, about 5 minutes, flipping once. Transfer the chops to a plate.
Melt the butter in the same skillet. Add the chops along with the strained marinade and cook over medium heat, flipping to baste, until the chops are cooked through, about 6 minutes. Transfer the chops to plates and spoon the sauce over them. Serve with rice or your favorite vegetable.