Monkey Gland
March 27, 2015
by Jennifer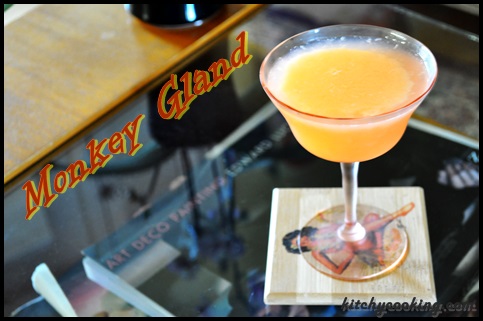 Don't worry, I haven't suddenly gone modern with my cocktails. I take my classics very seriously. As you know, I refuse to post a cocktail that was created after 1960. (Okay, I know I did the Godfather, but that was just one drink out of several dozen.) So, you must believe me when I tell you that discovering this drink was from Prohibition sent shock waves through my soul.
I know it sounds like some modern tropical drink you'd expect to find on an island out in the South Pacific, but this cocktail is made with some of the best of the originals when it comes to alcohol. There isn't one single ounce of banana flavored liqueur or even a hint of chocolate for that matter. It's just plain old gin, grenadine, orange juice and absinthe.
How did a cocktail without a hint of banana get a name with monkey in it? I'll tell you. Turns out a surgeon by the name of Serge Voronoff was experimenting with ways to help men get their groove back. One thing he discovered that may (or may not) have worked was to implant monkey glands in their scrotum. This procedure supposedly helped many a man, including W.B. Yeats, "rise" to the occasion throughout the 20's and 30's. It became such a popular procedure in fact, that Harry MacElhone of Harry's New York Bar in Paris, decided to create a cocktail commemorating the procedure. Of course back then there were no banana liqueurs. The closest thing was probably absinthe with its licorice flavor. And since Harry was in Paris, where absinthe was among the more popular alcohols, why not mix it into a drink dedicated to the monkey?
Although there's no proof that drinking the Monkey Gland will help men in the bedroom the way today's little blue pill might, tossing back one or two will definitely lower their inhibitions enough to at least get them through the door.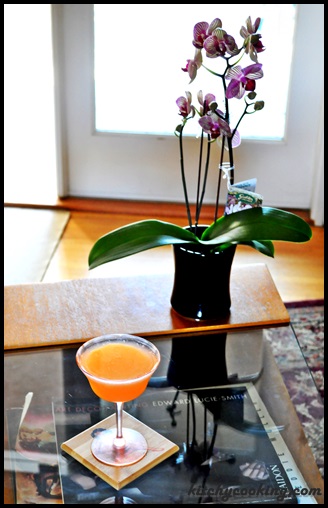 Monkey Gland
Ingredients:
2 ounces gin
1 ounce orange juice
1/2 teaspoon absinthe
1/2 teaspoon grenadine
Directions:
Pour all the ingredients into a cocktail shaker. Add ice and shake vigorously for at least a minute. Strain into a cocktail glass and serve.