Spiced Lamb Kabobs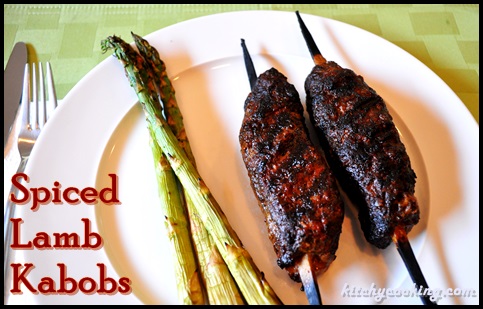 I know the standard choice for Easter is usually a leg of lamb or ham but I thought I'd spice things up this year (no pun intended) and give you some kabobs.
I know kabobs aren't as formal as a nice leg of lamb or spiral-cut ham, but they're a great choice if you're having a large party. The best thing about these kabobs is you don't need a fork or knife to eat them. Those skewers make them a great pick-up food, and if you buy three or four pounds of ground lamb, you can make a lot of them.
Because of the ground lamb, these kabobs are almost like big meatballs, which means the kids will gobble them up. But it's not just their meatball-like qualities that will make them a big hit. It's because of all the yummy spices mixed in. The paprika, cumin, oregano and mint give these kabobs a nice Middle Eastern flair, turning your Easter dinner into something truly unexpected.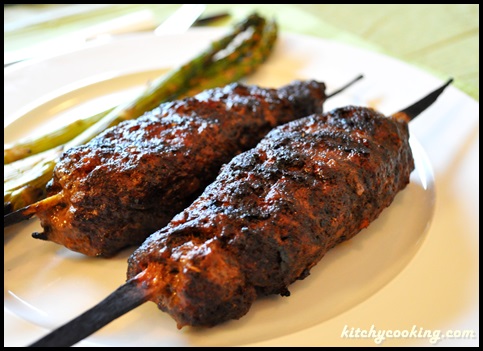 Spiced Lamb Kabobs (adapted from Saveur Magazine)
Ingredients:
1-1/2 pounds ground lamb
1/2 an onion, grated
2 tablespoons olive oil
4 tablespoons paprika
1 tablespoon smoked applewood sea salt
2 teaspoons cumin
2 teaspoons dried oregano
2 teaspoons dried mint
1 teaspoon ground pepper
1/2 cup plain yogurt
1 tablespoon lemon juice
3 garlic cloves, minced
Directions:
Combine the lamb and onion in a medium bowl and set aside.
Heat the oil in a medium skillet over medium-high heat. Add the paprika, salt, cumin, oregano, mint and pepper and cook until fragrant, about 1 minute. Pour the spice mixture over the lamb. Using your hands, mix everything together until well combined.
Divide the lamb mixture into 4 portions. Roll into cylinders and slide the skewers into the center of each. Press the meat around the skewer to make sure it holds. Place on a plate and refrigerate for at least 30 minutes.
While the lamb chills, whisk together the yogurt, lemon juice and garlic in a bowl until well combined and set aside.
Heat a grill to about 350 degrees F. Grill the kabobs until nicely browned on the outside and medium on the inside, 6 – 8 minutes. Serve immediately with the yogurt sauce.