A Visit to Kentucky – Restaurants
April 15, 2015
by Jennifer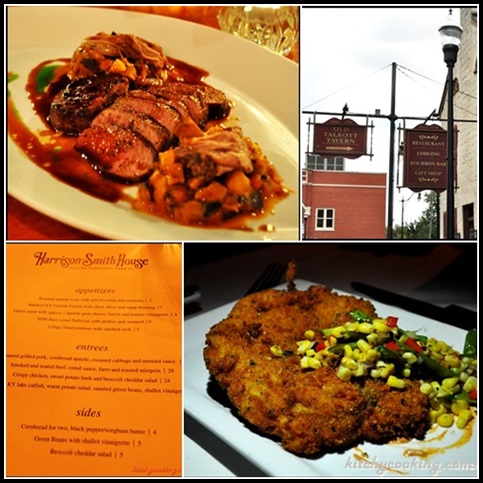 Since I gave you a tour of the distilleries last week, today I'm going to continue with some of the best restaurants around the state.
The first is actually in Louisville, and it's one of the best meals I've ever had. Where is this amazing place? It's 610 Magnolia, named after its address in the heart of Old Louisville. The restaurant comes from Edward Lee, a favorite on Top Chef: Texas. Since I'm a huge fan of Top Chef, I was adamant that Hubs and I go. We weren't disappointed.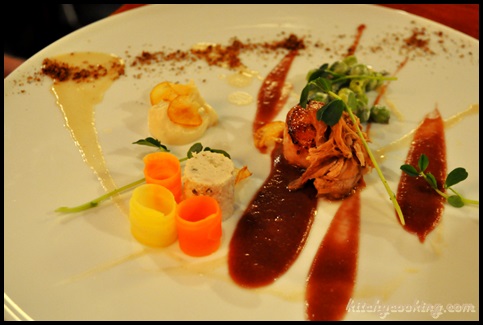 As a guest, you can choose either a 4 course prix-fixe or a 6 course prix-fixe menu. Hubs and I chose the 4 course. The menu changes weekly depending on what's in season and available at the surrounding farms. But if our meal is any indication, it won't matter whether you're having fish, beef or pasta, it's all going to be outstanding.
We each started with the 610 BLT which is a bite-sized version of the very popular sandwich, and just enough to whet our appetite. (Not that our appetite needed much whetting, we started drooling as soon as we looked at the menu.) Then I got the Beef Cheek Tagliatella with a poached Quail Egg on top while Hubs enjoyed the Rivercrest Farm Rabbit with Peas and Carrots. The beef was nice and tender and the tagliatella was perfectly aldente. The Crudo of Summer Flounder with watermelon was a wonderful, light surprise, especially since I'm not really a flounder fan and Hubs' Pho Broth with Grilled Florida Prawns and PEI Mussels was a little spicy for my taste, but had some great flavor. The main courses of lamb and duck were equally well received and almost filled us up. But of course we had just enough room for the chocolate mousse and salted caramel corn cake desserts.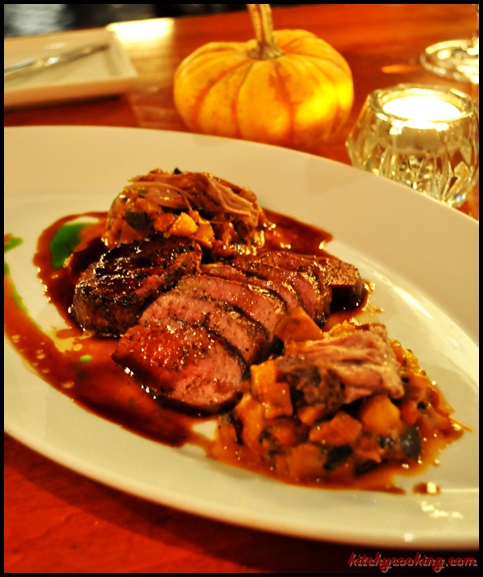 I know four courses (really five if you count the bite-sized BLT) sounds like a lot. But the first two were really only a couple bites leaving ample room for the main courses of lamb and duck. Finishing off the meal with a few bites of sweetness, was the perfect way to top us off. If you're staying in or nearby Lousiville for the Derby, 610 is an absolute must! But make your reservations now. It's a small restaurant with quite the romantic atmosphere so the place fills up quickly.
If you're looking for something a little more hip, there's Proof on Main. Since Hubs and I had spent the afternoon enjoying bourbon-based nibbles at Maker's Mark, we decided to just pop in have dessert. We picked Proof because a good friend recommended the restaurant. Brightly lit and full of modern art, Proof is as much about the food as it is about the atmosphere. From all the oohs and aahhs surrounding our table, we knew the food was going to be good. The desserts were awesome. Hubs had the Apple Dumplings and I had the Chocolate Goo Cake. Unlike your standard Chocolate Molten Cake, this one was served with Salted Caramel gelato and was the perfect finish to a bowl full of hot chocolate decadence. Hubs' dumplings were served with homemade vanilla ice cream and were also amazing.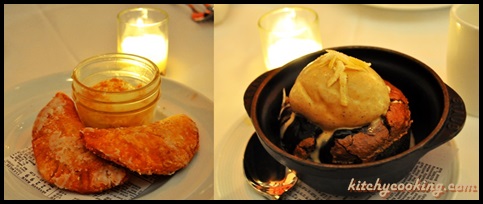 But what was most interesting about the locale was the fact that the restaurant is part of a modern art gallery. A gallery that you actually have to walk through to get to the restroom. And while this may be a little TMI, the bathrooms are absolutely not to be missed, especially the men's room. No, I didn't sneak in there, but I heard from Hubs it was one of the most bizarre experiences he's ever been through. I can't describe it, but according to him it puts a new spin on spying. So yes, the men's room is definitely worth a visit, even if it's just to wash your hands.
If you're lucky enough to stay an extra day or two and want to venture outside of Louisville, Bardstown is an excellent town to visit. Not only is it the bourbon capital of the world, the quaint little town is filled with antique stores and a couple wonderful restaurants. One is an historical landmark and the other isn't even a year old, but both are worth a taste.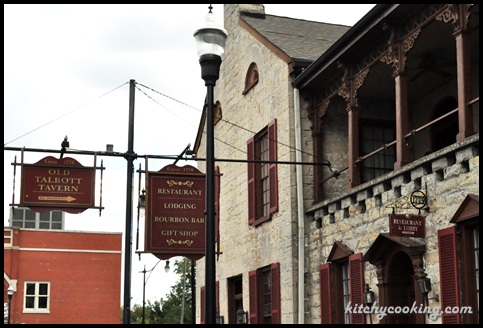 The Old Talbot Tavern is wonderful for a quick snack or a nip of bourbon. Hubs and I already had dinner plans, but stopped in for an afternoon snack. Since we were living it up Southern style we knew we had to try the Southern Fried Sampler. It's just what you think it is: a plate full of fried green tomatoes, fried pickles and fried banana peppers. Each and every batter-dipped fruit, was better than the last. And the ranch dipping sauce gave it just the right amount of kick needed.
While Talbot has the history and hauntings to give the tavern its fame, there's another, much younger restaurant that is sure to be as popular and famous if the food we had is any indication. That restaurant is the Harrison-Smith House. Started by Justin Hughes, Chef Josh Smouse and Rachel and Newman Miller, the team strive to bring all the local meats, fruits and vegetables of Kentucky to each and every one of their dishes and cocktails. Hubs and I weren't disappointed.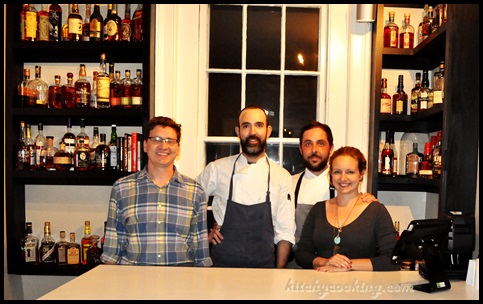 We started with the HSH Ham Salad Flatbread with pickles and mustard. This was like nothing I'd ever had before. It's just like tuna salad except made with ham. Served on toasted flatbread, this appetizer was a meal unto itself and well worth a taste. As a matter of fact, according to Hughes, this is a classic southern delicacy and if it's on the menu, it's not to be missed. For dinner Hubs had the Marinated Grilled Pork and I had the Crispy Chicken with Sweet Potato Hash. Oh My God, yummy! The pork was fork tender and that cornbread spatzel… I could eat it all day long. The chicken was delicious but the star was definitely the Sweet Potato Hash. I know it's a side, but I love sweet potatoes and this was the best I'd ever had. Not only was the food out of this world delicious, Hughes and Miller were attentive, courteous and kind. If you only have 1 night in Bardstown, make sure dinner is at Harrison-Smith House.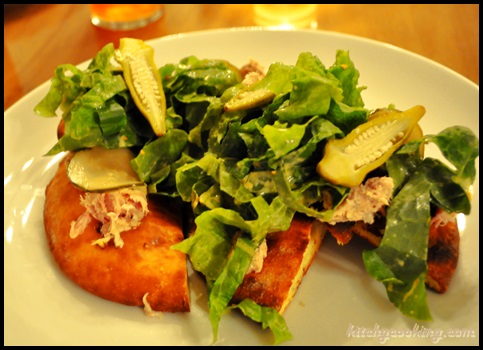 While I'm sure there are plenty of other restaurants in Kentucky, these are just the few that I was able to sample during our visit. All were wonderful and definitely worth a stop in.