A Visit to Kentucky – the Distilleries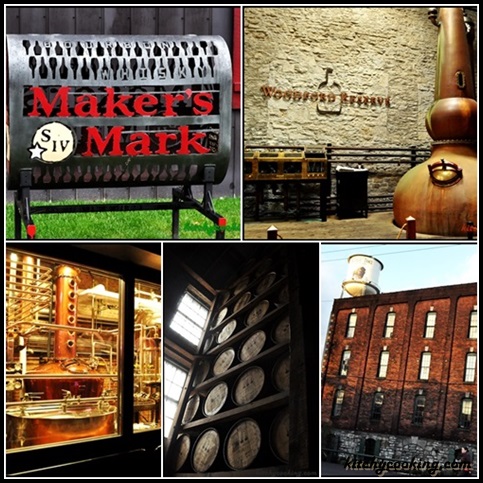 A few months ago Hubs and I took a nice trip to Kentucky for our anniversary. As you all know we're big bourbon fans and we wanted to do the Bourbon Trail, so off we went. Since the Kentucky Derby is only a few weeks away, I thought I'd share the best places to go if you plan on attending the "fastest 2 minutes in sports".
While Kentucky is known for one of the most famous horse races in history, it's also known for it's bourbon. There may be several distilleries in Kentucky, but there's only one Bourbon Trail. The trail makes it easy to go from one major distillery to the other. There are 10 on the Trail but another 9 Craft distilleries, not to mention the several distilleries that aren't even on the trail. Anyway, if you're making a visit to the bourbon capital of the world, you should absolutely make a point of visiting at least one or two of the distilleries. Since the Derby takes place in Louisville, let's start there.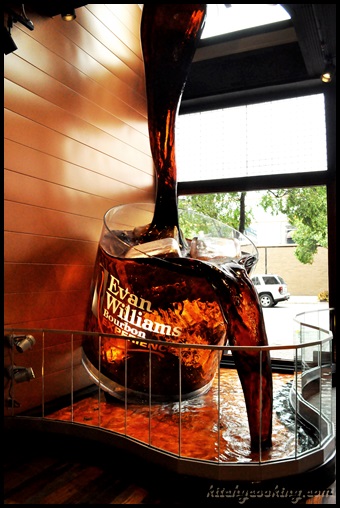 In Louisville you'll find both the Bulleit and Evan Williams distilleries. Bulleit wasn't open to the public when Hubs and I went, so I can't tell you what that tour is like. But we did visit the Evan Williams Bourbon Experience and I can tell you we had a blast. Unlike the other distilleries around the state, the Evan Williams experience is kind of like an amusement park. They've got a movie re-enactment that tells each visitor about Evan Williams and how he got his start in bourbon. Then at the end of the tour, you get to taste Evan Williams. It's great and a lot of fun. But it wasn't the best distillery on the tour.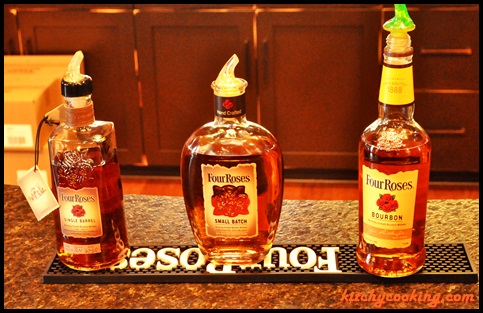 For that you have to travel a little further south. I'm not usually a Four Roses fan, but after their History of Bourbon Tour, that all changed. It wasn't like all the other tours we'd been on where we learned how bourbon was made and where it came from. This tour was all about the history of Four Roses and how it got started. We never even set foot outside the giftshop. Instead we were led to the bar, where we got to taste everything. And I do mean everything. We started with the Yellow, which is ideal for mixing drinks. Then we segued to their small batch and finished with their Single Barrel. Or at least we thought we'd finished. After we'd tasted all three bourbons, they asked which our favorite was. When we picked the single barrel, the host pulled out three more bottles. All single barrel. Each one better than the last.
If you want to head even further south, Maker's Mark is worth a look. Besides being a beautiful location (even in the rain), the tour I chose was special. Yes, I paid a little extra for it, but it was definitely worth it. Hubs and I did the Maker's Mark After Dark tour. We got the tour after hours, which meant we were in the distillery after all the other tourists had gone. In the Sour Mash room we actually got to sip the White Dog – the colorless unaged distillate, just as it comes from the still and before it goes into the barrel for aging.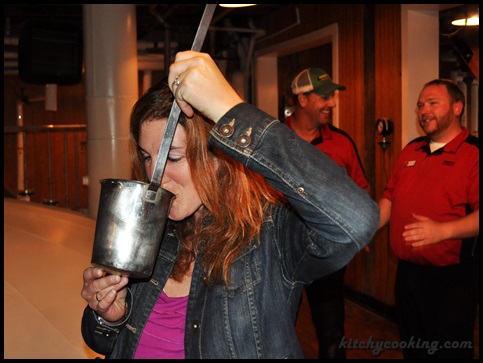 Then once the tour was over but before we made our way to the gift shop, we got to sample a bunch of bourbon-based appetizers made specifically for our troupe. But the icing on the cake was dipping our own Maker's bottles in the famous red wax. Did you know that each and every bottle of Maker's is and dipped? It was awesome to watch and just a ton of fun in general.
Since I'm such a huge fan of Woodford Reserve we just had to make a stop at their distillery. Located in Versailles, in the heart of horse country, Woodford is absolutely gorgeous. Seated along a river, the rickhouses date all the way back to the 1800's. I actually saw a doe nibbling at the grass as we drove in. The whole scene was something out of a Norman Rockwell painting. But what made this tour really special, was something no other distillery did. When you get to the tasting at the end of the tour, they don't simply have you taste their bourbon. They have you do something called the triple taste.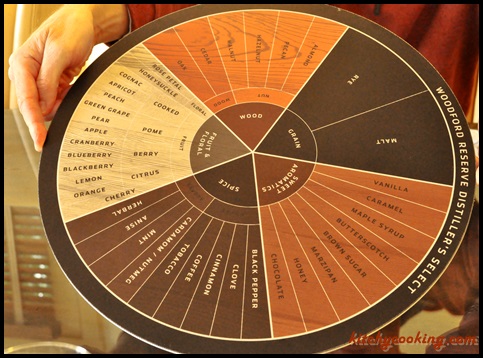 As it was explained, the point of the triple taste is so that you really get to sample the bourbon the way it was meant to be tasted. See most people when they taste, they can't handle the strong burn that comes with it which is why a lot of people who aren't bourbon drinkers stay away from the brown colored liquid. But if you get past that first burn and go for a second sip, you'll really start to taste the flavors that come from the years the liquor aged in the barrel. Woodford actually has a flavor wheel to tell you what some of the different flavors are. That final sip is to discover the phenomenal finish that comes from both Woodford's original bourbon and their Double Oaked. If you like new and unexpected bourbons, Hubs and I were treated to a special taste of Woodford's Master's Collection. This is their "what if" bourbon; ie: "what if we were to take our famous bourbon and then age it again but in pinot noir barrels from Sonoma". Sound amazing? It probably is. They released this specific Master's in November. It's a limited release, so once they're gone, they're gone. But don't worry, Woodford will release another Master's Collection this year and I personally can't wait to see what it is.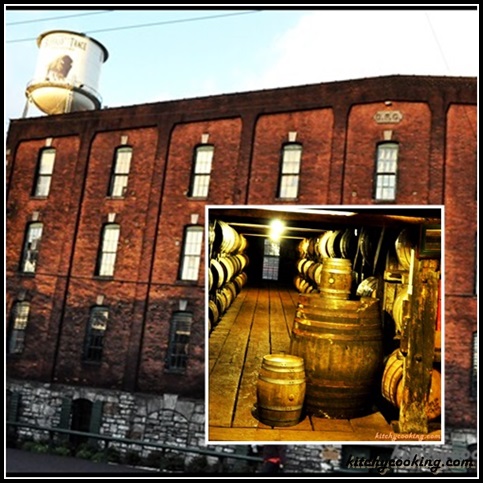 I have to say my favorite distillery tour though was at a distillery that isn't actually on the Bourbon Trail. It was the Buffalo Trace distillery.  Hubs and I took a tour that didn't mention one aspect of how they make their bourbon (which was nice after hearing over and over and that bourbon is made from at least 51% corn mash). This tour was all about ghosts. Yup, turns out the Buffalo Trace distillery is one of the most haunted places in America, Ghost Hunters even did an episode there. The fact that Buffalo Trace gives this specific tour after sundown only adds to the creepiness surrounding this distillery from 1775. Not only did Colonel Blanton himself supposedly died on the property, but so did his two daughters, and all of them have been seen from both Trace employees and visitors alike. While Hubs and I weren't lucky enough to witness any ghostly apparitions, we did have a good time. And the rickhouse (where the bourbon barrels are stored while the bourbon ages) was definitely among the more creepy.  If you're concerned that doing the ghost tour means you won't get a taste of Buffalo Trace, don't worry. They treat you just as well as all the other distilleries in Kentucky – a taste (or two) comes with every visit.
So, after your horse wins the Derby and you've downed a mint julep or two, make sure to taste the bourbon on its own. After all, you haven't toured Kentucky if you haven't toured a distillery.