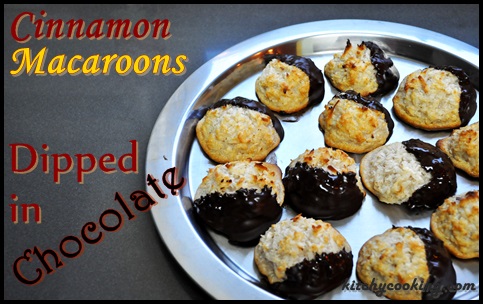 As I'm sure all of you know there are two big holidays this weekend. The first is Passover on Friday and the second is Easter, and if you're anything like me, you're going to be doing a lot of cooking over the next few days. Menus need to be planned, ingredients need to be chopped and as much food as possible needs to be made ahead of time. That way, you'll be able to enjoy your family feast rather than spending the whole affair cooking in the kitchen. These delectable cookies are not only the perfect way to end either meal, but can also be made at least 3 days ahead. Now you have one less thing you have to worry about come celebration time.
While macaroons are an ideal dessert for Passover because there's no flour or leavening, there's no rule that says they can't be enjoyed on Easter as well. And since these little beauties are dipped in chocolate (the candy for Easter), there's simply no reason why you shouldn't have them on your table.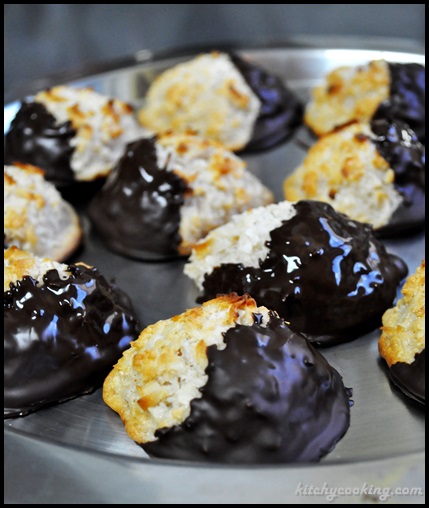 But these aren't your standard chocolate-dipped macaroons. Noooooo! I wanted to add some pep. So, I threw in some cinnamon for good measure. I just love cinnamon with my chocolate. That hint of spice tickles the tastebuds and combines perfectly with the chocolate, especially when it's dark chocolate. (Why do you think Mexicans and Middle Easterners have been combining these flavors for centuries?) I didn't want to add the cinnamon to my chocolate, though. Thanks to Dan Cohen's suggestion in Fine Cooking, I decided to add the cinnamon to the cookie batter. It was absolutely the right choice.
See, when you first bite into the macaroon you get a nice, sweet soft cookie that's all coconut. It's not until after you swallow that first bite you get the spicy aftertaste. And the chocolate… well that's just one more level of wonderful. So, if you haven't decided what you're making for dessert for either holiday (and even if you have) might I suggest these little coconut clouds. You won't be disappointed.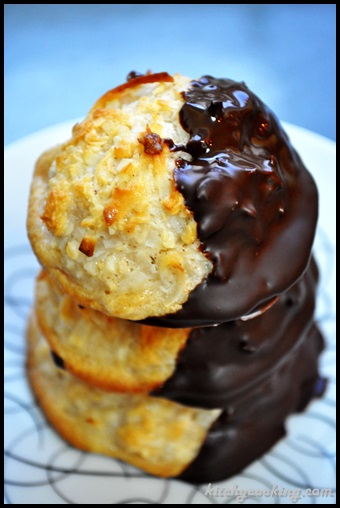 Cinnamon Macaroons Dipped in Chocolate (adapted from Fine Cooking)

Ingredients:
1 cup sweetened condensed milk
1 teaspoon vanilla
1/2 teaspoon cinnamon
2-1/2 cups sweetened shredded coconut
2 cups unsweetened shredded coconut
2 egg whites
1/4 teaspoon salt
4 ounces good dark chocolate
Directions:
Preheat the oven to 350°F. Line two baking sheets with parchment paper.
Whisk together the condensed milk, vanilla and cinnamon in a large bowl. Add both coconuts and stir until well combined.
Beat the egg whites and salt until stiff peaks form, about 5 minutes. Fold the whites into the coconut mixture.
Wet your hands with water and gently form rounded tablespoonfuls of batter into balls about 2 inches in diameter. Place on the baking sheet. Bake for 20 – 25 minutes rotating and swapping positions of the pans halfway through until the macaroons are golden brown in spots. Cool for five minutes then transfer to cooling racks to finish cooling completely.
While the macaroons cool, melt the chocolate in a double boiler. Dip the cooled macaroons into the melted chocolate and place them on clean parchment paper until the chocolate is set, about 30 minutes. The macaroons will keep, uncovered, at room temperature for up to 3 days, or refrigerated in an airtight container for up to 3 weeks.