A Night with SORTED Food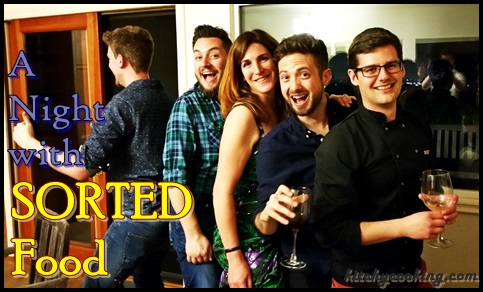 While cooking and recipes are the bread and butter on Kitchy (no pun intended), every so often I'll go out for an afternoon or evening that's just about having fun with my fellow cooks and food bloggers.  Last Monday was just one of those nights. The guys from Sorted Food decided that after a couple years of cooking and sharing recipes in the United Kingdom, they'd venture across the pond and try American food. There was just one catch, much like their site, all their dining experiences over the next 3 months are based solely on our recommendations. So if you tell them to try tacos in Los Angeles, they're going to try tacos in Los Angeles.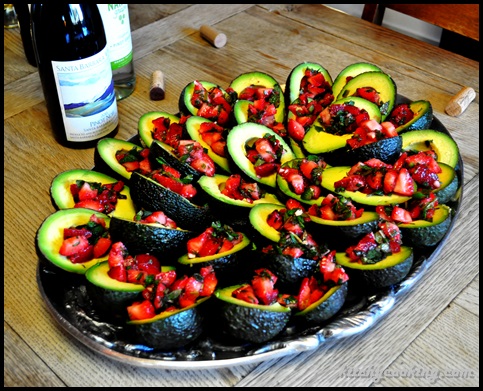 One thing Jamie, Barry, Mike and Ben wanted to do on their trip was share their love of food with some local L.A. food bloggers. But in keeping with the theme of their tour, they didn't want to provide the food. They wanted us to. So a group of bloggers who are part of the Food Bloggers Los Angeles got together at the beautiful kitchen of Erika Kerekes and made the boys (and ourselves) dinner.
The boys chose the menu based on several recipes that we uploaded to their Sorted site. They were recipes that were both our favorites and easy to make.  But as with most dinner parties, this wasn't about the food (though all the food was amazing). This was about a group of cooks getting together and cooking. I always enjoy whipping up something to eat, but it's much more fun when you get to cook with other people who are just as passionate about food as you are.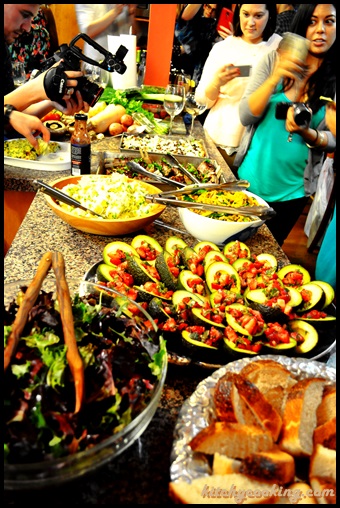 See, everyone was helping everyone else. Tanaya from Tanaya's Table helped me measure and mix my Chocolate Port Cake. Ben and Deva mixed up a delicious green salad. Lana from Bibberche boiled potatoes for her potato salad, and also chopped up a bunch of vegetables that were needed elsewhere… you get the idea. How we all fit into Erika's kitchen, I'll never know. But we did and we had a blast.  The end result was an amazing dinner thanks to Gluten Free with Emily, Tasting Page, Not Ketchup, Bibberche, The Duo Dishes and yours truly.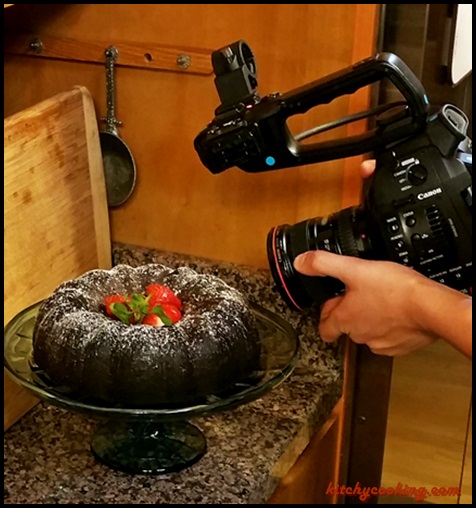 The best part of the night though was that the whole event well documented. See, if there's one thing you need to know about food bloggers it's that if you get them anywhere near a kitchen or cooking demo, the cameras and cell phones come out. (Why do you think I have so many photos?) We like to share our experience, and thanks to Twitter, Instagram, Facebook, and all the other social media outlets out there, we're able to. It's actually how Jamie, Ben, Barry and Mike know where to go next while on their Lost and Hungry tour. See, if you follow #lostandhungry on Twitter or Instagram, you'll be able to find out where in America they are, suggest restaurants and/or bars they have to hit and maybe even meet up with them. After all, this tour is all about the food, and these boys will starve unless you tell them where the best food and drink are.  FBLA did its part, now it's your turn. Where would you like to see Sorted go next? Tell them! Maybe they'll even end up on your doorstep.