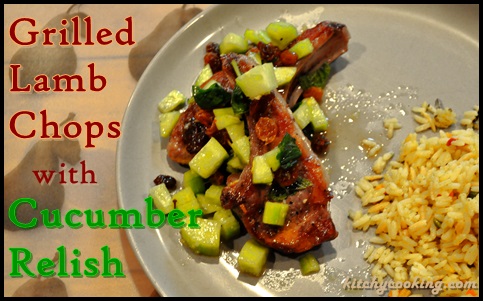 My sons are picky eaters. It seems that whenever I ask A what he wants for dinner, he comes back with a very short list: pizza, chicken nuggets or hot dogs. Every so often I'll get a request for tacos or quesadillas, but most of the time it's the first three. So while Friday night has been deemed Pizza night, the rest of the week I make dinners that sound appealing to me. Then to ensure that my boys will at least take a couple bites, I try to include something I know they'll like. T's a big fan of meat and rice and A loves salad.
The rice is always easy, but for A, I need to make sure the salad is made up of the veggies I know he likes: lettuce, avocado and cucumbers.  Yes, my oldest is a huge fan of cucumbers. He likes all kinds, but especially Persian cucumbers. I think those are his favorite because they're nice and small.  Sometimes he'll just grab one out of the fridge and gobble up the whole thing by itself. So, when I found this recipe from Food and Wine magazine for lamb chops with a cucumber relish, I knew I had to make it. See, if I made this recipe, I knew both my boys would be eating dinner. T would gobble up the lamb and rice and A would have no problem eating each and every piece of cucumber. And maybe by eating all the cucumber, A would also get a piece or two of the lamb.
Not only did A lap up every last piece of cucumber, just as I expected, he ate a healthy portion of the lamb chop as well. So, it turns out a meal my husband and I thoroughly enjoyed, the boys enjoyed too. That's win/win and a dinner I'll definitely be making again.
Lamb Chops with Cucumber Relish
Ingredients:
3 tablespoons olive oil, divided
8 lamb chops
2 Persian cucumbers, peeled and diced
1/2 teaspoon lemon zest
1 teaspoon lemon juice
1/4 cup golden raisins
2 tablespoons mint leaves, torn
sea salt for garnish
Directions:
Rub 1 tablespoon of oil over the lamb chops and season generously with salt and pepper. Let stand at room temperature for 30 minutes.
While the lamb sits, mix the cucumber with the lemon zest, lemon juice, raisins, mint and another tablespoon of oil in a medium bowl.
Heat 2 large grill pans or cast-iron skillets over high heat. Divide the remaining tablespoon of oil between the pans. Add the lamb and cook until nicely browned on both sides, about 12 minutes for medium-rare. Transfer the chops to a plate and let rest for 5 minutes.
Sprinkle the lamb chops with sea salt, spoon the cucumber relish on top and serve.