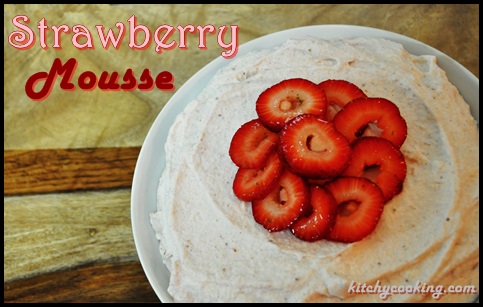 Strawberry season might be coming to a close, but there are still a few vendors at the farmers markets selling baskets of the beautiful red fruit which means you still have time to make this decadent dessert.
I love chocolate mousse. It's rich, easy to make and a very special treat. But sometimes I'm not in the mood for chocolate. I know, weird right? But it's true. Sometimes I prefer a piece of fruit or even better, a fruit dessert. So, when I saw this recipe for strawberry mouse in Food & Wine magazine, I knew I had to try it.
What's really cool about this recipe is that it's not only gluten free, there also isn't a single egg in it. I know, mousse without eggs? It's unheard of, right? Wondering what makes it so thick and rich? The mascarpone cheese.  That's right, there's cheese in this mousse. So, really, this is just a souped up version of Strawberries and Cream, but it's sooooo much better.  It's decadent, it's rich, and it turns an ordinary dinner or picnic into something really special.
While the mousse is awesome all on its own, there is something that will make it even better: top it off with some macerated strawberries. Trust me, it's amazing!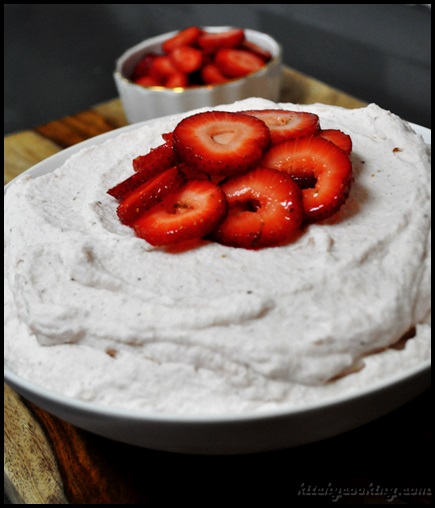 Strawberry Mousse
Ingredients:
8 oz. ripe strawberries, hulled and halved
1 tablespoon unflavored gelatin
2 cups heavy cream, divided
1/2 cup super fine sugar
2 cups mascarpone cheese
1 vanilla bean
Directions:
In a small bowl sprinkle the gelatin over 1/4 cup of cream and let stand for at least 5 minutes.
Puree the strawberries in a food processor or blender until smooth; set aside.
In a small saucepan, stir 1/4 cup of cream with the sugar over moderate heat until the sugar dissolves. Whisk in the gelatin mixture until dissolved and remove from the heat.
Split the vanilla bean lengthwise and scrape the seeds out into a large bowl. Add the mascarpone and beat together with an electric mixer until thickened and well combined. Slowly add the gelatin mixture and beat for another minute. Finally, add the strawberry puree and continue beating until well combined; set aside.
In another large bowl, beat the remaining heavy cream until stiff peaks form. Fold the whipped cream into the strawberry/mascarpone mixture. Spoon into a large serving bowl and refrigerate for at least an hour.
Spoon the mousse into bowls and serve with some macerated strawberries on top.