Red, White and Blue Mini Pavlovas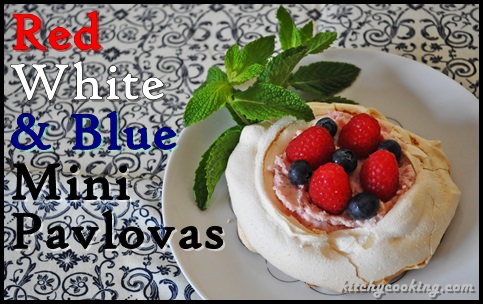 Want to know what I love about summer? I finally get to hang out on the beach. I cook most meals outside on the grill. But more than anything else, all my favorite fruits are finally available. Sure, I'm a big fan of apples and citrus, but they're nothing compared to the sweet, juicy tang of blueberries, raspberries, cherries, peaches, apricots or plums. They're delicious afternoon snacks, and they make some of the best desserts. I mean, is there anything better than enjoying a slice of peach pie or a cherry popsicle on the beach in the middle of July? Of course not! And while pie and popsicles are delicious, there's one dessert that's perfect for both these fruits and this time of year – the pavlova.
The Pavlova is a light meringue dessert that was created in the 20's after Russian ballerina Anna Pavlova did a tour in either Australia or New Zealand. (There's a lot of debate as to where she was and which country came up with the dessert first.) But no matter where it came from, it's a light sweet treat that has summer written all over it.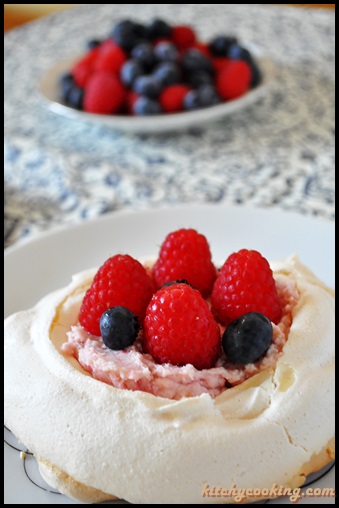 See, unlike the fall and winter months which are filled with heavy, chocolate and pumpkin desserts, the spring and summer months are all about light, airy sweets. Don't get me wrong, I love chocolate, but those mousses and cakes that are so popular in the winter are so dang heavy. I don't know about you, but when it's 90 degrees and humid outside, the last thing I want to ingest is something super rich. I'd much rather sink my teeth into something tart and light; and that's the pavlova.
The traditional pavlova is usually a larger dessert that needs to be sliced to be enjoyed. But there's no rule that says it can't be turned into several single-serving minis. It's also usually filled with whipped cream and fruit. But since I'd just received several containers of sweet, red raspberries from Melissa's Produce and I love mascarpone, I thought I'd make a sweet raspberry cream as my filling. I then topped that with more raspberries and fresh plump blueberries. The end result wasn't just light and delicious, the color scheme makes it perfect for the 4th of July.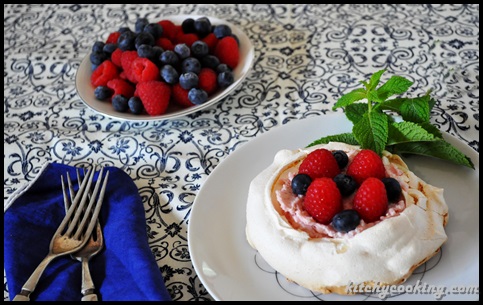 Red, White and Blue Mini Pavlovas
Ingredients:
4 large egg whites
1-1/2 cups of sugar
1 teaspoon vanilla
1 tablespoon corn starch
2 teaspoons cream of tartar
1 (8 oz.) container mascarpone cheese
1 (6 oz.) basket fresh raspberries, divided
1 cup blueberries
Directions:
Preheat oven to 250°F.
Line 2 baking sheets with parchment paper. Using a pen, trace the perimeter of a glass 5 times on each sheet of parchment. Turn the papers upside-down. You should still be able to see the outline on the clean side of the paper.
Place the egg whites, 1 cup of sugar, the vanilla, cream of tartar and corn starch into a mixing bowl and beat, using an electric mixer, until thick and the egg whites form stiff peaks.
Spoon the meringue mixture onto the 10 circles on the parchment paper. Then using the back of the spoon, hollow out the tops of the pavlovas turning each one into a nest.
Bake for 1 hour and 15 minutes, or until dry and crisp. Turn off the oven and leave the meringue nests in the oven to cool for at least an hour or overnight. DO NOT OPEN THE OVEN.
While the meringues are cooling, beat together the mascarpone, remaining sugar and 1 cup of raspberries in a bowl until well combined.
Spoon the mascarpone mixture into each of the cooled meringue nests, top with the blueberries and remaining raspberries and serve immediately.