Rosemary Flank Steak with Fig Salsa
July 22, 2015
by Jennifer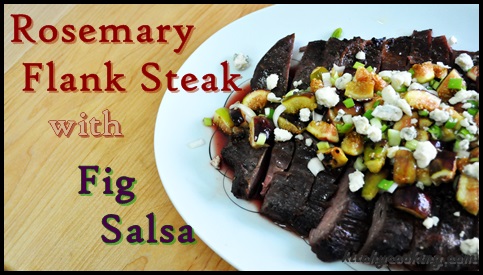 One of my favorite things to cook on the grill is steak. I love marinating it for hours in a variety of spices, salts and vinegars. I love listening to it sizzle as I lay it on the hot grates. I love watching it sear and then trying to patiently wait before I cut into it. My absolute favorite thing though is finally getting to taste that juicy, salty piece of meat that's been grilled to a perfect medium-rare. But steak all by itself can be kind of boring. That's why people tend to serve it with a yummy béarnaise sauce or a delectable twice-baked potato. All those savory options are naturals to go with steak. But what if we changed things up and did something unexpected? What if we went sweet instead of savory?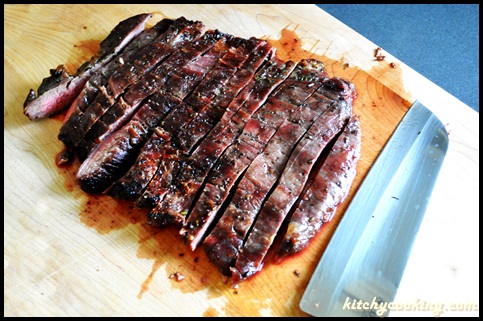 Figs are just starting to show up at my farmer's market. While most people (including me) tend to use the plump fruit for a dessert or appetizer, I like to change things up every now and then. Recently I found a recipe online that used the fig as a base for a sweet salsa. When mixed with some scallions and rice vinegar, the fig turns into a delicious topping for steak. And since it can get quite hot during the summer, this salsa also makes a nice cool alternative to the standard peppercorn or bearnaise sauces. But the best thing about the fig salsa was that it provided a delicious complement to the savory steak and gave me a scrumptious dinner the whole family enjoyed… even my sons.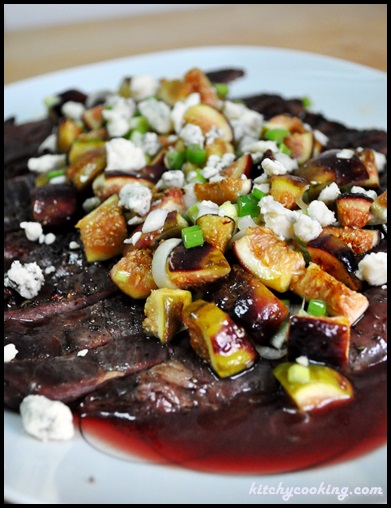 Now figs don't have to be relegated to the beginning or the end of the meal. Now they can be incorporated into the main course. That makes me super happy. It makes me so happy in fact, I think this may becomes quite the fig-filled summer.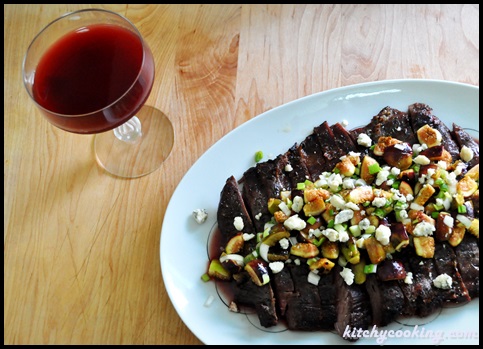 Rosemary Flank Steak with Fig Salsa
Ingredients:
1 tablespoon fresh rosemary, chopped
2 garlic cloves, roughly chopped
1 teaspoon smoked sea salt
1/2 teaspoon ground black pepper
3 tablespoons olive oil, divided
1 (1-1/2 pound) flank steak
3 cups chopped fresh figs
1 scallion, chopped
2 tablespoons Italian parsley, chopped
2 tablespoons rice wine vinegar
3 oz. Gorgonzola cheese
Directions:
Whisk together the rosemary, garlic, salt, pepper and 1 tablespoon olive oil. Rub onto the steak and chill for at least 30 minutes and up to 3 hours.
Preheat the grill to 400°F and take the steak out of the fridge. Let sit at room temperature while the grill heats up.
In a medium bowl, toss the figs, scallion, and parsley, together with the vinegar and remaining olive oil. Add a little salt and pepper to taste and set aside.
Grill the steak for about 5 minutes per side for medium-rare. Transfer to a cutting board and let rest for 5 – 10 minutes.
Slice the steak across the grain into thin strips. Transfer to a serving platter. Spoon the fig salsa over the steak. Sprinkle with the Gorgonzola and serve.