Singapore Sling
July 24, 2015
by Jennifer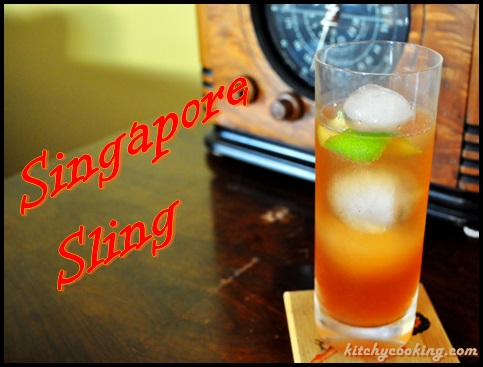 As you all know I love my cocktails. But what you may not know is that when it comes to drinking, I like to follow the seasons. In the fall and winter I like to drink apple based or warm cocktails. But in the spring and summer I like to drink cold, fruity drinks like the Margarita or Bellini. While both those drinks use fresh fruits, there's one other thing that screams summer cocktail to me: club soda.
I don't know what it is about club soda, but those bubbles just seem more fitting in the spring and summer than they do in the fall and winter. The bubbles are fun, they're fizzy, they tickle your nose. There's nothing like a cocktail made with club soda which is why they're all I drink once the weather gets warm. It's also why I've been waiting to post the Singapore Sling.
See, the Sling isn't a drink for the fall or winter, so there was no way I was going to post it between September and March. I mean, the Sling has cherry brandy and club soda in it. As you know, cherries are one of those wonderful summer stone fruits I love so much and club soda… well, you already know how I feel about club soda. Those two ingredients (along with all the others) make it the perfect summer cocktail. Why's it so perfect? Well, it was created in Singapore – a place known for it's warm climate – so you know its creator had cooling off the imbiber in mind.
While the cocktail was created in Singapore, it wasn't always called the Singapore Sling. It was originally referred to as the Raffles Gin Sling because it was supposedly created by Raffles Hotel bartender Ngiam Tong Boom in 1915. But references to the Sling can be found as far back as 1897, a good 18 years before the Raffles version. The original version mixed 1 part gin, 1 part dry cherry brandy and 1 part Benedictine together. It was then poured into a highball glass filled with ice and topped off with soda. Charles H. Baker called the concoction "a delicious, slow-acting, insidious thing" and believed no other bar could top the Raffles version (though plenty tried). Some places used ginger ale or ginger beer instead of club soda, and today you'll find lemon juice and bitters mixed in as well. But no matter how you choose to create this classic, one thing's for sure: it's still delicious. Slow-acting and insidious, but delicious.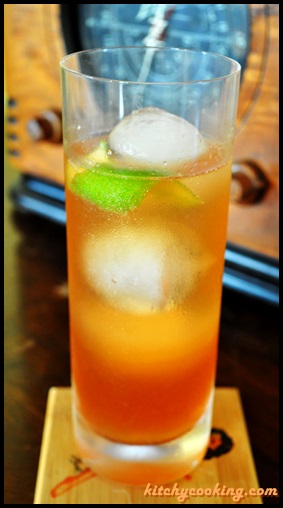 Singapore Sling
Ingredients:
2 oz. gin
1/2 oz. Benedictine
1/2 oz. cherry brandy
1/2 oz lemon juice
2 dashes Angostura bitters
2 dashes orange bitters
club soda
Directions:
Combine the gin, Benedictine, brandy, lemon juice, and bitters in a cocktail shaker. Add ice and shake vigorously. Strain into a highball glass filled with ice.
Top with club soda. Add a twist of lime and serve immediately.