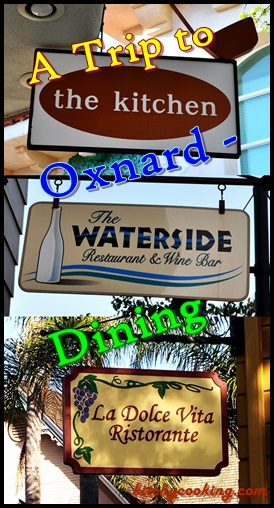 I've never been to Oxnard before. I've driven through it many times on my way to Santa Barbara and the Bay Area, but I've never spent any time there before. As far as I knew the only reason to go to Oxnard was to get fresh strawberries. Well, thanks to the Oxnard Visitors Bureau, that all changed. Turns out there's a lot more to do in Oxnard than I realized.
While touring the Channel Islands is definitely a fun family excursion, the variety of festivals Oxnard has are definitely a reason to take the trip. There are a ton of festivals held in the beautiful town square, including a Strawberry Festival, a Salsa Festival and a Tamale Festival. While the Strawberry and Salsa Festivals have passed (they're in the late spring and summer), the Tamale Festival happens every December. (This year it's scheduled for December 5th.) I know it seems like a ways off, but it'll be here before you know it. So make your plans now. Go and make a weekend out of it because there's a lot going on. Besides the Tamale Festival, there's the annual Oxnard Christmas Tree Lighting Celebration, the Christmas Victorian Home Tour and the Christmas Parade. All in the same weekend. Since you're going to be spending the weekend there, you're going to need some places to eat.  Don't worry, I have a few recommendations.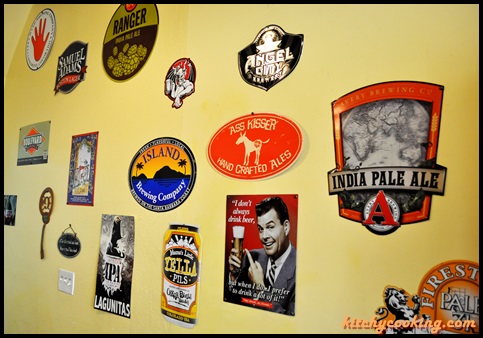 If you're looking for something simple for lunch or if you're in the mood to just hang out and have a burger, The Kitchen in old town Oxnard is the place for you. Owned and operated by Cathie Moreno, The Kitchen has been around for five years. Moreno grew up around food. As a matter of fact her sister owns the Italian restaurant, La Dolce Vita, which I'll be talking about later. She broke tradition though and decided instead of going the Italian route like her mother and sister, she'd do burgers and beers. She says she went the burger route because there really wasn't a good burger place in Oxnard. And what goes better with a burger and than some really good craft beer? Moreno has a huge selection including 12 that are on tap. But what's really cool about those craft beers is that the menu is constantly changing. If you were to go 2 or 3 weeks in a row, you'd find a different beer on tap every time you went. Now, I myself am not a beer drinker, but even I couldn't get enough of L'deracola from the Le Jardiner Brewery. It was amazing. If you like Coke (and let's be honest, who doesn't) then you'll love this beer. It tastes just like the real thing only not nearly as sweet.
Want something to nibble on while you sip your beer? Moreno has plenty of choices. Yes, there are a variety of burgers, but if that's too heavy, there are several appetizers to keep you happy. Her French Fried Green Beans with a Chipotle dipping sauce are awesome and waaaaay healthier than a basket of fries. They're made daily with fresh green beans and dipped in a cornmeal batter she makes herself. They're amazing! But my favorite starter had to be her Adult Grilled Cheese Sandwich. It's made with Applewood Bacon that's cooked in beer, smoked mozzarella cheese and tomatoes. It's ooey, gooey, goodness and goes great with any beer on her roster.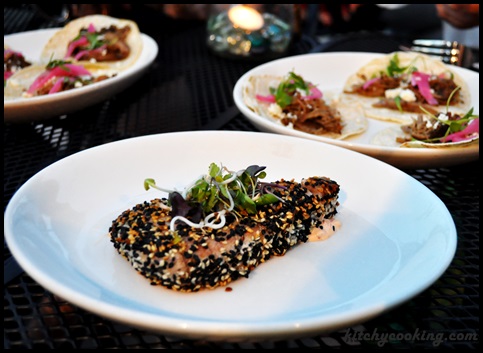 If beer and a burger don't excite you, though, there's the Waterside, which is a wonderful seafood restaurant right on the beach. If you sit outside you have a gorgeous view of the harbor, where you can enjoy a cocktail from their abundant cocktail menu. As for the seafood, there are numerous options starting with Sesame Crusted Seared Ahi appetizer. Yes, it's as awesome as it sounds. At the top of their entreé menu is their seafood special which changes daily depending on what fish is freshest. It's a great choice no matter if it's halibut or salmon because the chefs always do something interesting with the fish. Don't worry if fish isn't your thing though, as they have plenty of other options like the Skillet Chicken with Chimmichurri or the Rib-Eye Steak, both of which are well worth a taste.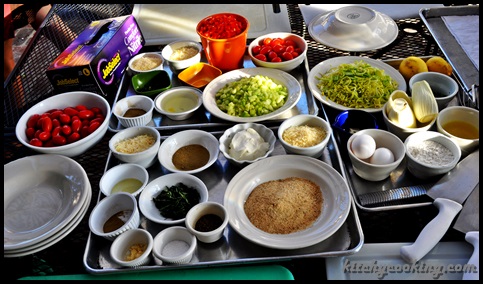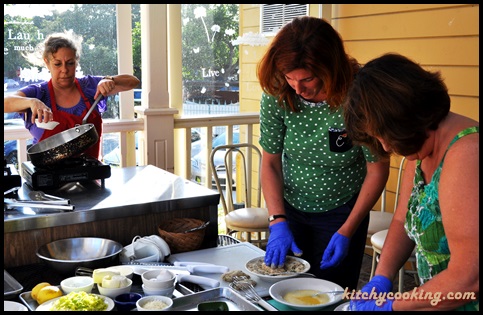 Prefer pasta over seafood? Then La Dolce Vita is where you want to go. Right in the heart of Heritage Square, the Italian restaurant has been an Oxnard staple for 10 years. It's perfect for the family or a romantic dinner for two. Like her sister, Moreno, Michelle Kenney grew up around food. She helped her mother run and operate their first restaurant, La Dolce Vita Trattoria, which also housed a Deli, Gourmet grocery and Catering Service.  When that restaurant burned down, Kenney moved the business to Heritage Square. While the location isn't nearly as big as the old place, it's definitely got atmosphere. Kenney simply took over one of the old houses in the square and made it fit her needs. She can have guests eating in her restaurant on the main floor while she caters a wedding upstairs. She also converted the basement into a full bar which hosts open mike and karaoke nights. So, whatever you're in the mood for, odds are you'll find it at La Dolce Vita.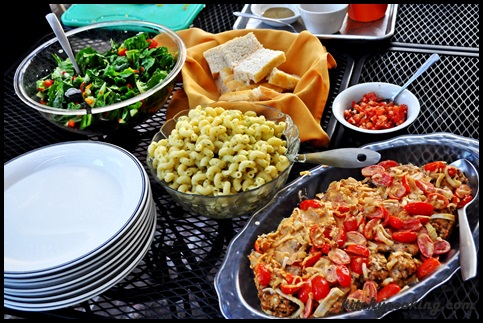 But back to the food. If you're looking for authentic Italian, Kenney's restaurant has it. We were lucky enough to not only taste some delectable dishes but help Kenney prepare them as well. We started with a Chicken Milanese with a Tomato and Fennel Sauce, segued to Pasta with a Creamy Leek Sauce and ended with one of the best Chocolate Molten Cakes I've ever had. The secret? She infuses the cake with a few spices and some Cabernet. So. Good! Everything on the table was so delicious we all went back for seconds. And the recipes weren't that hard either. They took a little more time, but the results were absolutely worth it.  Want to help Kenney create your meal when you go? Just sign up for one of her cooking classes and you too can experience what it's like to cook authentic Italian food. (She even does classes for kids.)
But if you're heading up to Oxnard to experience the Tamale Festival with that special someone and burgers or seafood won't really set the mood, I'd suggest making a reservation at Tierra Sur inside the Herzog Wine Cellars. We had dessert here our first night in town and let me tell you, I was blown away. Not only is the location stunning, it's quiet and absolutely perfect for a night out. There's just one catch: they're not open on Saturdays and they close early on Fridays. I know that seems odd since that's when most people would come for a weekend, but there's a reason. See, Herzog Wine Cellars is the only Kosher winery on the west coast. Kosher means they're closed every Saturday for Shabbat which of course starts Friday at sundown (why they close early on Fridays) and all the Jewish holidays.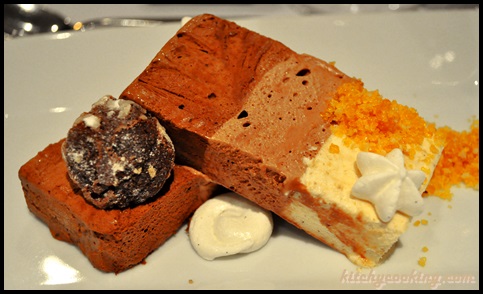 Kosher also means there's no dairy anywhere on the premises. Not that you'd ever know it. I enjoyed their chocolate terrine which was as creamy as any mousse I've ever tasted. The chefs at Tierra Sur simply find alternatives to the dairy that we usually use. Instead of butter, they use margarine. Instead of milk and cream they use Mocha Mix or rice or almond milk. It's amazing and delicious and I can't wait to go back to enjoy a full meal.
See? Like I said, turns out there's more to Oxnard than just strawberries. There are restaurants galore and with so many options, you'll be able to go somewhere different for every meal. As someone who visited all those options, let me tell you, no matter where you decide to go, you will not be disappointed. Want a taste? Why not start by recreating Kenney's Chocolate Molten Spiced Cabernet Cakes? Trust me, after one bite you'll be booking your trip.
Chocolate Molten Spiced Cabernet Cakes
Ingredients:
4 oz. semi-sweet chocolate chips
1/2 cup (1 stick) butter
1 tablespoon Cabernet Sauvignon or other bold red wine
1 teaspoon vanilla extract
1 cup powdered sugar
2 eggs
1 egg yolk
6 tablespoons flour
1/4 teaspoon cinnamon
1/4 teaspoon ground ginger
1/8 teaspoon ground cloves
Directions:
Preheat the oven to 425° F. Butter 4 (6 oz.) custard cups or mini bundt pans and set aside.
Melt the chocolate and butter in a sauce pan over low heat until melted. Remove from heat.
Whisk the wine, vanilla and sugar in the sauce pan until combined with the chocolate.  Add the eggs and the egg yolk. Finally stir in the flour and spices until combined.
Pour the batter into the prepared custard cups. Place on a baking sheet and bake in the oven for 13 – 15 minutes or until the sides are firm but the centers are still soft. Let stand for 1 minute, then carefully loosen the edges with a knife. Invert the cakes onto a dessert plate. Sprinkle with powdered sugar and serve.
Disclosure: This is not a sponsored post. The Oxnard Visitors Bureau paid for my trip to Oxnard and picked up the tab for all the places we visited. As always, any opinion expressed is my own and is not influenced in any way by the manufacturer/PR firm.