Raspberry Breakfast Tarts
October 21, 2015
by Jennifer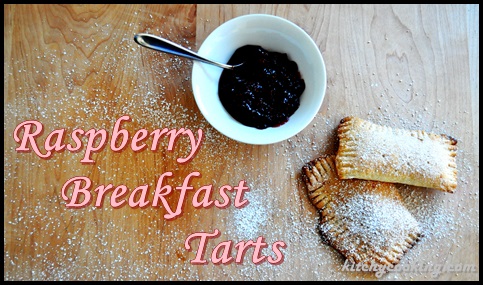 Growing up, breakfast was always either cereal, French toast or pancakes. On occasion Mom or Dad would whip up some eggs and bacon, especially on the weekends. But no matter what, breakfast was always homemade. While I loved everything my mom and dad made, as a kid, I always wanted the sugary stuff.
See, I had friends that would come to school munching on their Eggo Waffles and Pop Tarts and I wanted that. I wanted those quick breakfasts that you could just pop in the toaster and then finish in an instant. I wanted them because they were sweet and covered with frosting and they just seemed soooooo yummy. But my mom never bought them. The only time I ever got any kind of sugary breakfast was when we went skiing and we bought those single serving boxes of cereal which always included Frosted Flakes.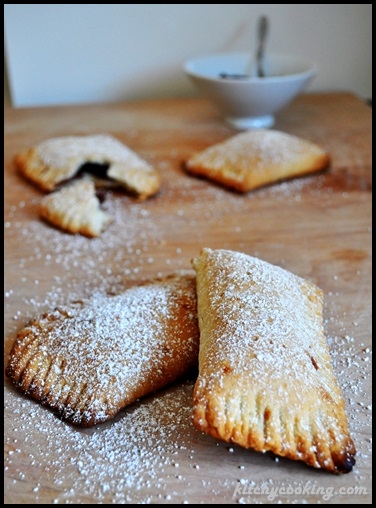 Now that I'm a mom, my sons are asking me the same questions. They want sugar cereals and Pop Tarts and all the same stuff I asked for when I was a kid. And just like my mom, I refuse to buy those things for all the same reasons my mom refused to buy them. See, just like her I now know just how much sugar is in each tart. I also know there's a ton of preservatives, chemicals and other stuff in them, too. Unfortunately, A has tasted many a Pop Tart thanks to friends and school and such, and keeps asking for them. So I finally broke down. No, I didn't buy a box of Pop Tarts. I decided to make my own, and you know what? It was really, really easy!
All I needed was some dough, a little jam, some powdered sugar and an oven and I was set. Sure these homemade tarts take a little longer to make than the Pop Tarts because they need to bake in the oven, but let me tell you, they tasted So. Much. Better. They were so yummy in fact, my sons couldn't get enough.
They're versatile too. Like regular Pop Tarts, you can make whatever flavor you want. Only have grape jelly in the fridge? That's okay, smear it inside. Prefer Marmalade? Knock yourself out. Like Nutella on your bread? I bet some Nutella tarts would taste amazing! I went for raspberry because it happens to be our favorite jam here in the Kitchy Kitchen. But you want to know the best thing about these little breakfast treats? A no longer asks for Pop Tarts. Now all he wants is the homemade version. Something tells me once you whip up a batch, that'll be all your kids want too.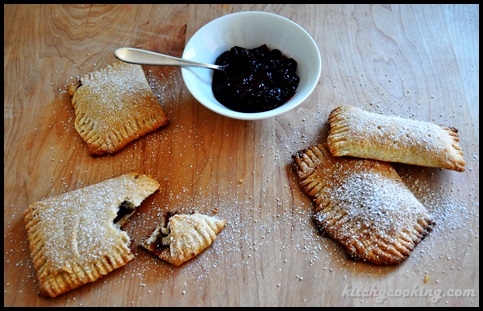 Raspberry Breakfast Tarts
Ingredients:
3 cups pastry flour
1/4 cup sugar
4 teaspoons baking powder
3/4 teaspoon baking soda
1/2 teaspoon salt
10 tablespoons butter, chopped up
3/4 cup buttermilk
3/4 cup raspberry jam (or your favorite jam)
powdered sugar for dusting the tops of the baked tarts
Directions:
Preheat the oven to 425°F.
Pour the flour, sugar, baking powder, baking soda and salt into a food processor and pulse until mixed. Add the butter and pulse again until the mixture resembles coarse crumbs.
Transfer to a large bowl. Stir in the buttermilk until the dough comes together.
Transfer the dough to a floured surface and cut in half. Roll one piece into a 15×10-inch rectangle. Cut the rectangle into six 5-inch squares. Spread one tablespoon of jam on half of each square. Moisten the square's edges with water. Fold pastry over the filling and seal the edges with a fork. Prick the tart all over with the same fork and place on a baking sheet. Repeat with the remaining dough and jam. Bake for 10 – 12 minutes or until golden brown. Dust with powdered sugar and serve.
If you have leftover tarts, place them in the freezer. When ready to eat, pop in the toaster for about 4 minutes and serve.