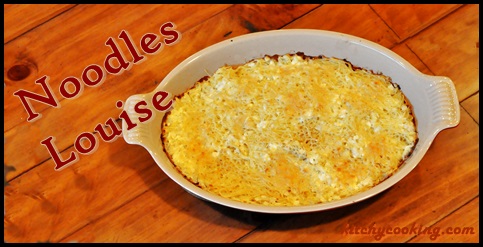 It's been so hot here in Southern California, I haven't been in the mood to use my oven. As I'm sure you've noticed most of my recipes of late have been grilled or cooked in a cast iron skillet on the stove. I've been trying my best to avoid the oven if I can because it's just been too darn hot. I know the autumn season has technically been here for several weeks already, but it just hasn't felt that way. I mean, last week we had temperatures up in the high 80's. Yuck. I like temps like that in July and August, not during Halloween.
But now it's November. The thermometer has finally plunged into the high 60's and I couldn't be happier. Not only do I get to don sweaters and boots, but Thanksgiving is just a few short weeks away. What does Thanksgiving have to do with pasta? Well, turns out this dish would be a great side for your Thanksgiving dinner.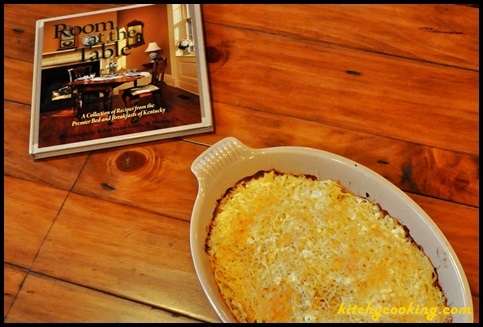 See, I recently discovered that macaroni and cheese is a very popular side dish on a lot of Thanksgiving tables. While it's never been on mine, mac & cheese is one of my favorite comfort foods and this baked pasta is just as good as any mac & cheese. Unlike your standard mac though, this one is made with cottage cheese and angel hair pasta so it's a little lighter than the elbow-cheddar version most of us know and love.
I discovered this scrumptious dish thanks to the Room at the Table cookbook I got last year while touring Kentucky. The cookbook is a compilation of recipes from several Bed and Breakfasts around the bourbon state. Since hubs and I stayed at two B&B's included in the cookbook, I of course had to get it. This recipe comes from the Inn at Woodhaven and is served as a side, hence my suggestion to include it as part of your Thanksgiving feast. But if you're like me and believe that pasta might be too heavy to include as part of your Thanksgiving meal, you can do what I do and bake it up as an entrée any regular night of the week. Whichever way you decide to serve it though, you won't be disappointed. It's filling, delicious and will bring a smile to all those who taste it.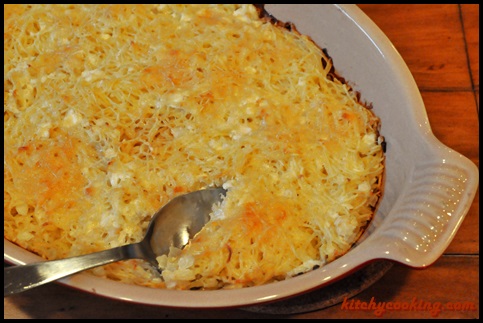 Noodles Louise
Ingredients:
8 oz. angel hair pasta
1 cup cottage cheese
1 cup sour cream
2 cloves garlic, minced
1 onion, chopped
1 tablespoon Worcestershire sauce
1/2 cup Parmesan cheese, grated
Directions:
Preheat oven to 350°F and grease a 2 – 3 quart casserole dish.
Cook the pasta according to the package directions. Drain and return to the pot.
Mix the cottage cheese, sour cream, garlic, onion and Worcestershire with the cooked pasta until combined. Add salt and pepper to taste.
Pour the mixture into the prepared casserole dish. Sprinkle the top with the Parmesan and bake for 40-45 minutes or until edges are golden brown and cheese is bubbling. Serve immediately.