Smoked Fish Risotto
March 9, 2016
by Jennifer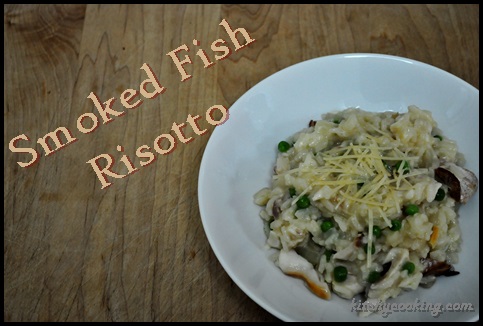 I've talked about Hubs fishing excursions in the past, and how they've always made for great dinner options. Well, his most recent outing was no different. He came home with tons of fish, and while we used plenty of it, this recipe didn't use any that Hubs actually caught.
See, a friend that went on the trip with him likes to smoke his fish. And since he smoked several filets, he felt he had to share the wealth. We of course accepted without hesitation. There was only one problem, I had no idea how to use it.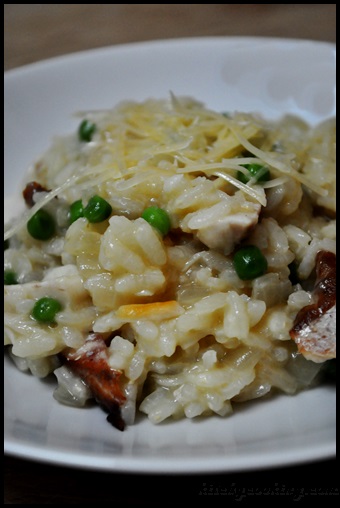 I enjoy eating smoked fish on its own, on top of a cream cheesed bagel or tossed in a salad. So, since it's so yummy mixed up in things, I thought it might be good mixed into a risotto.
As you all know I'm a huge risotto fan. I've made a grilled version, a quinoa version, a caramelized onion version and so many others, I thought why not make a smoked fish version. It was easy. I just took the basic risotto recipe and instead of using chicken or pork, I used the smoked fish. Add a cupful of peas and some Parmesan cheese, and you have a warm, comforting meal on a chilly evening.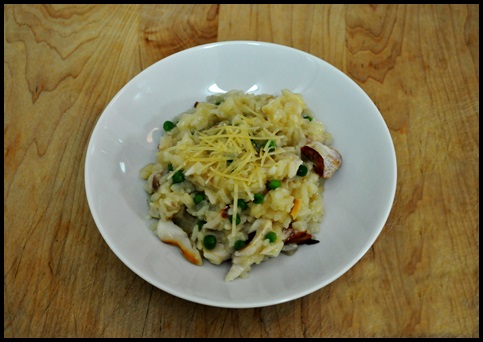 Smoked Fish Risotto
Ingredients:
2 tablespoons olive oil
1 onion, chopped
1-1/2 cups arborio rice
1 cup chardonnay
4 cups warm chicken stock
14 ounces your favorite smoked white fish
1 cup frozen peas, thawed
1/2 cup shredded Parmesan
2 tablespoons unsalted butter
salt and pepper to taste
Directions:
Heat the oil in a large skillet over medium-high heat. Add the onion and cook until tender, 3-4 minutes.
Add the rice and stir to coat. Add the wine and stir until evaporated, 3-4 minutes. Pour in the chicken stock, 1 cup at a time, and stir until evaporated. As you stir, the rice should become thick and creamy.
Once almost all the stock is gone, stir in the smoked fish and peas until heated through, another 2-3 minutes.
Remove from the heat, stir in the butter and Parmesan cheese and serve immediately with a little more Parmesan sprinkled on top.