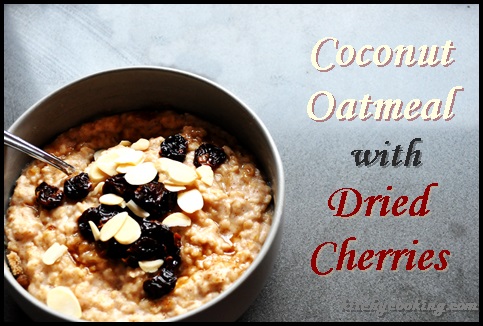 When I was growing up, every year for Mother's Day my sister and I would wake up early and make breakfast for my mom, and ideally serve it to her in bed. Yes, it was usually something simple like cereal, but every so often we'd be adventurous and make pancakes. While my own children aren't yet old enough to make me breakfast in bed, maybe yours are and this creamy oatmeal is not only easy to make, it's the perfect choice.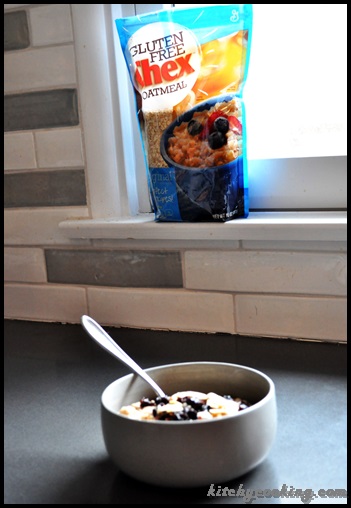 I've always loved oatmeal. Yes, it takes a little longer to make than a bowl of cereal, but it's warm and thick and creamy. That creaminess comes from both the kind of oats you use and the liquid you cook them in. I like the Chex oatmeal but I know those steel cut oats are also very popular. I've always boiled my oats with water, but my mother always made hers with milk.  This recipe from Food and Wine calls for cream and almond milk. I'm sure that combo makes it taste amazing, but since I like to try and be healthy whenever possible, I decided to use low fat milk and coconut milk. This combination not only made it healthier, it also made it creamy and gave the oatmeal a subtle coconut flavor. It was delicious!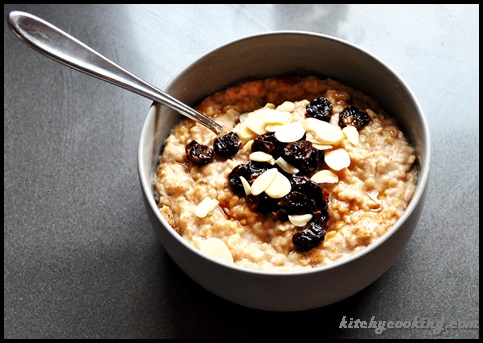 Once you have the basic bowl of oatmeal made, you can add whatever toppings you like: butter, nuts, fruit, brown sugar, anything. I always go with brown sugar, butter and sliced almonds.  My mom and dad always add fresh fruit, but I know some people prefer dried fruit. That's what I love about this breakfast choice though: as long as you have your basic cereal, you can add or take away whatever you like. Maybe for the special day you can cook up a basic bowl of oatmeal and then bring your mom a mini salad bar of toppings so she can choose what to add. However you decide to serve her, this oatmeal will bring a smile to her face and definitely get Mother's Day started off on the right foot.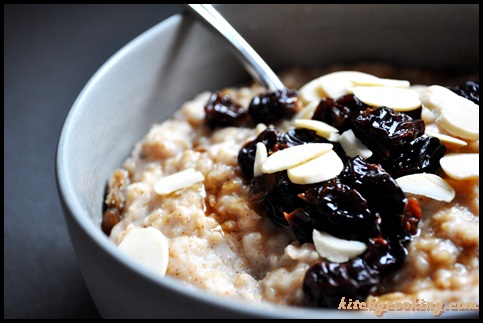 Coconut Oatmeal with Dried Cherries (adapted from Food and Wine)
Ingredients:
1/2 cup dried cherries
1 cup low-fat milk
1 cup coconut milk
1 cup water
1 cup steel-cut oats
1 teaspoon ground cinnamon
1/4 teaspoon ground allspice
1/2 teaspoon salt
1 tablespoon brown sugar
1/4 cup sliced almonds
Directions:
In a small bowl, soak the dried cherries in warm water and let stand until plumped and softened, about 15 minutes. Drain the cherries and discard the water.

While the cherries soak, combine the milk, coconut milk and water and bring to a boil. Stir 
in the oats, cinnamon, 
allspice and salt. Cover and cook over low heat, stirring occasionally, until the oats are al dente and the cereal is creamy, about 20 minutes.

Stir in the cherries, brown sugar and almonds. Sprinkle with a little more sugar and almonds and serve.