Greek Deviled Eggs
April 13, 2016
by Jennifer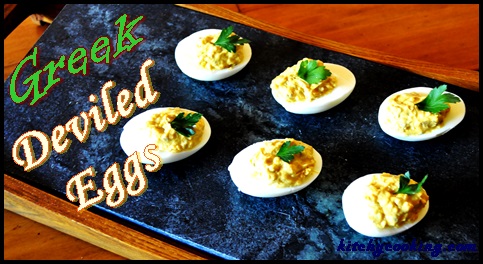 When I was growing up, every year for Passover, we'd go to my cousin's house for the seder. I always loved the seder because it was similar to Thanksgiving in that it was all about the family getting together around a big table and having a huge meal. There were a few differences though. There was no turkey and more importantly we had no bread. We did have matzoh ball soup and matzoh, though. And there was always, always hard boiled eggs.
Every year when we sat down to the seder table there was always a hard boiled egg and a piece of gefilte fish sitting on the plate waiting to be eaten.  It's the first course and signifies that the meal has finally begun. While I like hard boiled eggs, they're not what you come to the seder for. You come to the seder to hear the story of the exodus out of Egypt and to enjoy a feast of chicken or lamb, matzoh ball soup and lots and lots of matzoh. But the egg is an important part of the service. It represents spring and rebirth as well as a sacrificial offering made during the days of the Holy Temple. But to me it always meant we could finally eat.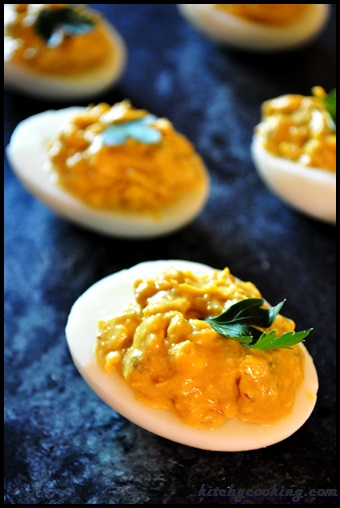 Growing up it was always a plain, hard boiled egg. But as I've gotten older my tastes have changed. These days I like spice and herbs. These days a plain boiled egg is… well… boring. I mean, yes, we have to have an egg for the seder. It's tradition. But as long as there's a roasted egg on the seder plate, why can't we enjoy our eggs scrambled or fried? There are so many ways to cook eggs, does it have to be hard boiled? My mom didn't think so. Last year she decided to replace the hard boiled egg with a deviled egg. They were a hit. So, this year I've decided to make deviled eggs as well. But since I live to experiment, I'm not making your standard deviled egg with mayo and paprika. Instead, I've decided to go Greek.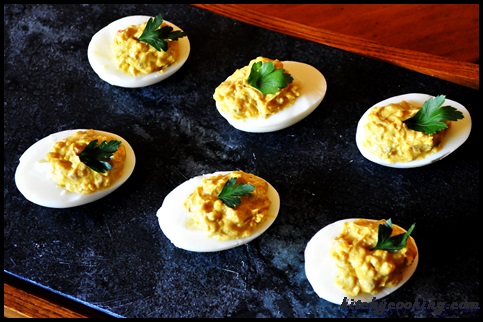 I love Greek flavors: feta cheese, olives, balsamic vinegar… yum!  So, I decided to take all those delicious flavors and whisk them into a bunch of egg yolks. Oh, my God. If you're bored with boiled eggs or your standard deviled egg, you have to try these. They're tangy, salty, cheesy deliciousness. And they'll start your seder off with a bang!
Not hosting or attending a seder this year? No worries. These awesome little eggs are great for a spring or summer cookout (Memorial Day is right around the corner). They're also perfect for the beach. Throw in a bottle of wine and a sunset and you've got a romantic evening for two. No matter what event you choose, you need to make these eggs. They'll be the hit of your seder and every other dinner party you throw over the summer.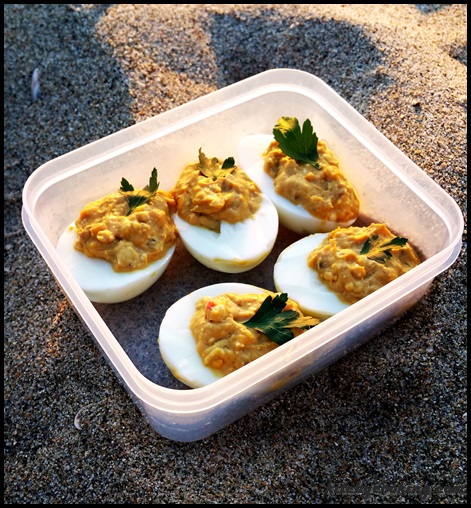 Greek Deviled Eggs
Ingredients:
12 hard boiled eggs
1/4 cup mayonnaise
3 oz. feta cheese
2 tablespoons olive oil
1 clove garlic, finely minced
1 tablespoon muffuletta olive mix
1 tablespoon balsamic vinegar
salt and pepper to taste
Directions:
Slice the hard boiled eggs in half, lay the whites on a plate and put the yolks in a large mixing bowl.
Add the mayonnaise, feta, olive oil, garlic, muffuletta mix, vinegar, salt and pepper to the yolks. Mash well with a fork until all the ingredients are well combined.
Spoon the yolk mixture into the whites. Garnish with parsley leaves and serve.