The first night of Passover is Friday. That means as of sundown no more leavened bread for eight days. So, no bread, no pancakes, no french toast, no crackers, no cereal… you get the picture. While I can make do with matzoh sandwiches over the long week, the one thing that's always hard for me to get through is breakfast.
I love breakfast. Pancakes, french toast, even a boring bowl of cereal brings a smile to my face. But during Passover, I can't have any of those things because they all have yeast. Sure, I can fry up an egg or have some yogurt, but that's not usually enough for me.  I like big breakfasts, especially on the weekend. There's nothing better than bagels with lox and cream cheese, or a huge stack of pancakes swimming in butter and syrup.  Well, for a week, I have to go without.  So, what do I have instead? Why fried matzoh of course.
I grew up having fried matzoh. Almost every morning of Passover my mom would get up and make us a big batch for breakfast. It's like a salty pancake and I love it. As a matter of fact, when it comes to matzoh brei (fried matzoh) I only know it as a savory dish.  But Fine Cooking showed me it could be a sweet dish too.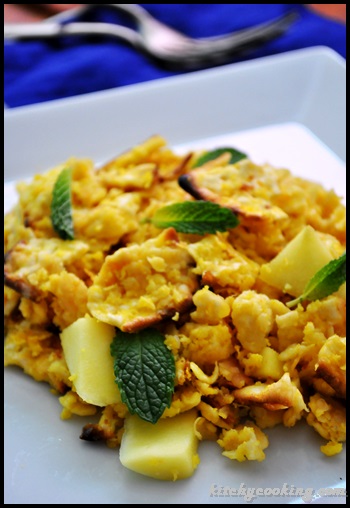 See, there are so many different varieties of matzoh (egg, salted, thin or plain), you can pretty much turn the unleavened cracker into anything. I've tried them all and the plain is my favorite because it's the most versatile. You can put cheese on it, make a peanut butter and jelly sandwich or mash it up and coat a nice piece of salmon.  I've done all these things, but I never thought of adding sugar and syrup until Fine Cooking suggested it.
Adding that sugar and syrup opened up a whole new world to me. It made the matzoh sweet. It turned this classic cracker that's often served with cheese or horseradish into something almost resembling dessert or a sweet breakfast treat. Adding fruit made it even better and excited me to no end. See, now I can go back and forth the week of Passover. Some mornings I can enjoy a savory matzoh brei, while on others I can have a sweet version. This way I won't get bored and neither will you.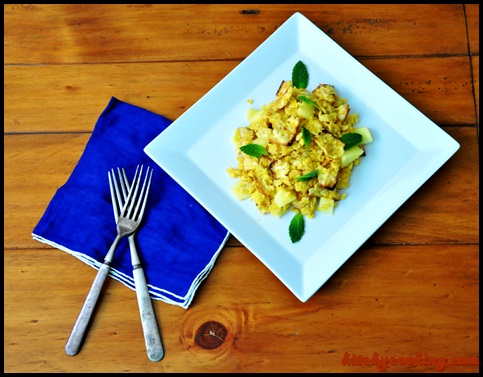 Mango Matzoh Brei (adapted from Fine Cooking)

Ingredients:
5 sheets unsalted matzoh
2 eggs
3 tablespoons orange juice
2 teaspoons sugar
1/4 teaspoon salt
2 tablespoons unsalted butter
1 mango, peeled and chopped
Directions:
Break the matzoh into little pieces. Place the matzoh pieces in a bowl with 1 cup of hot water and let soak for 2-3 minutes until mushy. Drain the water and set aside.
In a medium bowl whisk together the eggs, orange juice, sugar and salt until well combined. Add the matzoh and toss to coat.
Melt the butter in a large skillet over medium heat.  Add the mixture to the skillet and cook, stirring constantly until the eggs are set, about 3 minutes. Stir in the mango and continue to cook patting down into a pancake until the edges are golden brown.  Serve with mint leaves and syrup.