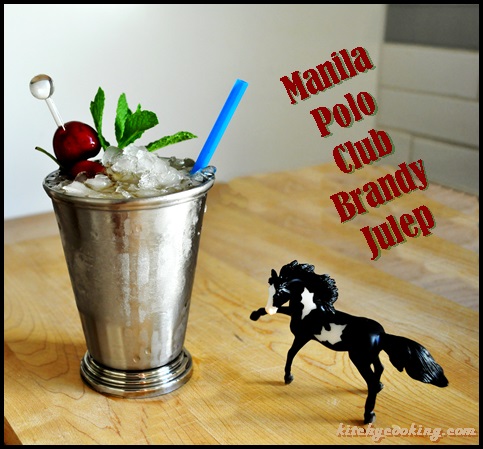 The Kentucky Derby is just over a week away, so this week and next I'm going to be making mint juleps.  But these aren't your standard bourbon mint juleps. These have a twist. Believe it or not there isn't one ounce of bourbon anywhere in them. They're made with cognac instead. If you're a classicist though, and will only drink a julep made with bourbon, I can still help as I made the original a couple years ago.
But back to this version, which comes from Charles H. Baker. He discovered it in the Philippines in 1926. Then again in '31 and '32 and he says he never forgot it.  Because he never forgot it, he chose to include it in his Gentleman's Companion drinking book so that we could enjoy it today. And let me tell you, it is definitely one enjoyable cocktail.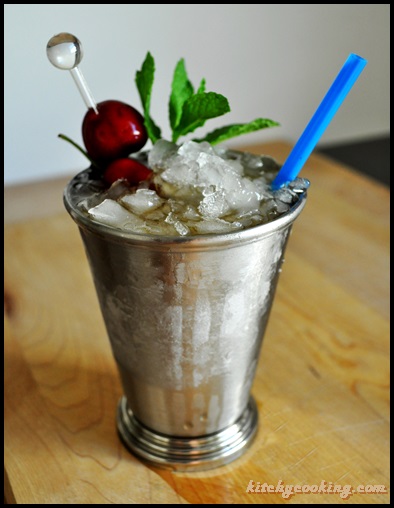 While I love the bourbon version, the combination of cognac and rum definitely give this one a tropical feel. But it wouldn't be a julep without the mint. Thankfully there is plenty of mint in this cocktail. And when it's muddled with sugar and a little water, that mint permeates through the whole cocktail from top to bottom. You can taste it in the cognac, you can taste it in the rum and you can taste it through all of the shaved ice. It's that mint flavor that plants this tropical cocktail squarely in the Julep category. Add some cherries or pineapple as a garnish and you have a great cocktail that's perfect for any day of the week, but especially Derby Day.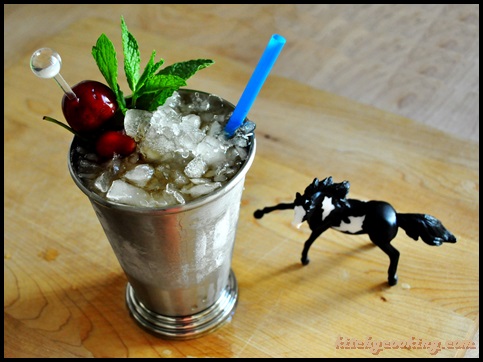 Manila Polo Club Brandy Julep
Ingredients:
1 teaspoon sugar
3-3/4 ounces cognac
1 ounce water
8 sprigs of fresh mint
2 tablespoons of a good aged rum
1 teaspoon powdered sugar
Directions:
Dissolve the sugar in the water in a silver julep cup. Add half the mint to the cup and lightly muddle them.
Fill the cup with crushed ice. Pour in the cognac. Skewer a couple cherries on a toothpick and add them to the cup. Float the rum on top and add the rest of the mint for the garnish. Add a short straw and serve.