Blueberry Blintzes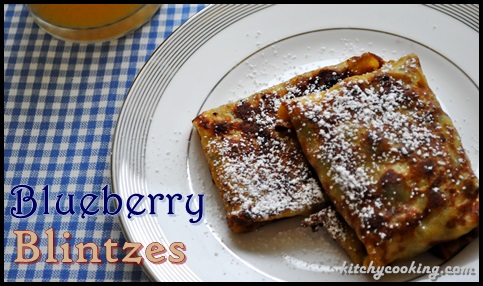 Since Mother's Day is Sunday, I wanted to make something that my mom used to make me, and is special enough to make your mom on her special day. They're blueberry blintzes.
Every spring and summer when blueberries came in to season my mother and I would go to the farmer's market and get baskets and baskets of them. She was as big a fan as I was. She even used to read me the children's book, Blueberries for Sal, which was all about a little girl who goes blueberry picking with her mother. I loved that story. So one year we even went blueberry picking. While I didn't meet up with a bear, I was eating as many of them as I could pick.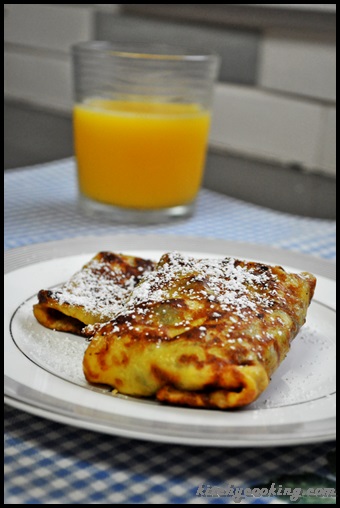 That love for blueberries has not waned. I still love those little blue spheres and eat them every chance I get. I put them on cereal, I make tarts with them and I even eat them straight out of the basket. But one of my favorite ways to eat blueberries is in blintz form. I've been eating blueberry blintzes for as long as I can remember, because it was a breakfast treat Mom always made for me, and now, I do the same for my boys. As soon as blueberries are available in the stores I run out and grab a big basket and start adding them to everything.
While blueberry pancakes are one of my favorite breakfast options, blintzes are also delicious and a little more special than your basic blueberry pancakes. They're better because where blueberry pancakes only have a handful of blueberries in each cake, the blueberry blintz is practically bursting with berries. You see all a blintz is, is a thin little crepe, that's then folded into an envelope, stuffed with berries and fried. When they're ready to eat, you sprinkle them with powdered sugar, douse them in syrup or for serious decadence, do both. They never disappoint and always, always bring a smile to my face.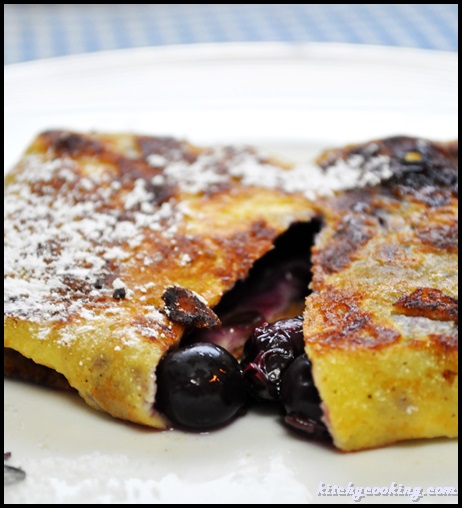 Blueberry Blintzes
Ingredients:
1 cup milk
2 eggs
1 cup flour
3 tablespoons sugar, divided
4 tablespoons lemon juice, divided
1 tablespoon lemon zest
1/2 teaspoon salt
2 tablespoons butter, melted
1 pint blueberries
Directions:
Combine the milk, eggs, flour, 2 tablespoons sugar, 2 tablespoons lemon juice, lemon zest, melted butter and salt in a blender. Blend on medium for 20 seconds or until the batter is smooth and lump-free.
Toss the blueberries in a bowl with the remaining sugar and lemon juice and set aside.
Heat an 8-inch crepe pan or skillet over medium heat and brush with a little melted butter. Pour 1/4 cup of batter into the pan and swirl it around so it covers the bottom evenly; pour back any excess. Cook for 30 to 45 seconds, until the crepe batter sets. Use a heatproof rubber spatula to loosen and flip the crepe and cook for another 30 seconds until lightly browned but not crisp. The crepes should be pliable when ready. Slide them onto a platter and continue making the crepes until all the batter is used.
Forming blintzes is kind of like making a burrito. To assemble each blintz,

spoon two tablespoons of the blueberry mixture along the lower third of the crepe. Fold the bottom edge away from you to just cover the filling; then fold the 2 sides in to the center. Roll the crepe away from you a couple of times to make a package, ending with the seam side down.

Melt a tablespoon of butter in the skillet over medium heat. Place the filled crepe seam side down and cook for about one minute until sealed. Flip and brown the other side for another minute. Place on a plate. Repeat with the rest of the crepes and blueberries until you have used all the crepes and have a stack of blueberry blintzes. Serve immediately with powdered sugar and syrup.