Lamarr Peach Brandy Mint Julep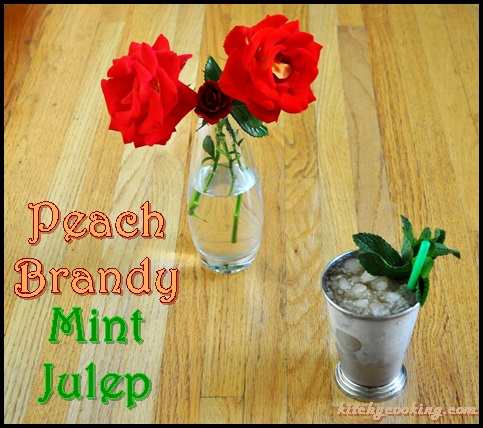 It's known as the Run for the Roses and the Fastest Two Minutes in Sports. If neither of those names ring any bells though, it's probably because you know it by it's more common title: the Kentucky Derby, and it's tomorrow. Every year, for the past 141, the most amazing horses and jockeys converge at Churchill Downs for the most popular horse race in the states, and like so many other sporting events out there, it has a cocktail all its own.
Baseball and football have beer. Golf has the Arnold Palmer and the Kentucky Derby has the Mint Julep. The classic mint julep is made with lots of fresh mint and bourbon, and plenty of people believe that this is the only way a julep is made. But there are those who like to shake things up and may try their juleps with rum or brandy instead of bourbon. Some believe that's blasphemy, while others believe it's perfectly fine and just as delicious. I mean, as long as you have mint and a silver cup, you're legit, right?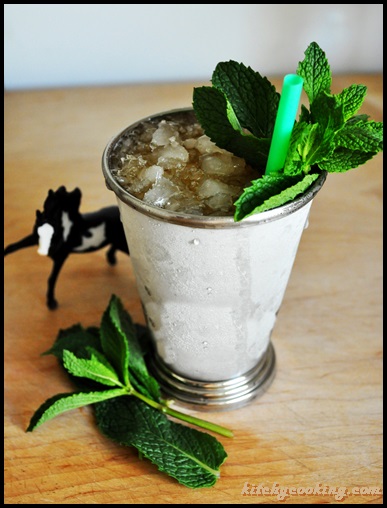 Charles H. Baker thought so. As a matter of fact, he has at least nine different juleps listed in his Gentleman's Companion and only four of them use bourbon. But every single one of them uses a silver cup and plenty of fresh mint. So, I tried a couple. They're delicious and each have a story. According to Baker, the Lamarr came from the daughter of the Lamarr family in Macon. They owned groves and groves of peach trees and she was nice enough to share it with Baker, with the warning that this is "no drink for weaklings!" I can attest she's absolutely right. This drink definitely packs a punch! Who knew peaches could be so tasty and so intoxicating at the same time?
It's interesting concoctions like these that make me love classic cocktails. Don't get me wrong, I love a good bourbon julep, but switching out the bourbon for cognac or rum gives the julep a whole new flavor. The rum makes it more tropical while the cognac and brandy make it a little more fancy. So, this weekend why not lose the bourbon and try something different? As long as you have a julep in your hand and a hat on your head, you'll fit right in.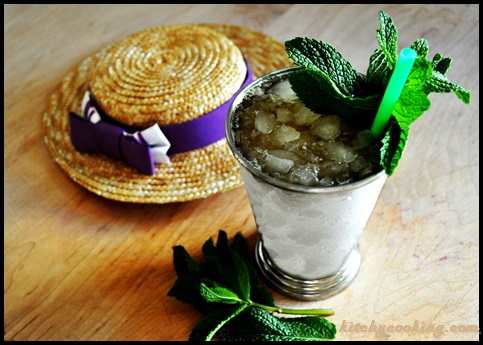 Lamarr Peach Brandy Mint Julep
Ingredients:
1 teaspoon sugar
1 teaspoon water
1 dozen sprigs of fresh mint, divided
2-1/4 oz. cognac
1-1/2 oz. peach brandy
Directions:
Place the sugar and water in a silver julep cup. Stir until the sugar is dissolved.
Tear up 2 or 3 sprigs of mint and place in the cup. Muddle lightly. Tear up 5 more sprigs of mint and add them to the cup.
Fill the cup with crushed ice. Add the cognac and brandy. Garnish with a couple sprigs of mint and a straw.
DO NOT STIR. According to Baker "That prime liquor will percolate through the ice to the very bottom without any trouble. Just sit by quietly and watch the whole lovely process of frosting… Then, and then only, drink!" Sounds good to me.