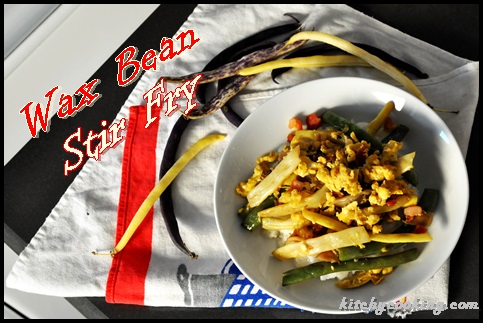 Every so often I'm in a rush to get dinner on the table. While I like to take my time and make something that takes an hour or longer, two young boys make that nearly impossible. Sure, it'd be easy to unwrap something and throw it in the microwave, but I prefer to make something from scratch with what I have in the fridge.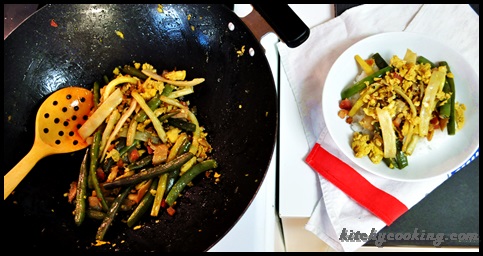 One of my favorite dinners to make up in a flash is stir fry. It's the easiest thing in the world to make, and it's always different because the dish depends on what's in your cupboards. Recently Melissa's Produce sent me several bags of wax beans in a variety of colors. So, I used those as well as some eggs and a few other things to make a delicious dinner. While this stir fry was mainly comprised of veggies, in the past I've added leftover chicken or beef along with a splash or two of soy sauce and thrown it over rice which makes the dinner even heartier.
I know normally beans are served as a side for chicken or fish, but my boys aren't into green foods. So whenever I can, I try to find some way to incorporate vegetables, like these beans, into the entrée. That's one of the many reasons I love stir fry: it's a one-pot meal; and while I like to serve my stir fry over rice, you don't have to. This type of dinner is just as filling all on its own.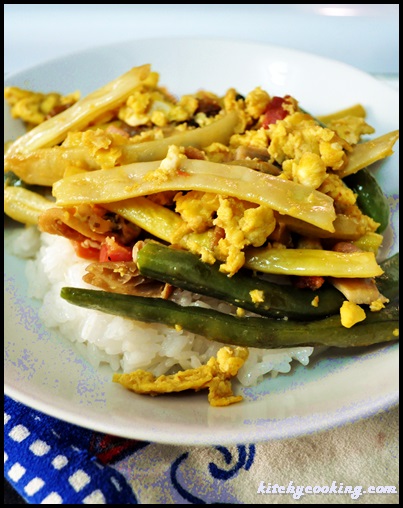 So, if you're in a rush one night this week (or next) grab whatever proteins and vegetables you have in the fridge and whip up some stir fry. Everyone will be thrilled and you'll have some extra time to just hang out.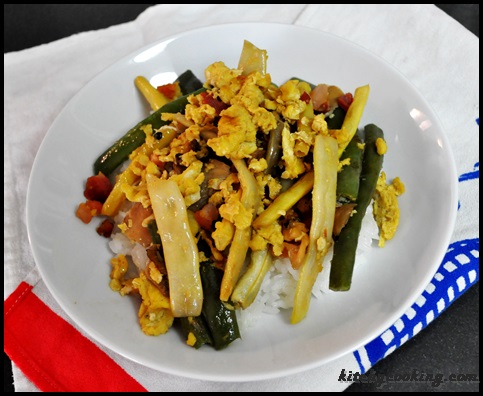 Wax Bean Stir Fry (adapted from Circa Happy)
Ingredients:
2 tablespoons sesame oil
4 oz. pancetta
5 oz. shiitake mushrooms, sliced
12 oz. wax beans, washed and trimmed
3 eggs
1 tablespoon fish sauce
1 teaspoon sugar
Directions:
Heat the oil in a large wok over medium-high heat. Add the pancetta and cook until crispy, about 3 minutes. Remove with a slotted spoon.
Add the mushrooms and wax beans and cook, stirring occasionally, until almost cooked through, 2 – 3 minutes.
Push to the side and add the egg. Stir the egg until cooked through, about 2 minutes. Combine with the vegetables.
Add the sugar and fish sauce and toss all together to coat. Add the pancetta and toss once more.  Serve immediately over rice.
Disclosure: This is not a sponsored post. Melissa's provided me with the wax beans for recipe testing. As always, any opinion expressed is my own and is not influenced in any way by the manufacturer/PR firm as I only review products that I have personally tested and endorse.