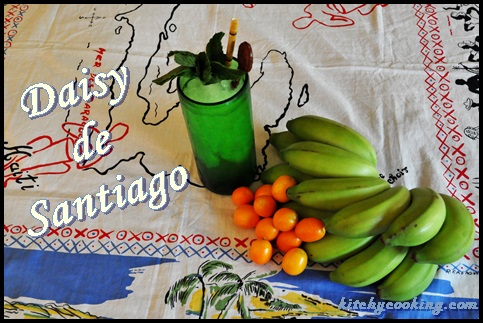 I love a good tiki cocktail, especially when it's served up in a cool tiki glass at a bar that's covered with fish and water and tropical themed wallpaper. I've actually been to a few such bars like the Tiki Ti, the Purple Orchid and even the original Don the Beachcomber in Huntington Beach. But recently I visited a tiki bar unlike any of the ones I'd been to before. It's called Smuggler's Cove and it's located behind a black glass door in San Francisco.
Smuggler's Cove not only reproduces all the classic tiki drinks from both Vic and Don, they've created several of their own. Their menu is so large and they have so many stories behind the drinks and the history of tiki that they decided to put out their own book. The book is over 300 pages and includes not only all that history, but several of the classic recipes as well as their own creations. It's a beautiful book of which I just can't get enough. It's so awesome in fact, that I've decided to devote this whole summer to tiki cocktails. So, every Friday from now until Labor Day there will be a tiki drink on this blog.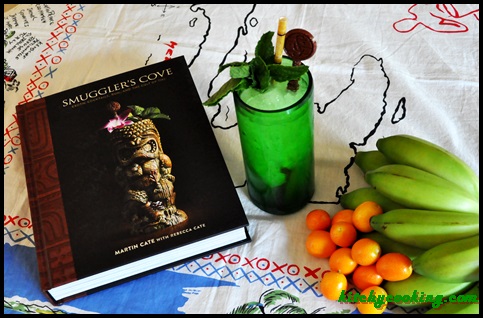 Today's recipe is called the Daisy de Santiago and like most tiki cocktails it uses rum. But while most recipes call for two or three different kinds of rum, this drink uses only one. It uses a clear rum, like a Bacardi silver. I like to try different liquors, though. I mean, Smuggler's Cove has over 500 different rums lining their shelves, so why should I be limited to just one brand? Now, I don't have the space for 500 bottles, but I could easily have six or seven.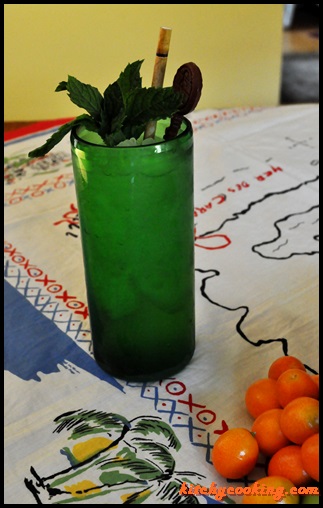 As a matter of fact I recently added another couple bottles to my bar thanks to the Greenbar Distillery in Los Angeles. They're a distillery that makes several different kinds of liquor including a silver and a spiced rum. What makes this rum unlike others out there though, is that it's completely organic. Greenbar ferments molasses in temperature controlled tanks with white wine yeast creating a richer, tastier rum.
Unlike those other silver rums, you can really taste the sugar and caramel flavors that come from the molasses, making the Crusoe (Greenbar's name for their rum line) great for tiki cocktails. It's perfect in the Santiago because that sugar from the rum enhances the float of Chartreuse on top, making this cocktail both sweet and bubbly and ideal for a summer on the beach.
Daisy de Santiago
Ingredients:
1 oz. lime juice
1-1/2 teaspoons simple syrup
2 oz. silver rum
1/2 oz. yellow Chartreuse
1 oz. club soda
Directions:
Pour the lime juice, simple syrup and rum into a mixing glass. Stir to combine the flavors.
Fill a high ball glass with crushed ice.
Pour in the rum mixture. Float the Chartreuse and club soda on top. Garnish with mint and serve.