Fire-Roasted Ricotta with Grilled Corn & Peppers
June 29, 2016
by Jennifer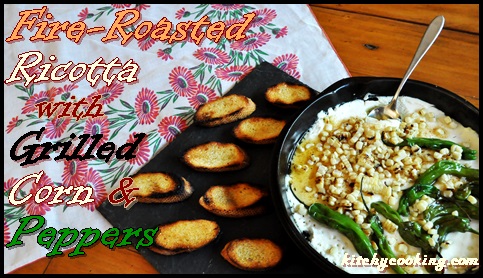 It's America's birthday on Monday which means the whole country will be celebrating with parties and fireworks. My street actually holds a block party every year to celebrate, complete with a chili cook-off, pie contest, plenty of watermelon and plenty of grilling. But we don't just grill chicken, burgers and hot dogs. We grill fruits and vegetables as well, and on occasion we even grill cheese.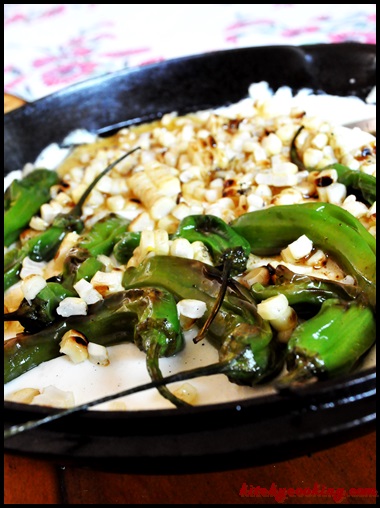 I know cheese sounds like an odd choice for the grill, but there's nothing better than a hot bubbling bowl of cheese spread on a crostini. If you're concerned that you'll get melted cheese all over your grates though, don't be. All you need is a cast iron skillet. It really is that easy. Just spread the ricotta in the pan, place it on the grill, wait 10 minutes and voilà: a delectable, smokey appetizer.
Want to make it even better? Add some grilled veggies. Sure, the cheese on its own is wonderful, but sprinkling some grilled corn and peppers on top turn it into a delicious appetizer that will keep the party hopping until the main course shows up.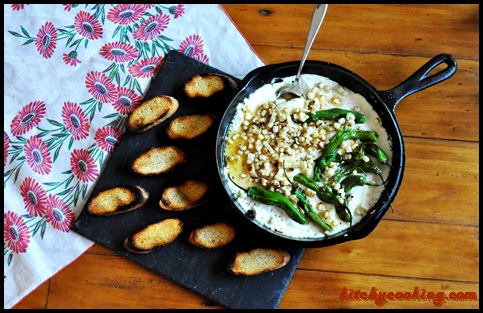 Fire-Roasted Ricotta with Corn & Peppers (adapted from Better Homes and Gardens)
Ingredients:
1 (15 oz.) carton of whole milk ricotta
6 tablespoons unsalted butter
2 tablespoons balsamic vinegar
2 ears of corn
5 – 10 shishito peppers
6 tablespoons olive oil, divided
1 tablespoon Italian parsley, chopped
1 teaspoon fleur del sel
1 baguette, sliced
Directions:
Heat the grill to 350°F.
Place the butter in a small saucepan and cook over low heat. Continue to swirl and heat until melted and browned. Keep an eye on the butter because it can go from brown to burned in an instant. Once ready, add the vinegar and cook for another minute or two until heated through; set aside.
Spread the ricotta in an 8-inch cast iron skillet and grill for 5 – 10 minutes or until hot and bubbling; set aside.
While the cheese cooks and cools, remove the husks from the corn and brush with two tablespoons of olive oil. Toss the peppers with another two tablespoons of oil and a teaspoon of salt.
Grill the peppers until they start to blister, 2-3 minutes. Grill the corn until lightly charred and heated all the way through, about 10 minutes. Remove the kernels from the cob.
Brush the sliced bread with olive oil and grill until lightly charred, about 2 minutes.
Top the hot cheese with the grilled corn and peppers. Drizzle with the balsamic butter sauce and serve with the crostini.