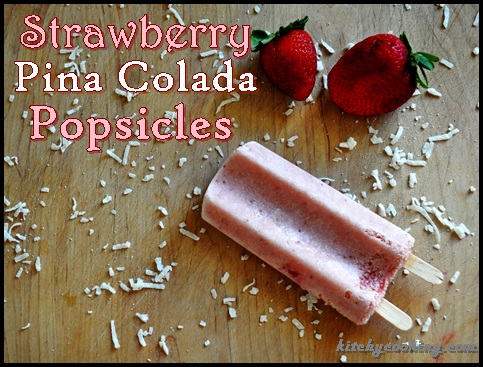 Many, many years ago I had a summer job at a Mexican restaurant in Northern California. I was the hostess, so I didn't learn many recipes working up front. I did however, get to taste several creations, including a delicious cocktail they called a Lava Flow. (Don't worry, my version was sans alcohol since I was still in high school.) It was just a piña colada blended with fresh strawberries, but it was amazing. It was sweet and tart, had a subtle coconut flavor and I couldn't get enough. It was so good in fact, I've never forgotten it.
So, when Melissa's Produce sent me their sliced coconut and coconut hearts I immediately thought of those delicious drinks. Unfortunately, since I first tasted those cocktails, I have developed an allergy to pineapple so I can no longer enjoy a nice, cold Lava Flow or your standard piña colada for that matter. I can however enjoy one without pineapple juice. But I didn't want to turn that coconut into a drink. I knew summer was coming and I remembered how nice those drinks were, but they never lasted long. I wanted something that would cool me (and my friends) off, but would last a little longer than your standard cocktail. I thought a popsicle would be perfect.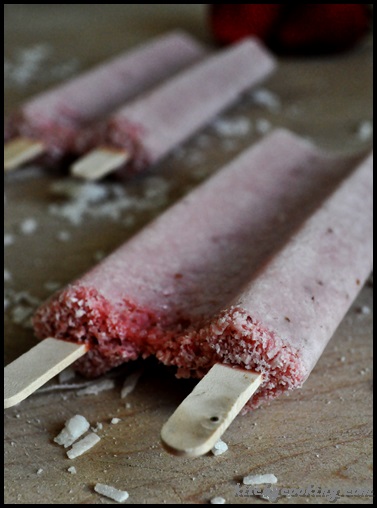 What I really like about these popsicles is that they're not all empty calories, they're actually kind of healthy. It's all just fruit and yogurt and of course a couple ounces of rum. Hey, you can't have boozy pops without booze, right? But the rum isn't the only liquid in these popsicles. There's also a cup of fresh coconut water.
See, I used Melissa's coconut hearts for the coconut and these hearts are so fresh, they still have all their water in them. So, before I chopped up the coconut flesh, I drained all the water out of it and used it as the base for these pops. In these hot days of summer, you're not just getting something sweet and cold, you're also getting something that will reduce your sodium, give you potassium and plenty of electrolytes. All that plus rum make these summer desserts the perfect way to beat the heat.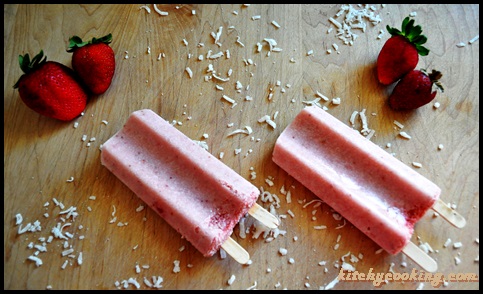 Strawberry Piña Colada Popsicles
Ingredients:
1 coconut heart
1 cup strawberries, hulled and sliced
1 cup plain Greek yogurt
2 tablespoons sugar
2 oz. rum
Directions:
Take the heart and drain the coconut water into a measuring cup. Chop the flesh in a food processor until fine, little pieces.
Place the coconut water, coconut flesh and remaining ingredients in a blender and blend until smooth. Pour into a popsicle mold, add wooden sticks and freeze for at least 6 hours.
When ready to serve, remove the popsicles from the mold and enjoy.
Disclosure: This is not a sponsored post. Melissa's Produce provided me with the coconut hearts for recipe testing. As always, any opinion expressed is my own and is not influenced in any way by the manufacturer/PR firm as I only review products that I have personally tested and endorse.