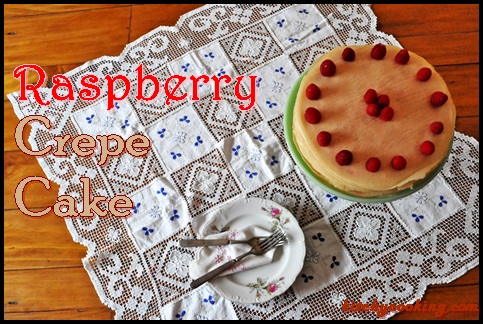 I've talked about Melissa's Produce and the wonderful produce they send me. It's all sorts of fresh vegetables and fruits and it's always delicious. But Melissa's doesn't just deal in fruits and veggies. They also have herbs, beans, kits and even nuts. I've been using their produce for years but it wasn't until recently that I used a couple of their kits.
I started with their tamale kit and loved it. It made making tamales a cinch. All I had to do was add water, stir, spread the batter on the corn husks, steam and I had dinner. They were so good, I decided to try Melissa's other non-produce products. I started with their crepes.
I've always loved crepes. Every so often my mom would make them for a special treat. They're essentially very thin pancakes. But while they're yummy, they're not the easiest thing to make. You have to get the batter just right and then they have to spread it out on the pan so they're thin enough to roll up over whatever filling you put inside, but not so thing that they split and tear as you roll them. It's definitely a fine art. I've tried to make them several times and while my crepes will do, they're not perfect. That's why I was thrilled to find out that Melissa's not only makes crepes, they sell them in packages of 10.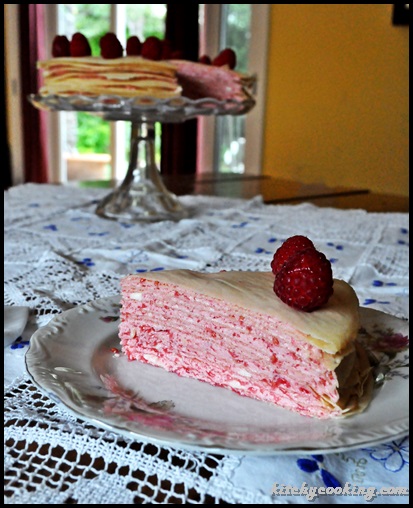 Their crepes are delicious! They're sweet enough for breakfast but not too sweet; and that means you could turn them into a savory dinner as well. But since I had 10 crepes, I chose to turn them into a crepe cake.
A crepe cake is a cake where the cake is made from crepes and the layers are made up of whipped cream or fudge or a thick, tart fruit curd. There are plenty of options when making a crepe cake, and since I had the crepes all made and ready to go, all I had to do was figure out what I was going to layer them with. I chose a raspberry whipped cream.
I know a raspberry whipped cream sounds complicated, but it couldn't be easier. You whip the cream, then add some sugar and fresh raspberries. See? Simple. But what you end up with is a sweet, tart, pale pink, creamy, dreamy filling that pairs perfectly with the thin crepes.  And if you use fresh raspberries (of which there are plenty, right now) you have a super easy cake that's not only beautiful, it's a great summer dessert.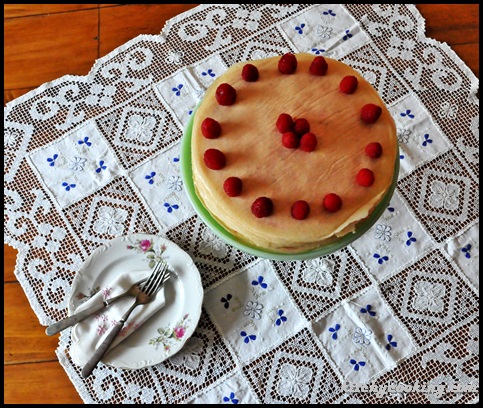 Raspberry Crepe Cake
Ingredients:
1 pack of Melissa's crepes
2 quarts of whipped cream
1/2 cup sugar
2 pints of raspberries
Directions:
Beat the cream until stiff.
Gradually add the sugar and the raspberries while you continue to beat the whipped cream. The cream should turn a pale pink as the berries are mixed in.
Place one crepe on a plate. Spread 2 spoonfuls of raspberry cream on the crepe. Top with another crepe and repeat until you've used all the crepes.
Decorate the top of the cake with several raspberries and serve.