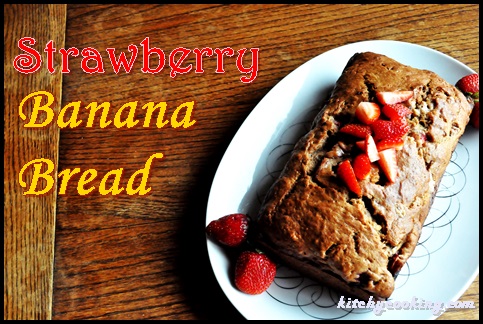 I know strawberry season might be over (or at least the peak season is) but as long as there are strawberries at the farmer's market, I consider it to be strawberry season. And I'm not alone. Three weeks ago we had our monthly Food Bloggers of Los Angeles meeting and the topic was strawberries and Snapchat.
See, every month we get together to discuss a different topic in the blogging world. But since we're all foodies, we can't just get together and talk. There needs to be some food involved. As I mentioned this month was all about strawberries. At first I thought about making something savory, but when push comes to shove, I love desserts, especially when they're made with fresh fruit.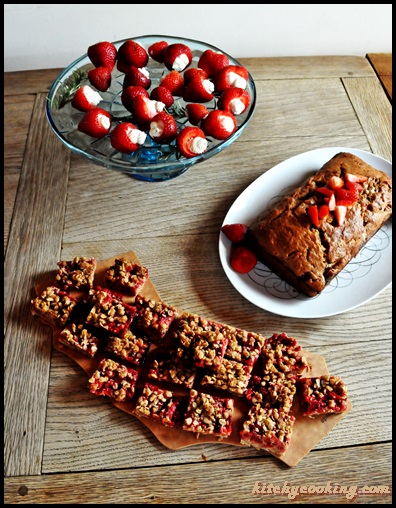 Fruit desserts in the summer are the best. They just taste so fresh and so… well summer. I love all kinds of fruit desserts from peach to every kind of berry. But strawberry desserts are still some of my favorites. Another favorite of mine? Banana bread.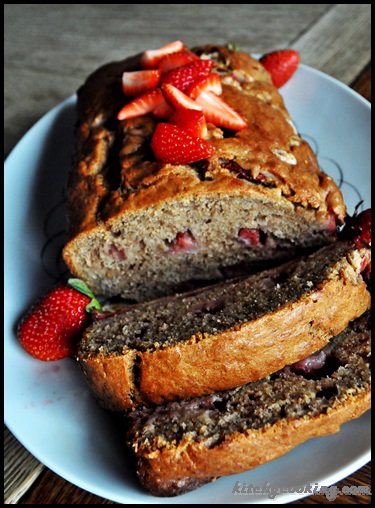 I make a lot of banana bread because while my boys are huge fans of bananas, there are plenty of weeks when those bananas are neglected and end up a little too ripe for us to eat straight. It's on those occasions that I make banana bread. I've made all kinds: plain, chocolate, I've even made a chocolate chip version. (Hmmm… maybe I should post one of those one of these days.) Anyway, when I saw this strawberry version, I knew I had to try it.
Plain bananas and strawberries weren't enough, though. If there's one thing that pairs well with strawberries it's chocolate. So, I thought about making a chocolate banana bread with strawberries, but I didn't want it to be that rich. It was a hot day after all and I don't like rich desserts when it's hot. So instead of the standard half cup of cocoa powder, I used a couple tablespoons. That way you got a hint of chocolate without the heavy, richness that usually comes with a chocolate banana bread. The end result was a delightful summer dessert that's not only perfect for a food blogger meeting, but makes a great brunch option as well as a nice picnic choice.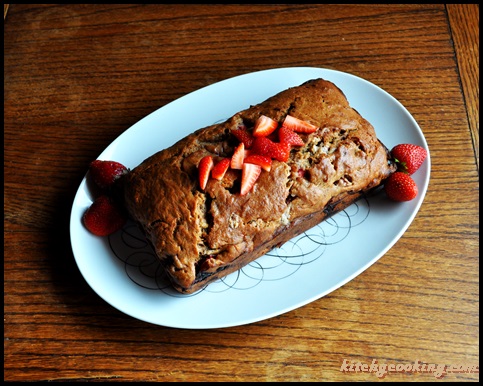 Strawberry Banana Bread (adapted from the Recipe Critic)
Ingredients:
1/2 cup (1 stick) butter
1 cup sugar
2 eggs, beaten
3 very ripe bananas, mashed
2 cups flour
1 teaspoon baking powder
1/2 teaspoon salt
2 tablespoons unsweetened cocoa powder
1-1/2 cups strawberries, hulled and chopped
Directions:
Preheat oven to 375°F. Spray a 9×5 loaf pan with nonstick spray. Set aside.
Sift together the flour, baking soda, salt and cocoa powder in a small bowl and set aside.
Cream the butter and sugar together in a large bowl until light and fluffy. Add the eggs and beat until combined. Mix in the mashed bananas.
Slowly add the flour mixture to the banana mixture and mix until flour is just combined. Don't overmix! Fold in the strawberries.
Pour batter into the prepared pan and bake at 375°F for 15 minutes. REDUCE heat to 350°F and bake for an additional 30 minutes until the edges are golden brown or a toothpick inserted into the center comes out clean. Let cool completely before removing from the pan.