Mango Lassi Popsicles
September 14, 2016
by Jennifer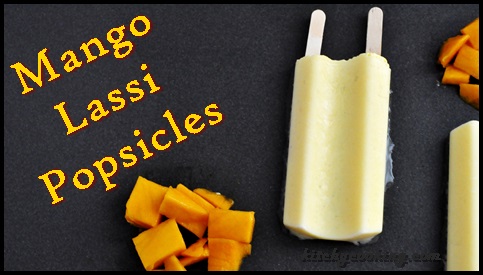 I've always been a fan of mangoes. They're sweet and a little tart and perfect for smoothies or desserts. Plus, my sons absolutely love them. They ask for them every chance they get. They don't care if they're fresh or dried, though they prefer them fresh, and I don't blame them.
Fresh mangoes are amazing. They're soft and sweet and melt in your mouth. So, you can understand how excited both my sons and I were when we received a batch of Keitt Mangoes from my friends over at Melissa's Produce. The Keitts are unlike any mango I've ever had before. First off they're huge! They easily weigh at least a couple pounds, and they're so soft. When they're ripe, they really do melt in your mouth. The reason these green beauties are so immense is because unlike other mangoes, the Keitts are left on the tree longer. That way you can eat them as soon as they're plucked from the branches. The fact that the yellow flesh is less fibrous than other varieties make them ideal for blending into smoothies or cocktails or even popsicles. So, that's what I did.
A few months ago I discovered a classic Indian drink called a mango lassi which is very popular during those humid Indian summer months. It's super easy to make and quite refreshing. But while it's delicious as a drink, I thought it would be even better frozen and served up as a popsicle.
These popsicles are creamy, sweet delights that are ideal for those warm remaining days of summer. While any fresh mango can work, the Keitt's are the perfect choice thanks to their silky, smooth flesh. They blend up beautifully, and I'll definitely be using, eating and blending them up again as long as I can get them.
Mango Lassi Popsicles (adapted from the Flavorful Shortcuts to Indian/Pakistani Cooking)

Ingredients:
1 (6 oz.) container of lemon yogurt
1 cup fresh mango, chopped
6 oz. non-fat milk
1 cup ice
2 tablespoons sugar
2 tablespoons lemon juice
Directions:
Pour all the ingredients into a blender and blend for several seconds until totally combined.
Pour the contents of the blender into a popsicle mold. Add sticks and freeze for at least 5 hours or overnight.
When ready to serve, remove the popsicles from the mold and enjoy.
Disclosure: This is not a sponsored post. Melissa's Produce provided me with the Keitt Mangoes for recipe testing. As always, any opinion expressed is my own and is not influenced in any way by the manufacturer/PR firm as I only review products that I have personally tested and endorse.