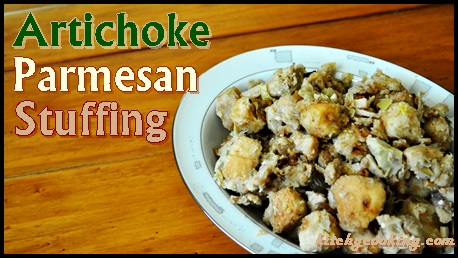 To stuff or not to stuff. That is the question.
There's always been this big debate in the Thanksgiving world about whether or not you should stuff your turkey. Several believe that stuffing the turkey means you're forced to leave the turkey in the oven longer in order to fully cook the bird. When that happens you run the risk of lacing the stuffing with salmonella thanks to putting it inside a raw turkey and/or drying out your bird. But if you brine (or buy a brined turkey) you don't really need to worry about a dry bird since it has spent at least 12 hours soaking in a cold broth bath. Even so, there are still those that would rather not stuff. It's in these cases that stuffing becomes dressing: a bread mixture that's cooked separately in a casserole dish and then served with the turkey.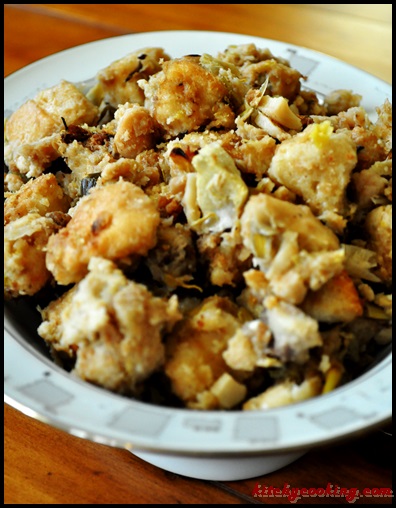 Then there are those who believe that Thanksgiving isn't complete unless you stuff your bird. In their opinion you get a richer stuffing thanks to all the juices from the turkey that seep into the stuffing while it cooks. I am a staunch stuffing fan and I always have been thanks to my father who always, always made the stuffing. I love the flavors that meld together as the bread crumbs, butter, celery and turkey juices cook. It doesn't matter whether you use sourdough or corn bread, celery or water chestnuts, there's absolutely nothing like it. Yes, dressing on its own can be amazing, but nothing compares to stuffing.
As I said, every year my father would make a different stuffing. He always loved finding new recipes and trying different things. Then a few years ago Mom discovered this artichoke stuffing in Sunset Magazine. Evidently it's one of Sunset's most popular recipes. As a matter of fact, every holiday season people call the magazine requesting the recipe and after tasting it, I can see why. It's absolutely delicious! The cheese mixed with the marinated artichoke hearts makes for a savory stuffing that has just a hint of tang thanks to the marinated artichoke hearts. Yes, you could cook it separately in a casserole dish, but when that stuffing is drenched with turkey juices… oh my god! It's out of this world good. No matter which way you try it though, one taste and you too, will understand why it's one of Sunset's most requested recipes year after year.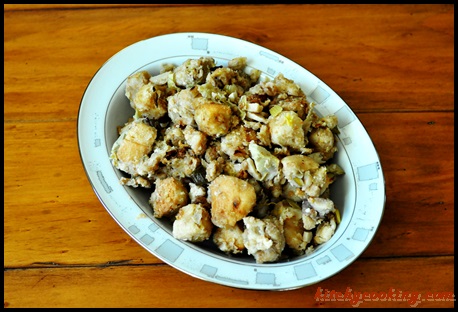 Artichoke Parmesan Stuffing
Ingredients:
1 pound mushrooms, rinsed, stemmed and sliced
1 tablespoon butter
1 onion, chopped
1 cup celery, chopped
3 cloves garlic, minced
2-1/2 cups low-sodium chicken broth, divided
1 loaf of sourdough bread, cut into 1/2-inch cubes
2 (6 oz.) jars marinated artichoke hearts, drained and chopped
1 cup shredded Parmesan cheese
1-1/2 tablespoons fresh rosemary, minced
1 large egg
Directions:
Preheat oven to 350°F, butter a 2-quart baking dish and set aside.
Melt butter in a large skillet over medium-high heat. Add the mushrooms, onions, celery, and garlic, and sauté, stirring often, until vegetables are browned, about 15 minutes. Transfer vegetable mixture to a large bowl.
Add a 1/2 cup of the broth to the skillet and scrape up browned bits with a wooden spoon; add to the bowl with the vegetable mixture and set aside.
Pour the remaining broth into a separate bowl. Add the bread, artichoke hearts, parmesan and rosemary, and mix well. Add salt and pepper to taste.
Beat the egg with a fork and add it to the bread mixture. Combine the bread mixture with the vegetable mixture until well mixed.
For dressing, spoon bread mixture into prepared baking dish and cook for 45- 50 minutes. For moist dressing, cover with foil. If you like it crustier, don't cover.
If you prefer stuffing, place half of the bread mixture into the cavity of the bird and seal with turkey needles. Cook turkey according to the recipe you're following taking into account the extra weight thanks to the stuffing. Place the other half of the stuffing in the prepared baking dish and cook for 45-50 minutes. When the turkey's done, scoop out the stuffing and mix with the cooked dressing in the baking dish. Serve immediately.
Note: You can prepare the stuffing up to 1 day ahead. Just make the stuffing, put it in a prepared baking dish, cover and chill. Then on Thanksgiving, bake for 1 hour.