Chocolate & Eggnog Breakfast Bread Pudding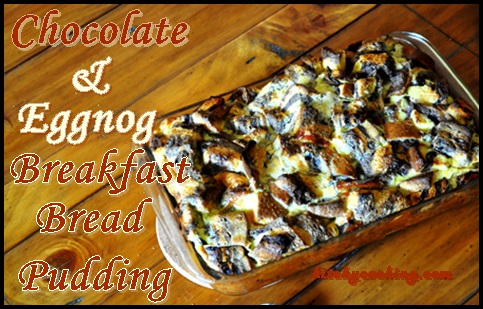 As you all know one of my favorite holiday cocktails is eggnog. We always have it at Thanksgiving when my mom makes it to start off the holidays, then I make a batch for our annual holiday party and then one last batch for Christmas dinner. It's always a big hit, but in all these instances one thing holds true – there's always leftovers. Those leftovers are used in one of three ways: we enjoy a glass, use it as creamer in our coffee or as the custard for french toast.
But after several years of enjoying eggnog french toast, I decided to turn it into a breakfast bread pudding. The benefits of making a bread pudding are you can prepare most of it the night before. That way you're not standing over a hot stove cooking while everyone else is sitting in the living room conversating. But my favorite thing about this bread pudding is that you get all the flavors of the holidays along with a seriously filling breakfast.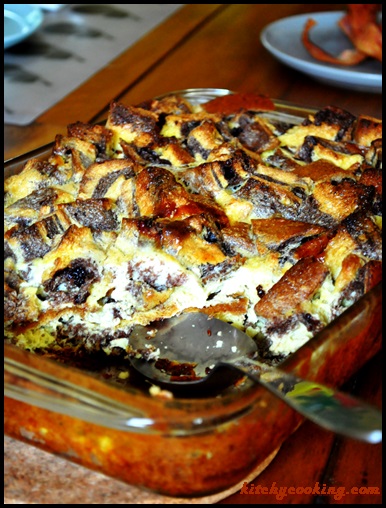 It's filling because of all the bread, cream, eggnog and sausage. Yes, I said sausage. Just like a lot of stuffings out there this bread pudding has sausage laced through it as well. But this isn't just any old breakfast sausage. It's special sausage. No… it isn't laced with any special herb… even though that's legal now. Instead it's got maple syrup and blueberries in it, two things that scream breakfast to me. I discovered this amazing sausage at Whole Foods and have been buying it for the past few years. If they make it at a Whole Foods near you, you should grab a link or two. It's delicious in the bread pudding and on its own with eggs or pancakes. While you could use any breakfast sausage you like, the sweetness from the blueberries and maple syrup combined with the savory flavors of the meat bring this bread pudding to a whole new level.
Since the holidays are all about decadence, eggnog and blueberry sausage aren't the only things in this bread pudding. I upped the ante one more time. I used a chocolate swirl challah. That's right, chocolate swirl. I discovered this amazing bread (which is great all by itself toasted with butter by the way) thanks to a Food Bloggers Los Angeles meeting. Once I tasted it, I knew it would be great as french toast and even better in this breakfast bread pudding. Like the sausage, if you can't order the chocolate swirl bread, or don't like chocolate, you can use a brioche, a plain challah or my personal favorite: a cinnamon swirl challah. No matter which bread you choose, they're all great and add to the wonderful flavors of this dish, making it a fabulously decadent and filling holiday treat. A treat that I plan on making every Boxing Day for years to come.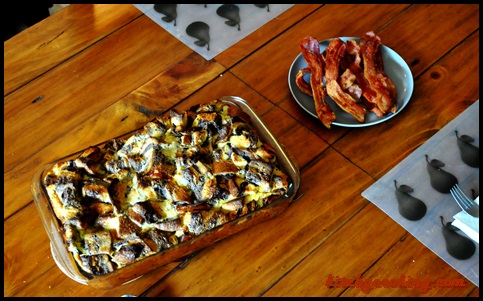 Chocolate & Eggnog Breakfast Bread Pudding
Ingredients:
2 blueberry maple sausages, skins removed and chopped
1 loaf of chocolate swirl bread, chopped into 1-inch cubes
6 large eggs
2 cups eggnog
1 teaspoon salt
1 cup maple syrup, divided
1/4 cup heavy cream
Directions:
Grease a 9×13 pan with butter and set aside.
In a large skillet, cook the sausage over medium-high heat, breaking it up with a wooden spoon, until nicely browned and cooked through, about 8 minutes. Using a slotted spoon, transfer the sausage to a bowl and let cool. Add the bread to the bowl and toss together.  Transfer the bread mixture to the prepared pan.
Whisk together the eggs, eggnog, salt and 1/2 cup of maple syrup in a medium bowl, then pour over the bread mixture. Cover with foil and chill overnight.
When ready to bake, preheat the oven to 350°F. Bake the bread pudding, covered, for 30 minutes. Then uncover and bake for 20 more minutes until the top is brown and the center is set.
While the bread pudding cooks, boil the remaining maple syrup over moderate heat, stirring occasionally, until reduced, about 5 minutes. Remove from heat, and whisk in the cream. Serve the bread pudding with the maple cream and enjoy.