Barbecue Sausage and Cheese Platter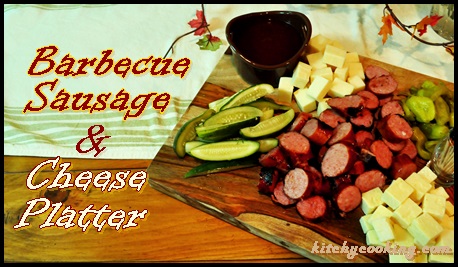 Once a year the families on my block host a progressive dinner party, which is when you have at least 3 courses and each course is served at a different person's house. It's a lot of fun because we all travel as a group up and down the block and get to hang out with our neighbors for an evening. Each year we do this there's a theme. We've done Italian, Mexican… we even did a Super Bowl theme last year. This year's theme was barbecue and I was the appetizer.
I was at a loss. What kind of appetizer can you make that's barbecued? I couldn't think of anything. So, I did what I always do when I need food inspiration. I scoured the internet. Then, thanks to Home Made Interest, I found the perfect barbecue appetizer. It's called a Barbecue Sausage and Cheese Plate. It's kind of like a crudité plate but instead of veggies and dip, it's covered in barbecued meats and cheeses. It's delicious and perfect for the Super Bowl this weekend.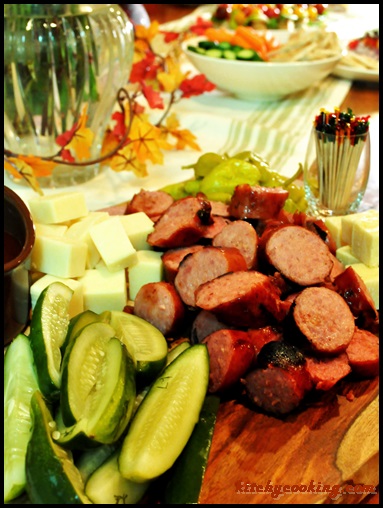 Whether you're hosting a party or attending one, this little platter is guaranteed to be a hit. Sure, you could still make chicken wings or a 7-layer dip, but those take some effort and planning. This platter is super easy, takes literally no time and can be as homemade or as store-bought as you like. It's made up of all things perfect for a football party: cheese, pickles, pepperoncinis, grilled sausages and of course barbecue sauce. While I made the pickles and barbecue sauce from scratch, you don't have to. You can buy everything and simply slice and grill. It's seriously that easy.
What makes this platter stand out from other appetizers and game food is the barbecued sausages. You can take any pre-cooked smoked sausage or kielbasa and grill it up on your favorite grill. And because these sausages are already fully cooked, all you need to do is heat the sausage through while slathering on your favorite barbecue sauce. Just make sure it caramelizes and gets a nice, healthy char on it. Then slice it up, pile it high on a platter along with the cheese cubes and pickles, add a bowl of that tangy barbecue sauce and watch as the masses line up for a taste. Of course if you're anything like me, that line's gonna have to start behind you.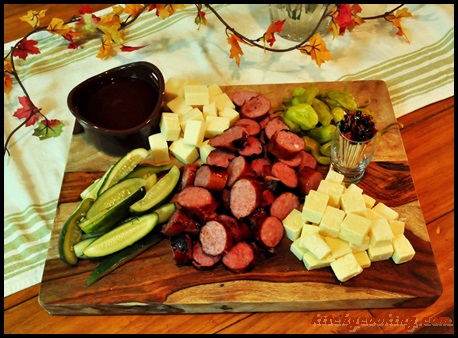 Barbecue Sausage and Cheese Platter
Ingredients:
1 pound of smoked sausage or kielbasa
1/2 cup barbecue sauce, divided
8 ounces sharp cheddar cheese, cubed
8 ounces jack cheese, cubed
1 jar dill pickle spears
1 jar pepperoncinis
Directions:
Preheat your grill to 350°F.

Place the sausage on the grill and baste it with 1/4 cup of barbecue sauce. Let it cook for about 5 minutes, flip and baste the other side, continuing to cook until heated through, about 5 more minutes. The sausage is done

when the skin is ready to split or actually splits.

Remove from the grill and slice into 1/2-inch slices.

Place the sausage slices on a platter with the pepperoncinis, cheese, pickles, and remaining barbecue sauce for dipping. Serve immediately.