Chocolate Raspberry Thumbprints
February 8, 2017
by Jennifer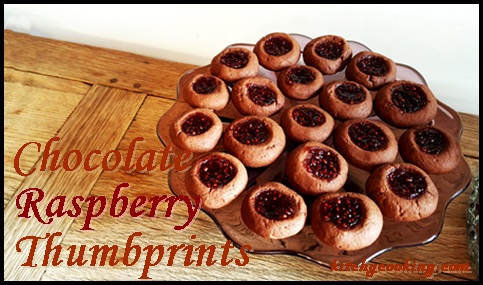 Two big holidays are next week: Valentine's Day and Galentine's Day.  Galentine's Day? What the H.E.double hockey sticks is Galentine's Day? It's a relatively new phenomenon where girls get together the day before Valentine's Day, February 13th, and celebrate. You know, a girls' night. I mean, why should you miss out on wine and chocolate just because there's no significant other in the picture? You shouldn't.
I'm a strong believer in the fact that chocolate shouldn't just be for those in relationships. It should be for everyone, whether you're blissfully happy in coupledom or blissfully happy in singledom, whether you're hanging out with the girls or snuggling up in your favorite pajamas with a good book… or that special someone… or both.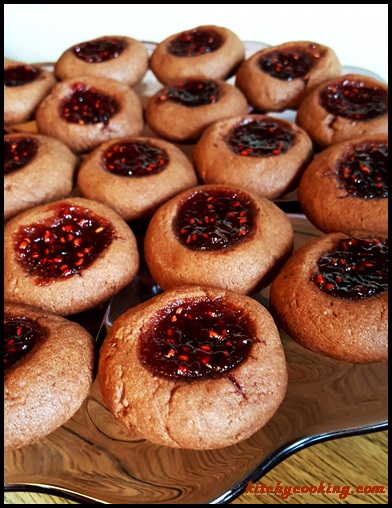 But if you think chocolates should only come in a box for either of these events, you're wrong. Chocolate comes in all different shapes and sizes which is why I'm such a fan. Sure, you could enjoy a pound of your favorite chocolates, or you could have it in ice cream form or as a cake or even as a cookie. While I love a box of really good chocolates, I won't turn down the ice cream, cake or cookies, which is why I'm such a fan of these cute little thumbprints from Dorie Greenspan.
These cookies are great because they aren't too sweet. The chocolate cookie is made of unsweetened cocoa powder and a touch of sugar, while the filling is made of pure raspberry jam. It's those little red circles that bring the whole cookie together and add just the right amount of sweetness. And since they're bright red, they're prefect for this red and pink holiday, no matter if you're sharing them with that special someone or adding them to a girls' night table full of cookies and cakes.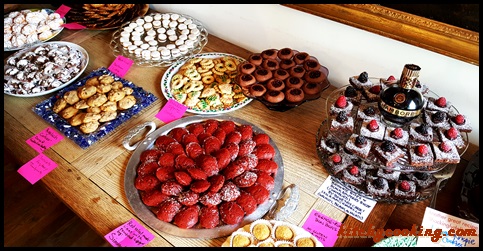 Chocolate Raspberry Thumbprints (adapted from Dorie's Cookies)

Ingredients:
1 cup flour
1/4 cup unsweetened cocoa powder
1/2 cup (1 stick) unsalted butter, cut into chunks
1/3 cup sugar
1/4 teaspoon salt
1 egg white
1/2 teaspoon vanilla
1/2 cup raspberry jam
Directions:
Preheat the oven to 350°F, line a baking sheet with parchment paper and set aside.
Sift the flour and cocoa together in a small bowl and set aside.
Beat the butter, sugar and salt together in a large bowl until smooth and creamy.
Reduce the mixer speed to to low and add the egg whites and vanilla.
Gradually add the flour mixture and mix until just combined.
Using a spoon or small cookie scoop, scoop out the dough. Roll each scoop into round balls and place on the prepared baking sheet. Using your thumb, make an indentation in the center of each ball, it's probably going to crack a little, but that's okay. Fill the indentation to the top with jam and repeat with the remaining dough.
Bake for 16-18 minutes, or until the jam is bubbling, rotating halfway through. Let cool on the sheet for 5 minutes. Transfer to a rack to cool completely. Serve at room temperature.