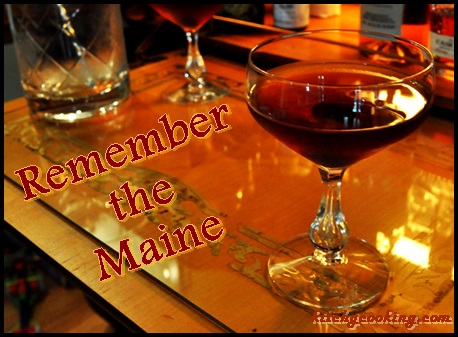 I've mentioned before that I prefer to drink brown liquors when it's dark and stormy, and boy has it been dark and stormy. In the last four weeks we've had record amounts of rain. It's been cold and windy and very, very wet. On days such as these, I tend to reach for the bourbon or whiskey. More times than not I'll just have a few ounces on the rocks, but every so often I'll get the inkling to mix up a cocktail.
When shaking up a whiskey cocktail I tend to go back and forth between a Manhattan or a Sazerac. Both use rye and bitters. But that's where the similarities end. See, the Manhattan has vermouth whereas the Sazerac has a sugar cube and absinthe. So… what if we combined the two? That's what Charles H. Baker decided to do when he came up with the Maine on a "night in Havana during the unpleasantness of 1933 when each swallow was punctuated with bombs going off on the Prado, or the sound of 3-inch shells being fired at the Hotel Nacional, then haven for certain anti-revolution officers". This is believed to be a reference to the coup led by General Batista in Cuba in 1933.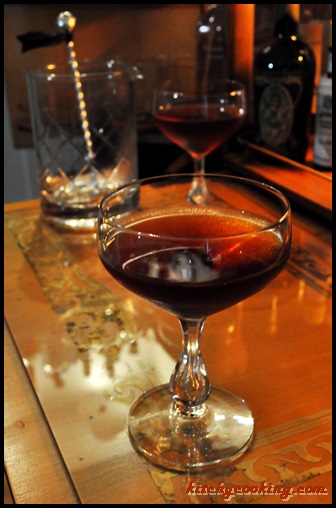 It seems the drink's name may have come from another event that happened several decades earlier though; when the USS Maine sank in the Havana harbor in 1898 because some of its ammunition inexplicably exploded. While the cause of the explosion is still debated, it's believed to have precipitated the Spanish–American War and popularized the saying "Remember the Maine, the Hell with Spain!"
However the drink came about or whatever the reference, if you're a fan of both the Sazerac and the Manhattan then you'll love the Maine. I know I'm a fan, and the benefit is, this drink discovery means not only do I get a history lesson, I no longer have to choose between the Manhattan or the Sazerac. Now I can have both in one seriously good cocktail.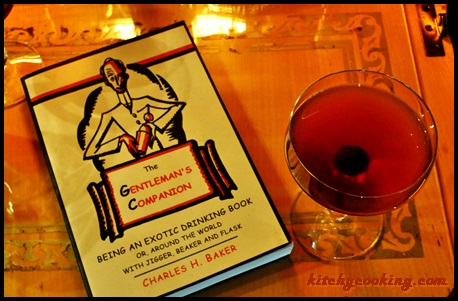 Remember the Maine
Ingredients:
2 ounces rye whiskey
3/4 ounce sweet vermouth
2 teaspoons Cherry Heering
1/2 teaspoon absinthe
Directions:
Pour all the ingredients into a mixing glass. Add ice and "stir briskly in clock-wise fashion – this makes it sea going, presumably".
Strain into a chilled champagne coupe or cocktail glass, add a bourbon cherry and serve.