Bow Ties with Brussels Sprouts and Gorgonzola
March 15, 2017
by Jennifer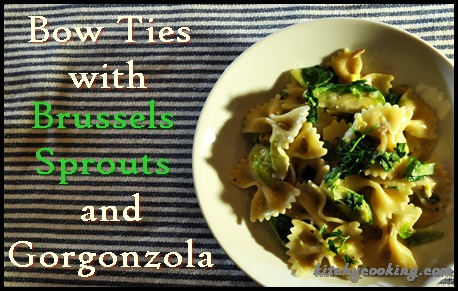 I'm a huge meat eater. I love chicken, beef, lamb… If it flies, walks or swims, I'm in. But every so often I want to take a break from the chicken and beef and eat a vegetable or two. It's on those nights that I usually make a pasta dish or a dinner salad. While throwing together a quick salad or spaghetti is pretty easy, it also can get stale. I mean, how many times a month can one eat spaghetti marinara or a spinach salad? There just have to be other veggie options that are quick to whip up and don't require dirtying an entire kitchen.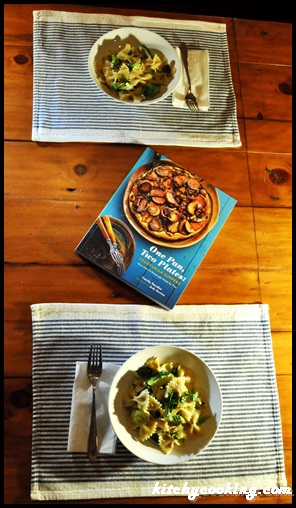 Carla Snyder had the same thoughts. She knew there were plenty of people out there who were vegetarians or ominvores and wanted to consume more vegetables without all the fuss. So, when she saw how successful her book, One Pan, Two Plates: More than 70 Complete Weeknight Meals for Two was, she decided to make a veggie version; only this time everything in the book would be made with vegetables or grains. The idea behind One Pan, Two Plates: Vegetarian Suppers was simple: make delicious, versatile vegetarian dishes that weren't complicated, didn't take a lot of time, but were still full of flavor.
Having the opportunity to sample a few of Snyder's vegetarian dishes at Melissa's Produce a couple weeks ago, I'm here to tell you she definitely succeeded. Everything I tried was delicious from the Superfood Salad made with quinoa and blueberries to the Crunchy Black Bean Tacos. But the dishes didn't just have me going back for seconds (and thirds), they're so easy to make. Snyder actually whipped up the tacos for us in about 15 or 20 minutes. I couldn't believe it. And the fact they they only take one pan, makes them even more enticing. I mean, if you're anything like me, the last thing you want to do at the end of a long day is spend an extra hour in the kitchen cleaning up a sink full of dirty pots and pans after you've spent an hour (or more) making dinner.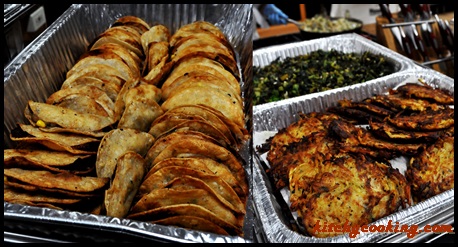 Now, I know it seems odd that you only need one pan to make a pasta dish, but seriously, that's all I used. See, I boiled the pasta and the brussels sprouts in a large saucepan, drained them and then mixed everything together back in the same pot. The heat from the freshly boiled pasta melted the cheese and when combined with a little pasta water makes for a nice creamy sauce that coats everything. The recipe was so easy to follow I can't wait to make it and several others in the book again.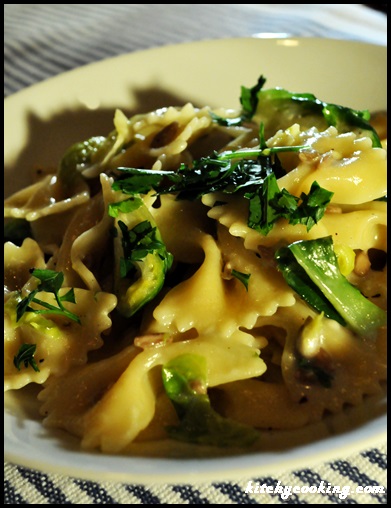 Bow Ties with Brussels Sprouts and Gorgonzola
Ingredients:
2 tablespoons salt
8 ounces Bow Tie Pasta
12-15 Brussels sprouts, quartered
4 ounces Gorgonzola cheese
2 tablespoons butter
1/3 cup sunflower seeds
2 tablespoons Italian parsley, minced
pepper to taste
Directions:
Bring 2 quarts of salted water to a boil in a large saucepan over high heat. Add the pasta and cook about 7 minutes. Add the Brussels sprouts and continue to cook for another 5 minutes until the pasta is al dente and the Brussels sprouts are tender; drain, reserving at least a half cup of the pasta water.
Return the pasta and Brussels sprouts to the same hot pan. Mix in the cheese, butter, sunflower seeds, pepper, 1 tablespoon parsley and at least a quarter cup of the pasta water. Continue to stir until a creamy sauce forms. If the pasta is still too dry continue to add the pasta water until the sauce reaches the consistency you prefer.
Mound the pasta on plates, sprinkel with remaining parsley and serve.