Bunny Tail Scones
April 13, 2017
by Jennifer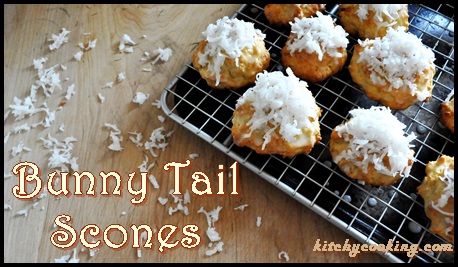 When I think of Easter I think of jelly beans, dying Easter eggs, and lots and lots of chocolate. All these things are what the kids look forward to over the Easter weekend. But while they're thinking about where they're going to find their next plastic egg, I'm thinking about what to serve for either dinner or brunch. In the past I've made Spiced Lamb Kabobs and Scotch Eggs, both of which are great for dinner. But I know that a lot of people serve a big brunch on Easter so they have the rest of the day to hunt for eggs and eat chocolate. For that reason, this year I decided to make something that was more breakfast worthy. Something that's sweet and goes great with coffee or tea.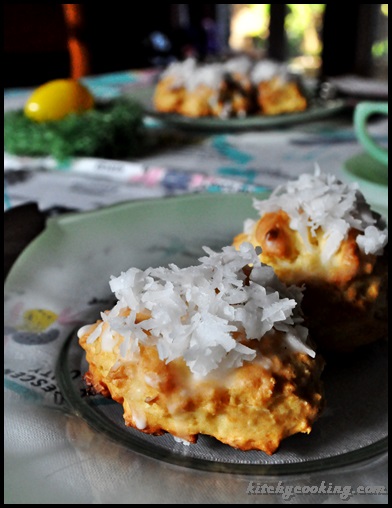 These little scones are super easy to make and would be great for any spring brunch. But what makes them perfect for Easter is the coconut. Not only is it throughout the scone itself, but then some sweet, shredded coconut is sprinkled on top. It's that coconut on top that turns your basic scone into cute little cotton tails. Because they look like little bunny tails, they're perfect for the bunny holiday.
Now, I'm not usually a scone person. If I have my choice on a breakfast treat, I usually go for a muffin because muffins tend to be sweeter and moister. They also usually have fruit in them. Scones tend to be on the drier side since they use double the flour. Sure, you can make them sweet by adding a sweet glaze, but they're just not the same. Well, that all changed when I saw these little scones in a magazine. They were so cute, I just had to try them, especially since they have coconut all through them. (I'm a huge coconut fan.) For those reasons, I was willing to break my muffin tradition and try a new breakfast treat.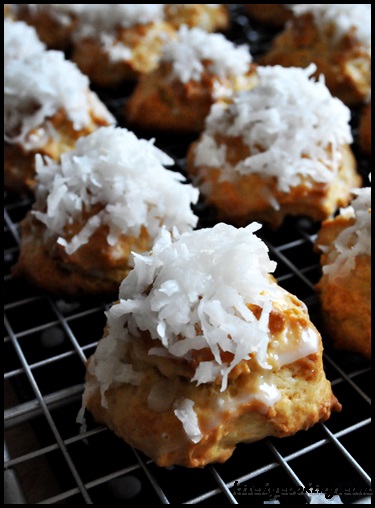 The result was awesome. Yes, they're still scones which means they're still on the drier side. But the two different kinds of coconut combined with the lemon glaze on top give these scones a sweet, tart, tropical flavor that's perfect for spring. So, while they're ideal for the Easter holiday, they're really a great addition to any spring brunch, and a scone I'm inclined to make again and again.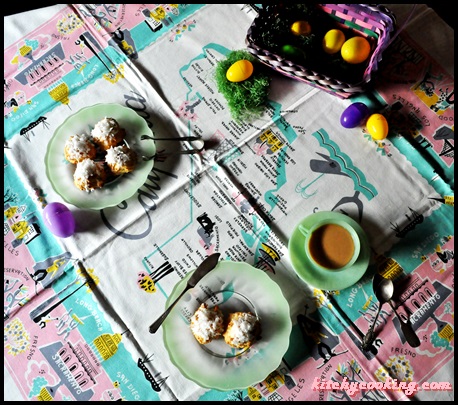 Bunny Tail Scones (adapted from Ralphs)

Ingredients:
2-1/2 cups flour
1/3 cup sugar
1 tablespoon baking powder
1/2 teaspoon salt
1 cup unsweetened shredded coconut
1/2 cup (1 stick) unsalted butter, cubed
1/2 cup milk
2 large eggs
1 teaspoon vanilla
1 teaspoon coconut extract
2 tablespoons lemon juice
3/4 cup powdered sugar
1 cup sweetened, shredded coconut
Directions:
Preheat the oven to 400°F, line a cookie sheet with parchment paper and set aside.
In a large bowl, sift together the flour, sugar, baking powder, salt and unsweetened coconut. Then, using your fingers, work the butter into the flour mixture until it's crumbly.
In a medium bowl whisk together the milk, eggs, vanilla and coconut extracts. Mix it all into the flour mixture until just combined. Then lightly knead the dough until there's no flour left.
Divide the dough into 24 pieces and form into little balls. Place each ball onto the cookie sheet and bake until golden brown, 16-18 minutes. Let cool.
While the scones bake, make the glaze by whisking together the lemon juice and powdered sugar in a medium bowl until a thick glaze forms, set aside. Place the sweetened, shredded coconut in a medium bowl and set aside.
Dip the tops of the cooled scones into the glaze and then the shredded coconut, pressing it into place to make sure it sticks. These scones will last in an airtight container for at least 5 days.