Herb-Crusted Chicken with Strawberry Relish
April 19, 2017
by Jennifer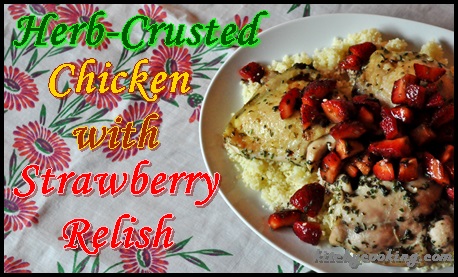 I love this time of year because all the fresh berries and stone fruits are coming back in season. The first fruit that lets you know summer is coming are strawberries. There are so many different things you can do with strawberries: from eating them right off the vine as a snack to mixing them into cake or muffin batters. But did you know you don't have to limit yourself to sweets when cooking with strawberries? Turns out they're great in savory dinner dishes as well.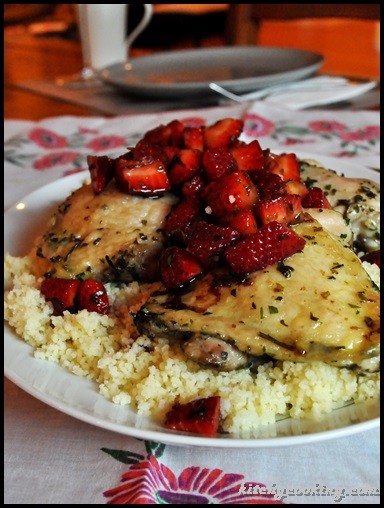 While strawberries are perfect for fruit salads and desserts because they're sweet, it's actually that sweetness that makes them great for savory recipes. So, you can understand why I was ecstatic to find a chicken recipe from Eating Well magazine that used those bright, red berries and turned them into a delicious relish, which was then spooned over the top of the chicken.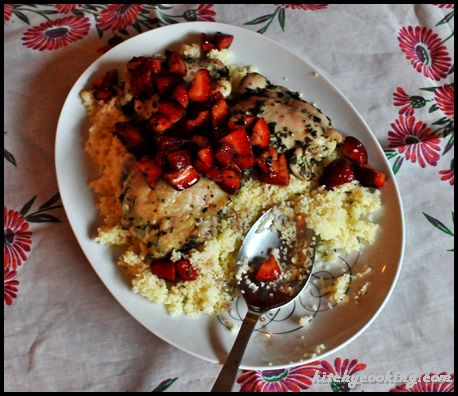 I really liked this relish because unlike savory salsas or relishes, this one is sweet and really lets you know spring is here. It's that pop of sweetness, that wonderful berry flavor, that actually enhances the saltiness from the chicken. The fact that the chicken is covered with an herb crust makes this relish even better because it brightens those herb flavors, and ties the whole dish together, turning it into the perfect spring dinner.
Herb-Crusted Chicken with Strawberry Relish
Ingredients:
6 bone-in, skin-on chicken thighs
1 tablespoon olive oil
3 tablespoons fresh oregano, chopped
2 tablespoons chives, chopped, divided
1/2 teaspoon salt
1/4 teaspoon pepper
2 cups strawberries, hulled and chopped
2 teaspoons lime zest
1 teaspoon sugar
1 teaspoon balsamic vinegar
Directions:
Preheat oven to 375°F.
Place the olive oil, oregano, 1 tablespoon of the chopped chives, salt and pepper in a large bowl. Add the chicken and toss to coat.
Place the herb-coated chicken in a roasting pan and roast until no longer pink, 35 – 45 minutes.
While the chicken cooks, make the relish by combining the strawberries, lime zest, sugar, vinegar, remaining chives and a pinch of salt and pepper in a bowl.
Once the chicken is done, spoon the relish over the thighs and serve immediately.