The Epilogue Cocktail
April 7, 2017
by Jennifer
I'm a huge fan of Instagram. Like the thousands of people out there who also use the app, I love taking pictures of my food and posting them to share. But I also like following all my favorite bloggers and seeing what they're making or where they're eating. The app has given me some great ideas for dinner recipes or new twists on classic desserts. The recipes aren't just limited to food, though. There are scores and scores of stunning photos of vintage and new cocktails as well.
One Instagrammer, Mike of @mmydrinks, has done a couple month-long events where several other cocktail Instagrammers create or copy a specific kind of cocktail and post those photos for a certain amount of time. He told me about January's "Tiki the Snow Away" from @homebargirl, Dani DeLuna, and he picked 12 other cocktail enthusiasts to participate in his version of the 12 Days of Christmas, 12 Days of Cocktails. I not only enjoyed seeing all the creations, but discovering new drink aficionados who are also on Instagram. Well, Mike decided to do another cocktail event and this time he asked if I wanted to be involved. Of course I jumped at the chance, especially when I heard the cocktail was The Last Word.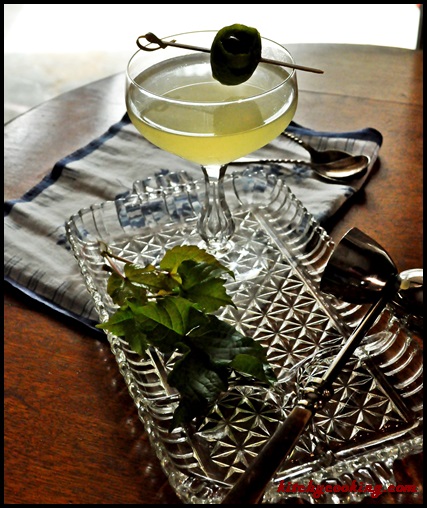 I love The Last Word. It's a delicious classic that's a perfect bridge from winter to spring because it's made with gin, lime juice, maraschino and green Chartreuse. See, gin is a great spring and summer liquor because it's light and goes so well with so many mixers. But it's also a great winter cocktail since it uses an equal amount of lime juice which is a classic winter fruit. Combine the gin and lime with the maraschino and Chartreuse and you have a luscious cocktail to take you from winter's citrus season to spring's gin and cherry season. But that's the original. Sure, I could have easily remade the original for the Last Word event, but what fun would that be? Instead, I chose to put my own spin on this classic because it's events like these that really get my cocktail juices (pun intended) flowing.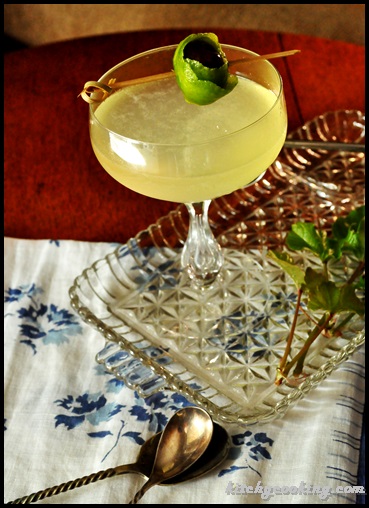 Earlier this week I made a macaroon that used both lime zest and dried cherries. They were quite good and proved that coconut, limes and cherries go really well together. So, since the original drink already had lime juice and maraschino liqueur in it, it seemed clear that a coconut liquor would blend quite well, and the only coconut liquor I know of is coconut rum. But I didn't want Malibu Rum because it's made with rum and coconut liqueur. I wanted a rum that was flavored with coconut. After doing a little research, I discovered Bacardi's Coconut Rum is considered a very good coconut rum. It's not too sweet, but definitely has a distinct coconut flavor and so was exactly what I needed. I chose the yellow chartreuse instead of the green because the yellow is a lower proof and is slightly sweeter so compliments the coconut rum quite well.
How did I come up with the title? Well, I chose Epilogue since an epilogue is the last chapter of a novel or the final speech given by an actor at the end of a play. It's the final thought; the last thing someone reads or hears. Yes, I changed a couple of ingredients but the essence of the original cocktail remained the same. Hence instead of a Last Word, you have an Epilogue; the two drinks are similar but just different enough.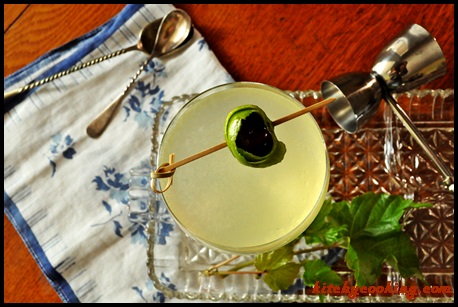 Epilogue Cocktail
Ingredients:
1-1/2 ounces Bacardi Coconut Rum
3/4 ounce lime juice
3/4 ounce Maraschino liqueur
1/2 ounce yellow Chartreuse
Directions:
Pour all ingredients into a cocktail shaker. Add ice and shake vigorously until chilled, about 15 seconds.
Strain into a coupe glass and garnish with a lime-wrapped maraschino cherry. Serve immediately.