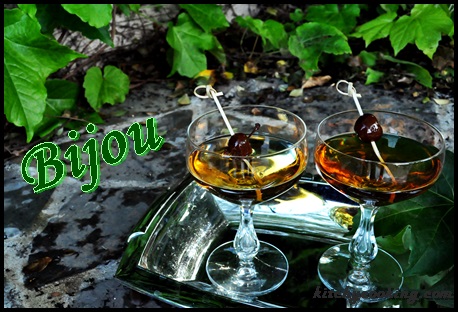 As I've said many times before, when the weather changes, so do my liquors. I tend to go from those dark brown liquors like whiskey and scotch to lighter liquors like gin and vodka. Don't get me wrong, I still like whiskey, but those lighter liquors just seem to make better spring and summer cocktails and they definitely go better with club soda or ginger beer. Today's drink is no different. While it doesn't use any bubbles, it does take gin. It's the Bijou.
Like most well-known classics from the 19th century, the Bijou was very popular until Prohibition. Then, like a lot of the cocktails of that time, it disappeared. But unlike the Martini or Manhattan which remained popular during and after the drought, this cocktail completely fell off the radar. It wasn't until sometime in the 1980's that Dale De Groff of New York's Rainbow Room found the classic drink and served it up at the iconic bar, that the Bijou regained its popularity. Although DeGroff changed the ratios to adapt to modern palates, all the liquors remained the same.
Light, but potent, this drink is delicious with some serious herbal notes, thanks in no small part to the green Chartreuse. Cocktail historian David Wondrich believes that the Chartreuse and vermouth were added to the Bijou because in the late 1800's "bartenders, seeking to cater to a more sophisticated, cosmopolitan clientele, turned to vermouth and other European aperitifs, digestifs, and cordials to broaden their palettes."  So, in order to do that, the original Bijou was made up of equal parts vermouth, gin and chartreuse with a few drops of orange bitters and a twist of lemon. But just because that was the ratio at the turn of the 20th century, doesn't mean it's good for the palates of today.
Today, just like back then, palates have changed. We're not interested in super sweet cocktails anymore. Now we like balance. So, I tried DeGroff's version as well as the original. DeGroff's version is definitely better. You still get the herbal notes from the green Chartreuse, but the sweetness from the vermouth isn't overpowering like it was in the original. If you're afraid you're going to lose the classic cocktail in this new iteration though, don't worry. That green Chartreuse mixed with vermouth provides a beautiful color that makes the cocktail look like a glowing jewel, which incidentally is how the cocktail got its name. See, "bijou" is French for jewel. So, this spring why not mix up a jewel of a cocktail? That color combined with those herbal notes makes it the perfect choice for spring or your next backyard barbecue.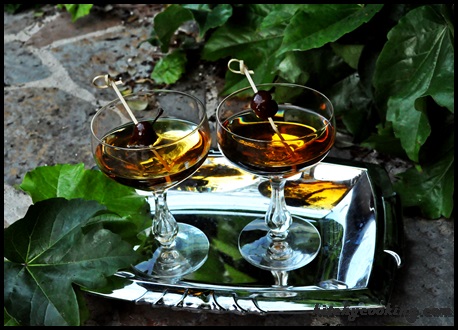 Bijou Cocktail
Ingredients:
1-1/2 ounces gin
1/2 ounce sweet vermouth
1/2 ounce green Chartreuse
1-2 dashes orange bitters
Directions:
Pour all the ingredients in a mixing glass, add ice and stir until chilled.
Strain the cocktail into a coupe glass, garnish with a cherry and serve.