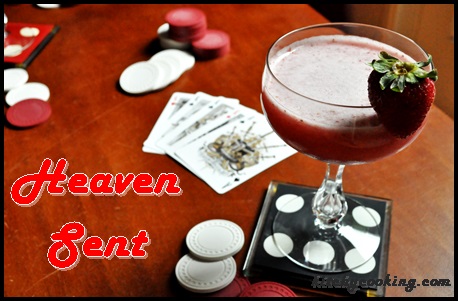 If there's one thing I love about spring it's the boundless fresh fruit available. It all starts in March with strawberries and goes until late September when the last pluot and blackberry fall from their vines. What does fresh fruit have to do with cocktails? Well, there's simply nothing better than an ice cold drink muddled or blended with those spectacular fruits. Think I'm lying? Why do you think strawberry daiquiris or berry mojitos are so popular once the weather gets warm?
I love strawberries in my cocktails. They're sweet and soft and just scream summer. The fact that they go great with tequila, vodka and rum makes them an easy choice when deciding which fruit to use. I chose rum for this drink because during this time of year, I tend to go lighter with my liquor. But better than plain rum is coconut rum (and I'm not talking about Malibu). It adds a nice tropical kick to an otherwise ordinary cocktail.
You're probably wondering why I created this cocktail when I usually mix up vintage drinks from bygone eras. As you all know, I'm a huge fan of all things vintage, and so when Vegas.com approached me about an event they're having called For the Love of Cocktails, I jumped at the chance. See, this event mixes two other things I love: Vegas and cocktails. I mean, Vegas may be party central today, but there was a time when anyone who was anybody performed there. Think about it. Can you imagine anything cooler than seeing Louis Armstrong, Ella Fitzgerald, Liberace or the Rat Pack at the Flamingo, the Tropicana, the Stardust or the Sands in the 50's and 60's? I certainly can't.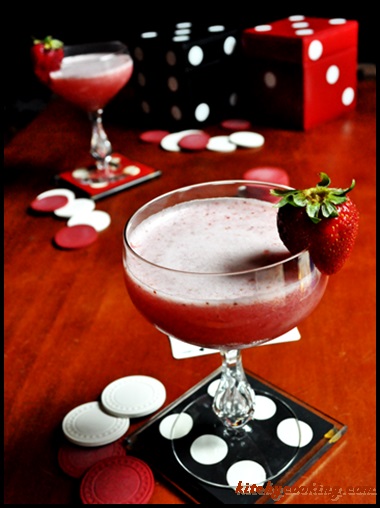 But just because you can no longer see these great icons, doesn't means you can't have an amazing time in Vegas. I do, pretty often actually. Today those classic crooners have been replaced with awesome performers like Elton John and Celine Dion as well as amazing shows from Cirque du Soleil. But they aren't the only draw. The restaurants and bars are top notch. Several famous chefs like Tom Colicchio and Gordon Ramsay have opened places there, famous DJ's perform at clubs there and world renowned bartenders sling drinks there. With so much to do and see, and amazing deals for your whole trip, I can see why mixologists from all over are coming to Vegas for one weekend to celebrate the life of one of their own: Helen David.
David was a bartender who mixed drinks in her own Michigan bar, The Brass Rail, until she was 91. For the Love of Cocktails is a 72-hour fundraiser for breast cancer awareness that brings together those world-renowned mixologists for an epic 3 day event. An event that supports the Helen David Bartender Relief Fund, which is an organization honoring David who just happened to beat breast cancer twice in her life. This fund provides today's bartenders with pre-cancer screenings, support, and whatever else they might need. It's a great event worthy of a great bartender.
So, while I may not be able to see Frank and his boys in Vegas, I can go and have a great time seeing the sights and drinking the night away for a good cause.  And so can you.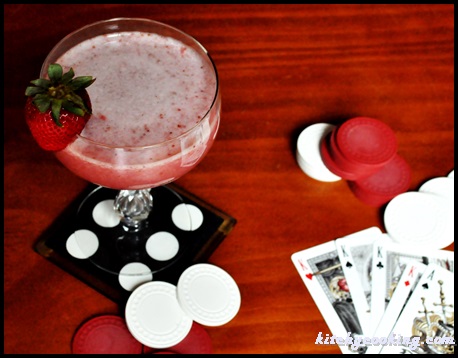 Heaven Sent

Ingredients:
1-1/2 ounces coconut rum
2 ounces strawberry puree
1/2 ounce basil-infused simple syrup
1 egg white
Directions:
Pour all ingredients into a cocktail shaker. Shake vigorously without ice for about 20 seconds. Add ice and shake again for another 20-30 seconds.
Strain into a chilled coupe glass, garnish with a strawberry and serve.