Cherry Peach Croissant Bread Pudding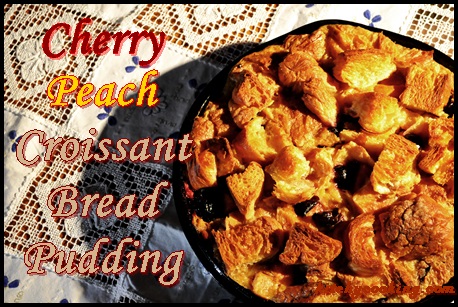 I've never been a fan of bread pudding. It's not a real sweet dessert and it's usually super heavy. In the past when I've tried it, I get one, maybe two bites in and then I'm full. I keep trying it, though because I know it's popular, and I guess I keep hoping that maybe something will change. Maybe it won't be as heavy. Maybe the sauce it's served with will make it sweeter. Maybe my palate will change. Maybe I'm just a glutton for punishment.  Whatever the reason, whenever I see a new and interesting spin on the classic dessert I try it, which is why I finally found a version I really, really liked.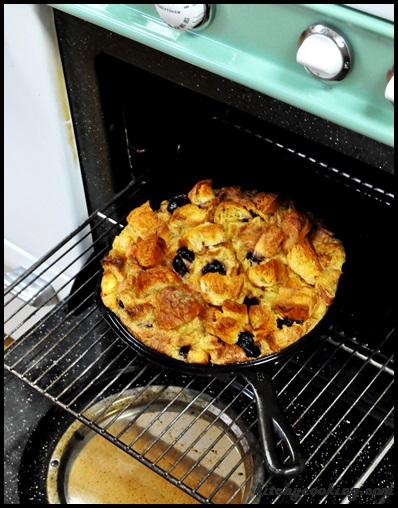 What separated this bread pudding from all the others I'd tried before was the fact that it was made with croissants. Those croissants made all the difference. See, usually the bread that's used in bread pudding is a thick, crusty French bread. But croissants are lighter since the dough has so much air in it and is so thin. Since the bread being used is lighter, the whole dessert feels lighter, even with the 7 eggs and cream mixed in.
But using a different bread isn't the only plus in this bread pudding. The fact that it uses fresh fruit makes it even better. Now, I know there are plenty of bread puddings out there that use apples or raisins, but those are dried or winter fruits. This recipe calls for peaches and cherries which are summer fruits, so you can make this right now. While I used those amazing Tartarian cherries I love so much, Bings or Rainiers are just as good. But if cherries and peaches aren't your thing, you could easily substitute apricots and raspberries or nectarines and blackberries.
It's because of those summer fruits and croissants that I originally thought this bread pudding was a breakfast dish. A sort of nicer dutch baby that could be served with coffee and bacon. And there's no reason that you couldn't do that. But since this dish does take about an hour to put together, and tastes amazing with vanilla ice cream, I'd save it for dessert. It's actually the perfect dessert to bring to a summer barbecue or a nice dinner under the stars. As a matter of fact, I can't wait to do just that. So, while I wasn't a bread pudding fan, thanks to this croissant twist on a classic, I have become one. Maybe you will, too.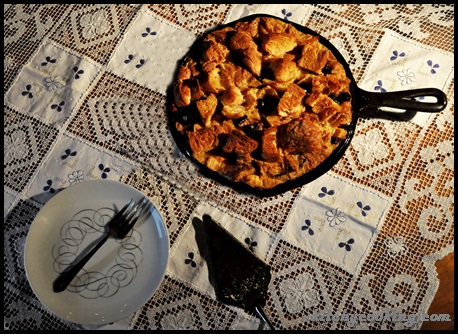 Cherry Peach Croissant Bread Pudding (adapted from Southern Cast Iron)
Ingredients:
6 large croissants, cut into 1-inch pieces
1-1/2 cups whole milk
1-1/2 cups heavy whipping cream
3/4 + 2 tablespoons sugar, divided
6 egg yolks
1 egg
1 tablespoon vanilla extract
1/2 teaspoon salt
2 large peaches, diced
1 cup cherries, stemmed and pitted
2 tablespoons butter, melted
1 teaspoon cinnamon
Directions:
Preheat the oven to 325°F, spray a 12-inch cast-iron skillet with cooking spray and set aside.
Arrange the croissant pieces on a baking sheet and toast for about 15 minutes. Let cool.
Whisk together the milk, cream, 3/4 cup sugar, egg, yolks, vanilla and salt in a large bowl. Add all but about 1 cup of the croissant pieces and stir until coated. Fold in the peaches and cherries. Then pour the mixture into the prepared skillet. Press the croissants down to cover with the milk mixture. Cover and let stand for 30 minutes.
Whisk together the remaining sugar and cinnamon in a small bowl and set aside.
Uncover the bread pudding and scatter the remaining croissant pieces on top. Brush with melted butter and sprinkle the cinnamon sugar on top.  Bake for 55 – 60 minutes or until golden brown and a knife, when inserted, comes out clean. Let cool for 15 minutes and serve plain or with vanilla ice cream.