Grilled Sausage Salad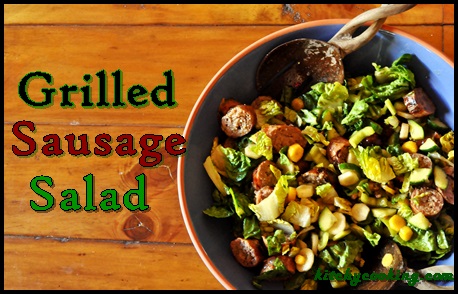 I don't know about you, but when it's hot, I'm never very hungry. I'll nibble here and there, but I never like big, heavy meals because there's just too much food that usually ends up making me feel really blech. So, when it's hot, I tend to eat light and that means salad.
While I have no problem eating salads that are full of fresh produce like heirloom tomatoes, lettuce and baby carrots, I love it when a salad has proteins in it, especially if they're grilled. Absolutely nothing compares to a salad full of grilled chicken or steak to add a little salt and a delicious smokey flavor to a bowl full of leafy greens. So, when I found this Grilled Sausage Salad from Jamie Bissonnette, I knew I had to make it. It was simple, ready in no time and absolutely delicious.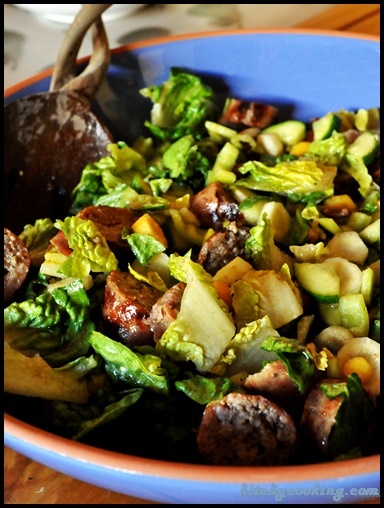 What makes this salad unlike others I've had, is that the vegetables are marinated in the dressing. See, Bissonnette grew up eating salads that were drowning in bottled Italian dressing. So, he decided it would be healthier to not only make his own dressing but marinate the produce in it before hand. By marinating the carrots and cucumbers ahead of time, you get that wonderful tang from the dressing throughout the whole dish without feeling like you're drowning.
Just like Bissonnette, I also hate salads that are served with waaaay too much dressing, which is why, whenever I order a salad, I always ask for dressing on the side. It's also why I never, ever dress a salad when I make my own because I know there are those who prefer lighter dressed salads. By serving the dressing on the side everyone gets the kind of salad they want. But by marinating the veggies ahead of time you get a salad that doesn't even need dressing since the carrots and cucumbers already have the flavor seeping from every pore. Then when you toss the grilled sausage and lettuce in the mix, those marinated veggies get a smokey flavor while the sausage gets the tang from the marinade. It's the perfect combination: filling, but light enough to be a great summer dinner option.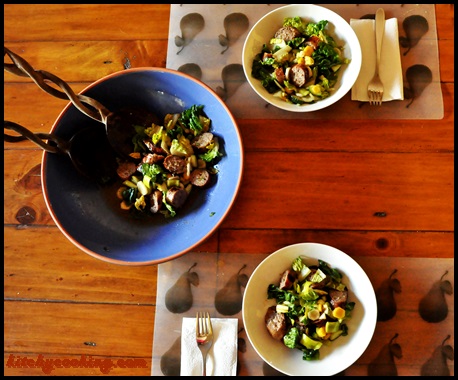 Grilled Sausage Salad (adapted from Food & Wine Magazine)

Ingredients:
1/3 cup red wine vinegar
1/3 cup vegetable oil
1 teaspoon dried oregano
1 teaspoon sugar
1 teaspoon garlic powder
salt and pepper to taste
2 carrots, thinly sliced
2 Persian cucumbers, thinly sliced
1 pound sweet Italian sausage
1 small head of butter lettuce, chopped
Directions:
Preheat the grill to 350°F.
Whisk together the first six ingredients (through the salt and pepper) in a large bowl. Add the carrots and cucumbers and toss to coat. Set aside and let sit at room temperature for at least 30 minutes.
While the veggies marinate, grill the sausages for 15 – 20 minutes or until charred and cooked all the way through. Transfer the sausages to a cutting board and slice into 1-inch slices.
Transfer the carrots and cucumbers to another bowl. Add the sausage and lettuce and toss until combined. Season with a little more salt and pepper, drizzle with as much of the leftover dressing you like and serve.