Strawberry Peach Browned Butter Oatmeal Skillet Cookie
August 2, 2017
by Jennifer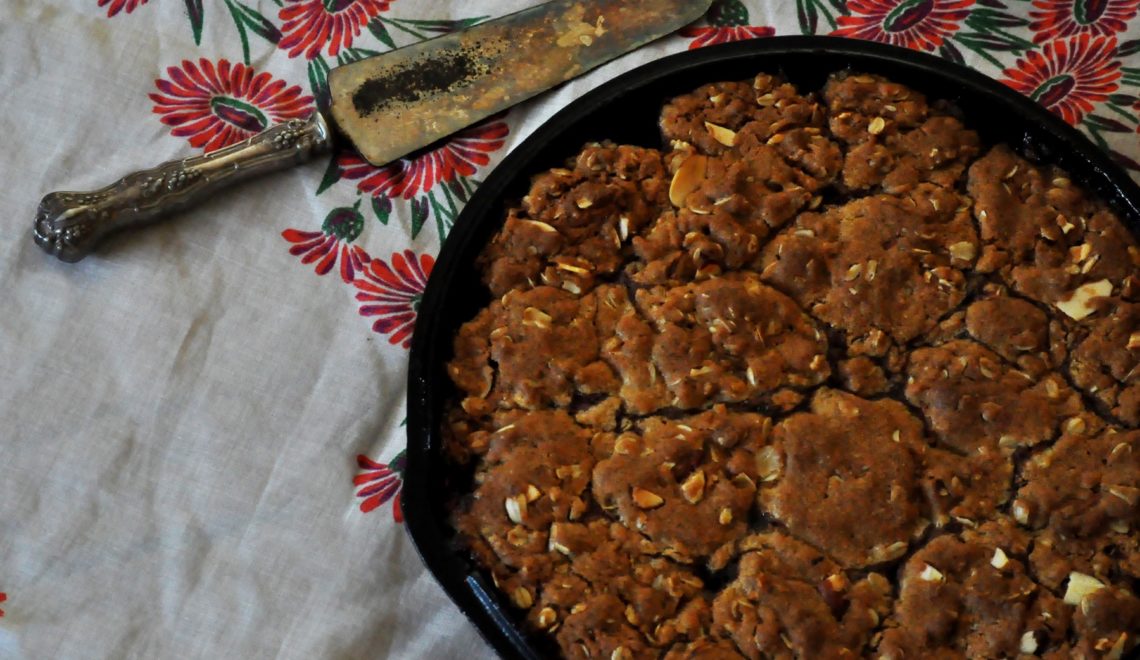 Have you ever had the Pizookie from BJ's Restaurant? If you haven't, it's a large chocolate chip cookie baked in a cast iron skillet. It's amazing and one of my favorite desserts. I discovered it in college and every time we go to BJ's, I just have to get one. I know it's only a chocolate chip cookie in a skillet, but since it's serve hot, it's thick and gooey and one of the best chocolate chip cookies out there. (I even sent my husband out to get me one once when I was pregnant.) It's so good in fact, I've recreated it a couple times. It's that skillet cookie that inspired me to make today's version.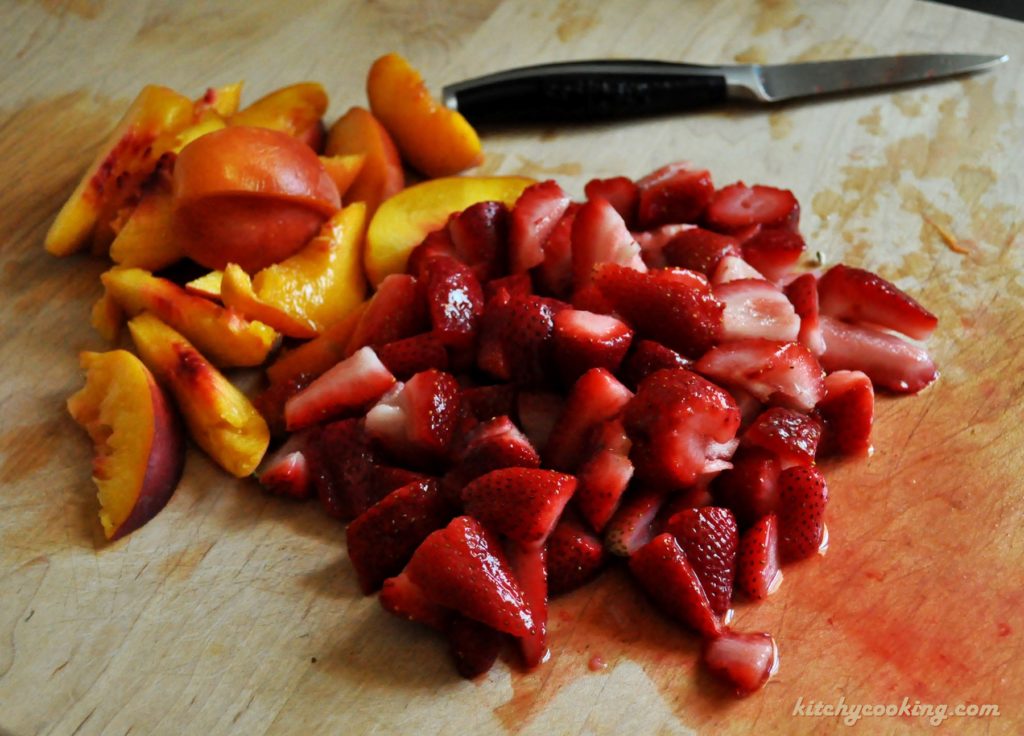 There's no chocolate in this version though, because it's summer. Don't get me wrong, I love chocolate but it's so rich, I usually like it during the fall and winter. During the summer I like my desserts filled with fruit. That's why this time I opted for an oatmeal cookie baked on top of a skillet filled with caramelized fruit. I originally thought I could sandwich the fruit between two cookies, but that would have required either using more than one pan or getting a very soggy cookie on the bottom, and if there's one thing I will not stand for it's a soggy cookie. So, since there's fruit on the bottom of the skillet this cookie is more like a pie. But I have to tell you, it's the cookie, which is essentially a pie crust may be the best pie crust I've ever had. The cookie is rich, buttery and really, really good!
I've never been a big oatmeal cookie fan. They always seemed boring to me and those raisins… sure they added some sweetness, but again there just wasn't anything special about them. Unfortunately I couldn't think of a better cookie with which to cover the peaches and strawberries. So, I decided to go with the oatmeal. But this wasn't going to be your basic oatmeal cookie. This was going to be special. I added browned butter, a little cinnamon and some slivered almonds. The browned butter gives the cookie a nice nutty flavor, but the almonds really kick it over the top, making this one of the best oatmeal cookies I've ever had. It was so good, I almost veered from my skillet and made plain old cookies. But I'd already chopped all the fruit, so I stuck with the original plan and spooned it over the caramelized fruit.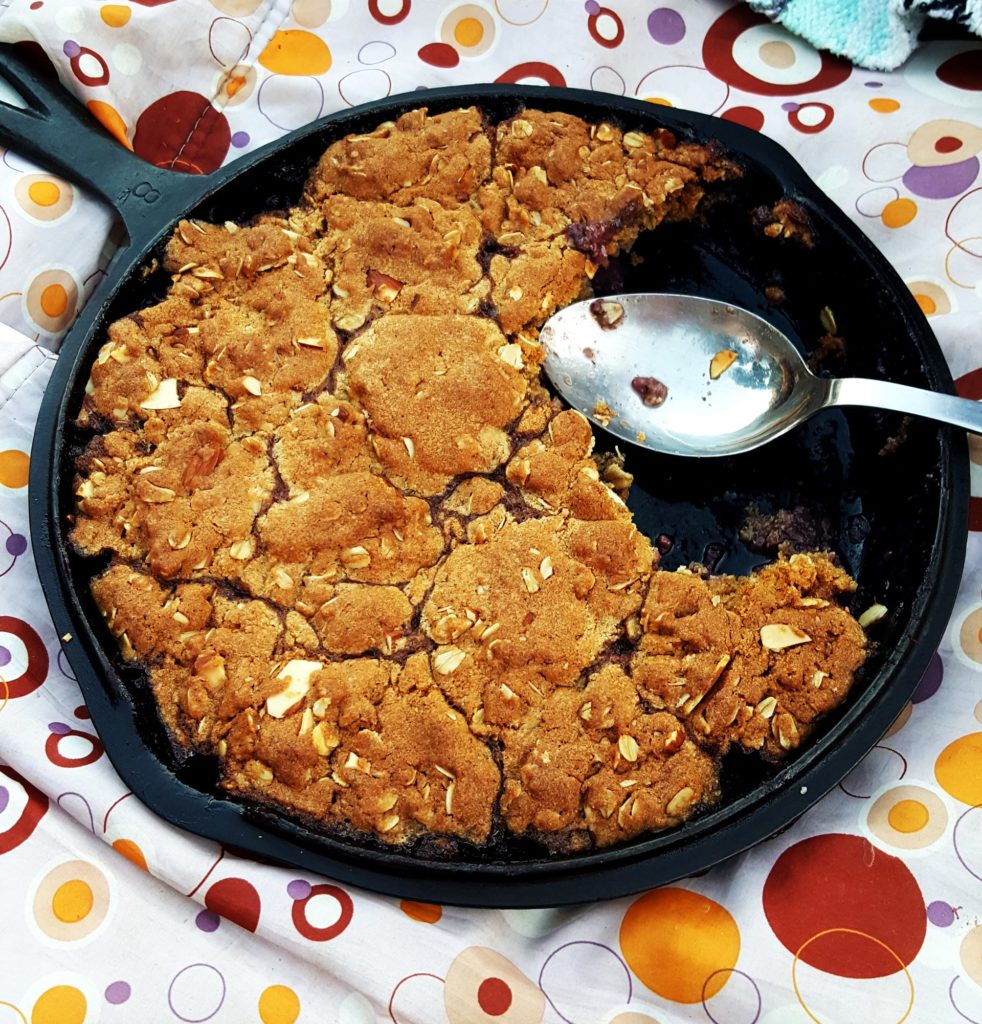 Because the cookie dough is dolloped over the fruit and then comes together as it bakes, this cookie becomes a thick, rich crust, and the cookie turns into a kind of pie. A pie that can be served on an ordinary Wednesday night or taken to a picnic in the park (which is exactly what I did). And now that I've made this fruit cookie/pie, I'll definitely make it again. Maybe next time I'll use just peaches like Tieghan Gerard. But whichever fruit I (or you) choose to go into this skillet cookie, it's a delicious summer dessert that I just can't wait to make again.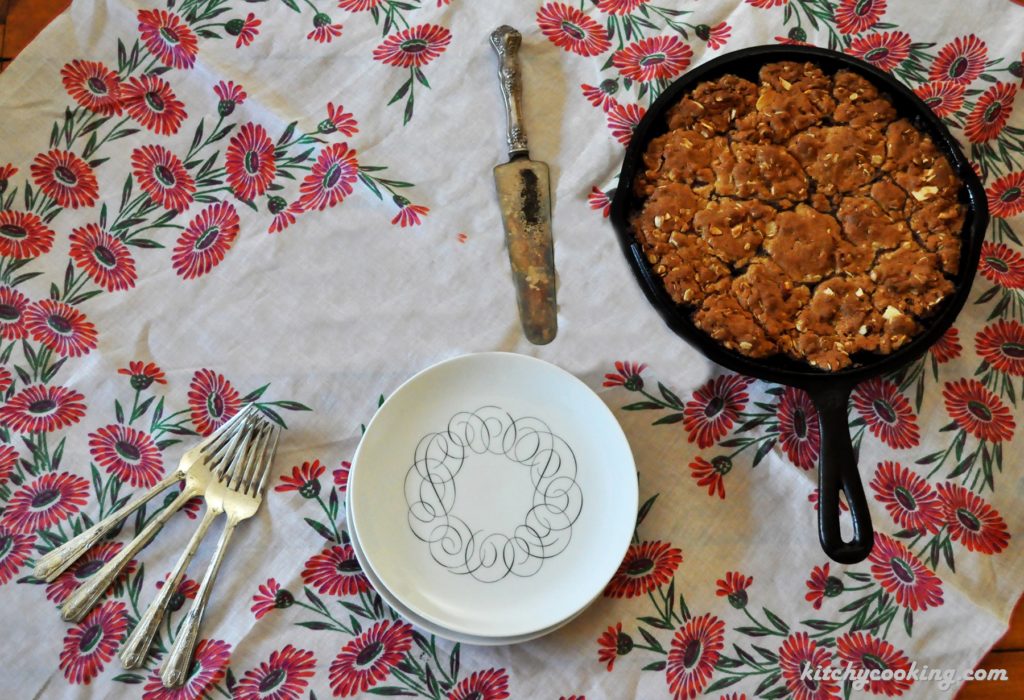 Strawberry Peach Browned Butter Oatmeal Skillet Cookie (adapted from Half Baked Harvest)
Ingredients:
11 tablespoons butter, divided
3 peaches, pitted and sliced
2 pints of strawberries hulled and chopped
1/3 cup + 2 tablespoons brown sugar, divided
1 cup flour
1 teaspoon cinnamon
1 teaspoon salt
1/2 teaspoon baking soda
1/3 cup white sugar
1 egg
2 teaspoons vanilla, divided
3/4 cup rolled oats
1/4 cup slivered almonds
Directions:
Preheat the oven to 350°F.
Melt 8 tablespoons of butter in an 8-inch cast iron skillet over medium-low heat, swirling the whole time until it turns a golden brown and develops a nutty smell. (Make sure you watch it, otherwise your brown butter will turn to burned butter and we don't want that.) Transfer the butter and all the browned bits to a mixing bowl and let it cool briefly.
Melt the remaining butter in the same skillet over medium heat. Add the peaches, strawberries, 2 tablespoons of brown sugar and 1 teaspoon of vanilla and cook, stirring occasionally until the fruit releases it's juices, about 5 minutes. Set aside and let cool.
Sift together the flour, cinnamon, baking soda and salt in a small bowl and set aside.
Add the remaining brown sugar and white sugar to the browned butter in the mixing bowl and mix until combined. Add the egg and remaining vanilla. Gradually add the flour mixture until just combined. Fold in the oats and almonds.
Spoon dollops of cookie dough over the fruit. It's okay if there are a few patches where there isn't any dough as it will spread as it bakes. Bake for about 30 minutes or until golden brown. Let cool for 10 minutes, then serve.