Paprika Pork Chops and Hearts of Palm Salad
October 19, 2017
by Jennifer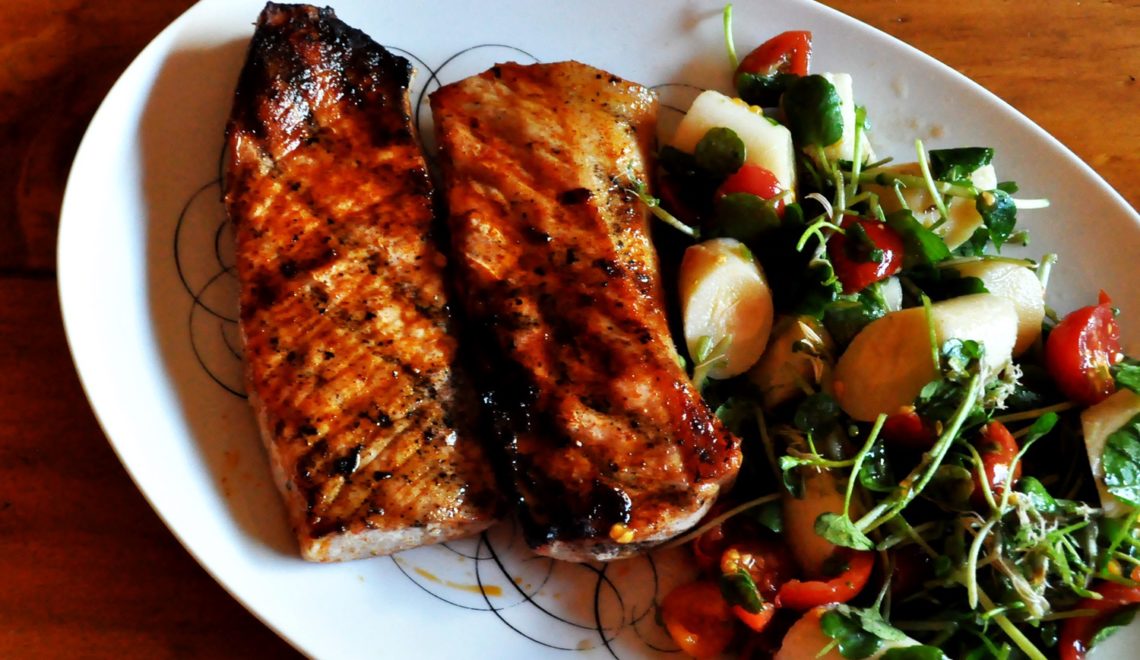 One of the benefits of being a food blogger is that sometimes companies send me products with which to create recipes. Sometimes the products are good and sometimes they're not so good. When the products aren't good, I thank the company and move on. But when they are good, I can't wait to create a recipe. This most recent delivery was one of the latter.
I love butter and use it whenever I bake. It's much better than the "butter" I grew up with which was margarine.  My mom was a huge advocate of margarine because we all thought it was soooo much better for you than butter. See, butter is usually made from whole milk and so was thought to be fattening since it contains a lot of fat. But margarine is usually made from vegetable oil, water, salt, and emulsifiers. Since there's no cream it's considered less fattening. Unfortunately, less fattening doesn't necessarily mean better for you, which is why I've gone back to butter. Yes, it may have more fat but it tastes better and is generally healthier for you.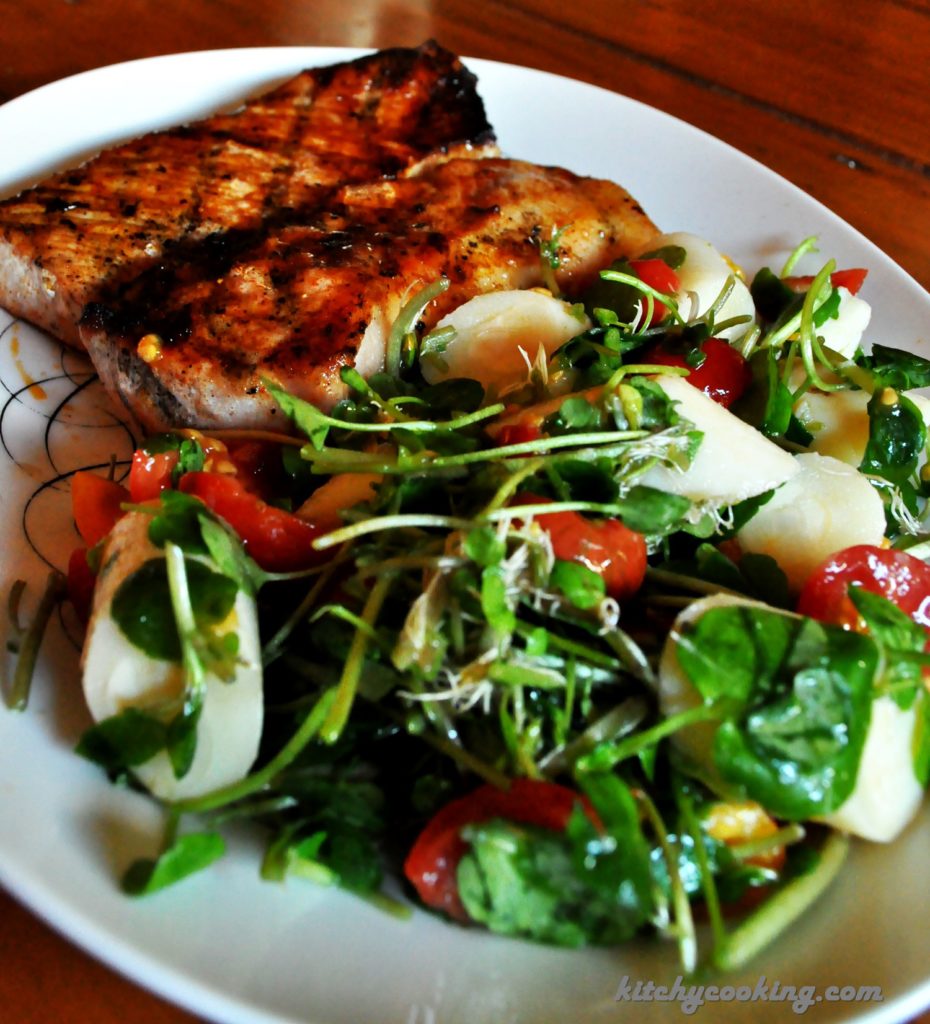 I'm still concerned about healthy eating though, so I still look for light butters. Luckily Land O'Lakes has answered the call and created a butter that's made with cream, but contains 25 percent less sodium thanks to the canola oil that's mixed in. I know this may sound like margarine, but after tasting this delicious butter, I'm here to tell you it's nowhere near. See, margarine is made with mostly oil and water, but Land O'Lakes Less Sodium Butter is mostly cream. They've only added the oil to drop the sodium, because as we all know too much sodium could lead to stroke, heart failure, osteoporosis, stomach cancer or kidney disease. As a daughter whose father has had a stroke, I'm willing to try any product that has less sodium in it.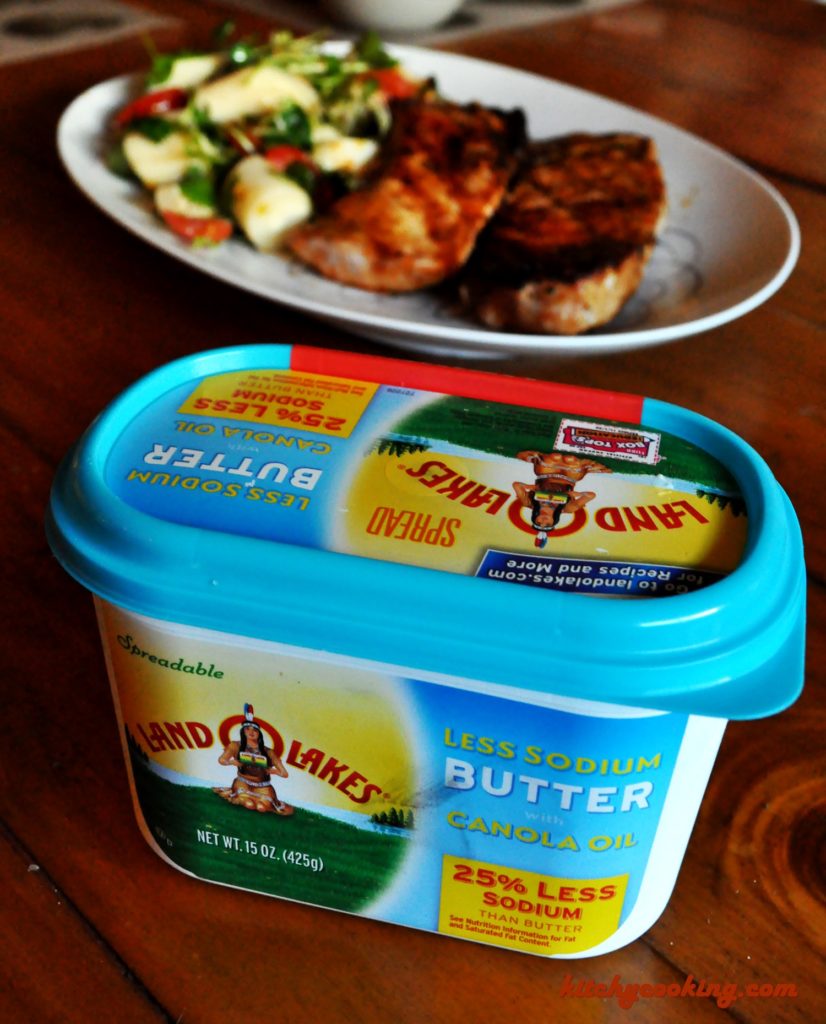 Unlike the margarines I had growing up which tasted fake, this butter actually tastes like butter making it the ideal choice for spreading on toast or adding to roasted vegetables. But I prefer to make sauces with it. It's perfect for a lighter bechamel or beurre blanc. However I used it to make these pork chops bathed in a paprika, butter sauce from America's Test Kitchen. I simply substituted the Less Sodium Butter and got a wonderful meal. While replacing the butter lost some sodium and a little fat, it didn't lose any flavor. The chops were still smokey, sweet and rich; and pairing them with a simple hearts of palm salad as suggested, made for an easy meal any night of the week.
As with all the products I receive, I'm always excited to try something new. But this Less Sodium Butter was so good slathered on those chops, I can't wait to slather it on a thick grilled steak… or maybe this year's Thanksgiving turkey.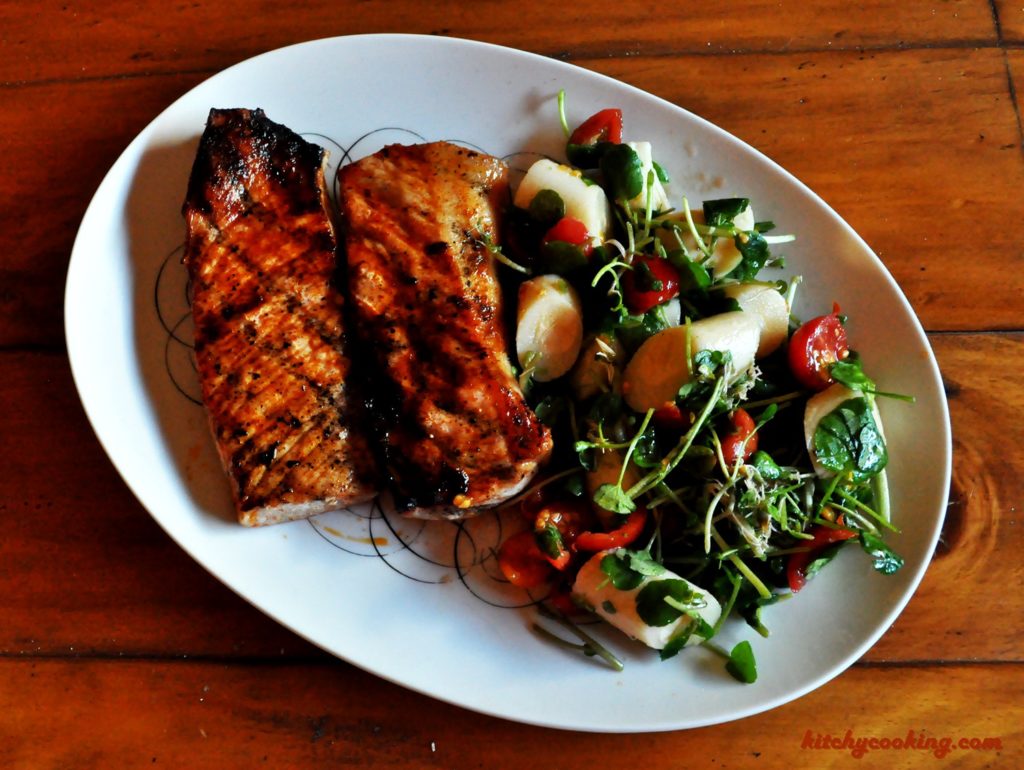 Paprika Pork Chops and Hearts of Palm Salad
Ingredients
5 tablespoons Land O'Lakes Less Sodium Butter, divided
1 teaspoon brown sugar
1 teaspoon paprika, divided
3 garlic cloves minced, divided
4 pork chops
5 tablespoons olive oil
2 tablespoons red wine vinegar
1 (14 ounce) can hearts of palm, rinsed and cut into 1/2-inch slices
1 pint cherry tomatoes, sliced in half
4 ounces fresh watercress
Instructions
Preheat a grill to 350 degrees F.
Whisk together 3 tablespoons butter, sugar, 1/2 teaspoon paprika, and salt and pepper to taste in a small bowl and set aside.
Whisk together remaining paprika, remaining butter and half the garlic in a second bowl and set aside.
Pat the chops dry with a paper towel. Slather the chops on both sides with the butter/sugar mixture.
Grill the chops until charred on one side, about 2 minutes. Flip the chops and continue to cook until a thermometer, when inserted into the meat, registers 145 degrees, about another minute. Transfer the chops to a platter, slather with the garlic/butter mixture, tent with tin foil to keep warm and let rest for about 5 minutes.
Meanwhile whisk together the oil, vinegar and remaining garlic in a large bowl. Add the hearts of palm, tomatoes and watercress and toss to coat.
Place the chops and salad on 4 plates and serve.
http://www.kitchycooking.com/2017/10/paprika-pork-chops-hearts-palm-salad/
Disclosure: This is not a sponsored post. Land O'Lakes provided me with the butter for recipe testing. As always, any opinion expressed is my own and is not influenced in any way by the manufacturer/PR firm as I only review products that I have personally tested and endorse.