Cheerio Blueberry Parfait
October 11, 2017
by Jennifer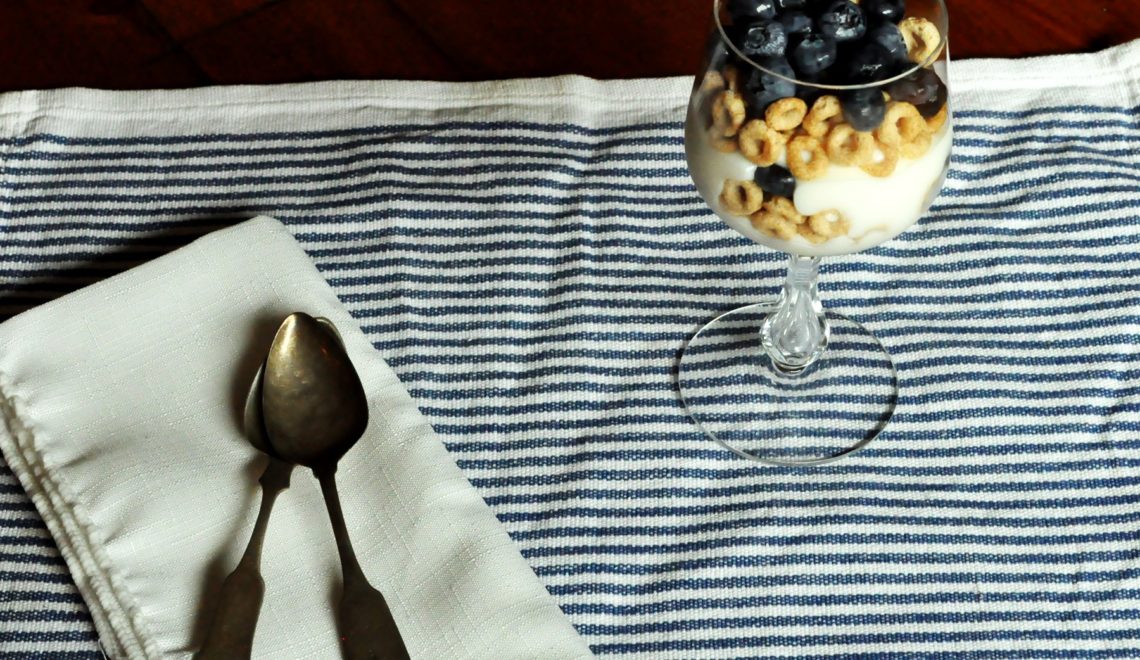 Most mornings when I ask my boys what they want for breakfast they both respond "cereal with yogurt". I know it sounds odd, but it's what they want. And since breakfast is the most important meal of the day, I always oblige. While I usually prefer my cereal with a little milk, I tried my boys yogurt version and realized it wasn't that bad.
For years I always had my yogurt with a handful of granola mixed in. But when the boys started mixing in every kind of cereal we owned, and lapping it up, I changed my routine and tasted it. It was delicious! Then I thought if cereal and yogurt were this good, it'd be amazing with a little fruit mixed in. By adding some blueberries I got a tart, sweet punch of flavor that tied the whole thing together and made for one wholesome, filling breakfast.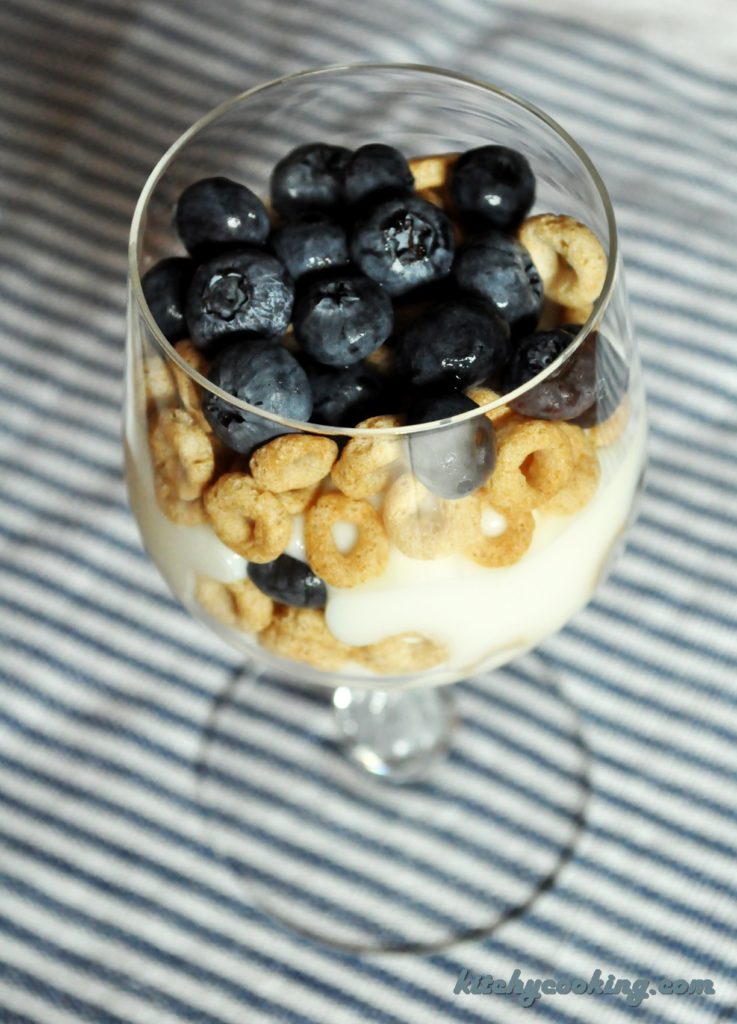 This dish may not sound that complicated, but it's delicious and way healthier than a donut or some coffee cake. How can yogurt and cereal be healthy? Well, it all depends on the yogurt and cereal you use. I chose Cheerios for a couple reasons. First my boys have been eating them since they had teeth and they still love them. Second, General Mills has made their cereals even healthier than they were before. Now they're made with whole grains.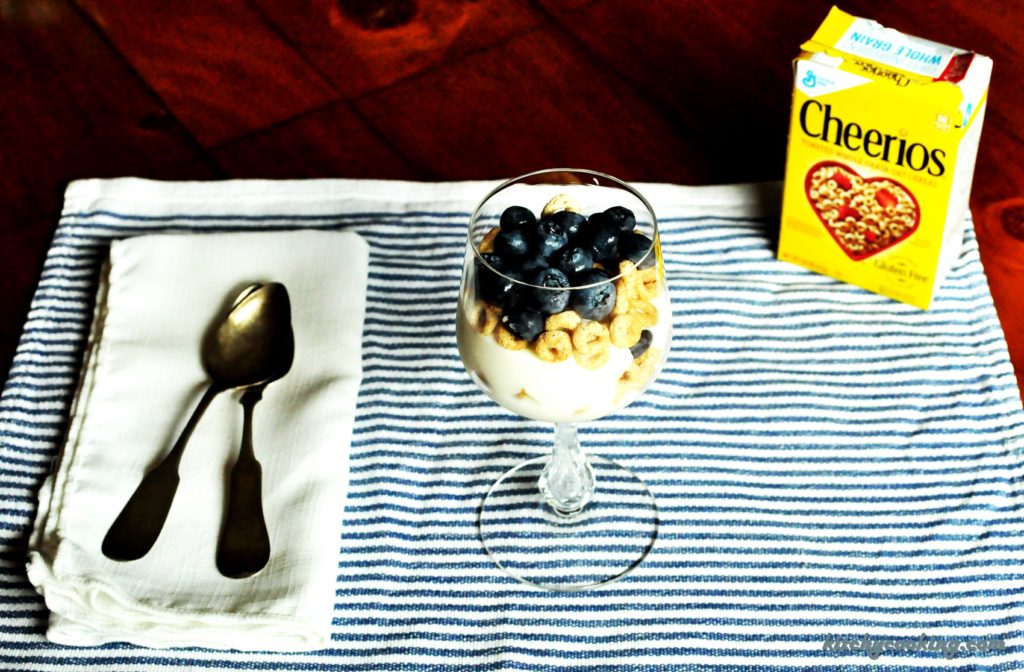 While General Mills cereals have always been on the healthier side, in 2015 they reformulated their products to increase the whole grains by at least 10 percent. Now, there are certain popular diets out there that insist that eating grains is bad for you, but those are refined grains. Don't know the difference? Neither did I. Turns out refined grains are whole grains that have gone through a process to remove the bran and germ giving the grains a finer texture and improving their shelf life. Unfortunately this process also removes the fiber, iron, and many B vitamins, which is why a high intake of these processed grains is usually linked to obesity.
But if you cut out the middle man and eat whole grains regularly there are some really awesome benefits. Eating whole grains actually reduces the risk of diabetes, heart disease and high blood pressure, all of which sound great to me. Add those perks to the probiotics usually found in yogurt, and this parfait could easily become my regular choice for breakfast. The fact that it's so easy to prepare, makes it a slam dunk.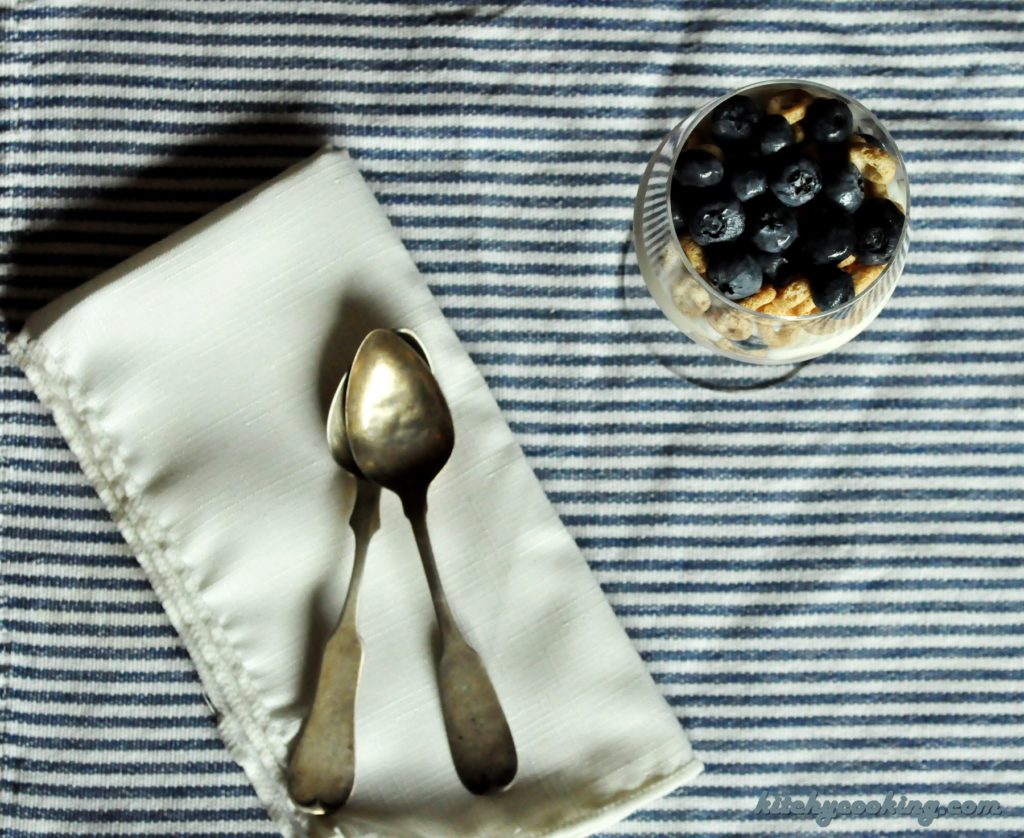 Cheerio Blueberry Parfait
Ingredients
2 cups Cheerios
1 cup fresh blueberries
12 ounces vanilla yogurt
Instructions
Take 2 (10 ounce) glasses and spoon 3 ounces of yogurt into each glass
Sprinkle a half cup of the Cheerios on top of the yogurt
Sprinkle 1/4 cup of blueberries over the Cheerios
Repeat with the remaining yogurt, Cheerios and blueberries so you have a total of 6 layers with the blueberries are on top.
Serve with a spoon and enjoy.
http://www.kitchycooking.com/2017/10/whole-grain-cheerio-parfait/
Disclosure: This is not a sponsored post. General Mills provided me with the cereal for recipe testing. As always, any opinion expressed is my own and is not influenced in any way by the manufacturer/PR firm as I only review products that I have personally tested and endorse.