Baked Plums with Mascarpone Cream
November 30, 2017
by Jennifer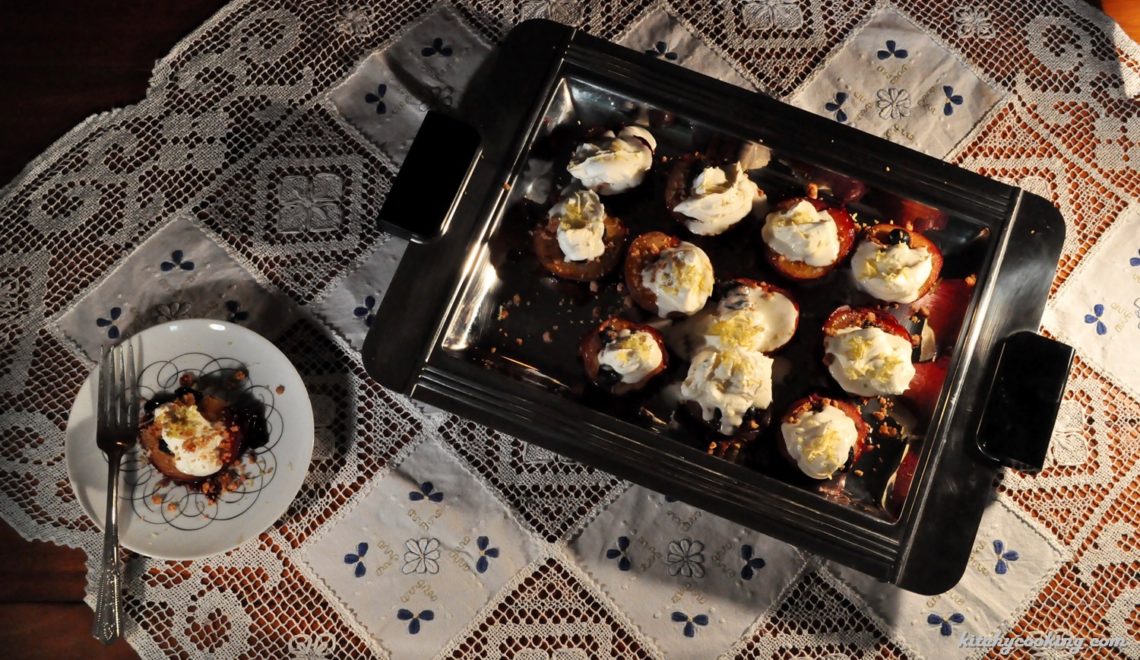 I know December starts tomorrow but believe it or not we can still get plums at the farmer's market here. They're ripe, sweet, super juicy and I absolutely love them. I'll eat them straight out of the fruit bowl, chopped up in a fruit salad or baked into a pie. But I've never had them baked all by themselves straight out of the oven.
I've eaten baked apples and pears before but I'd never heard of baked plums. So when I saw the recipe in Fine Cooking I jumped at the chance to make them. I knew that if I liked the plums cold and raw, they'd be amazing right out of the oven. See, baking the plums causes the natural juices and sugars to come out making the sweet plums even sweeter than they already are. They almost taste like candy!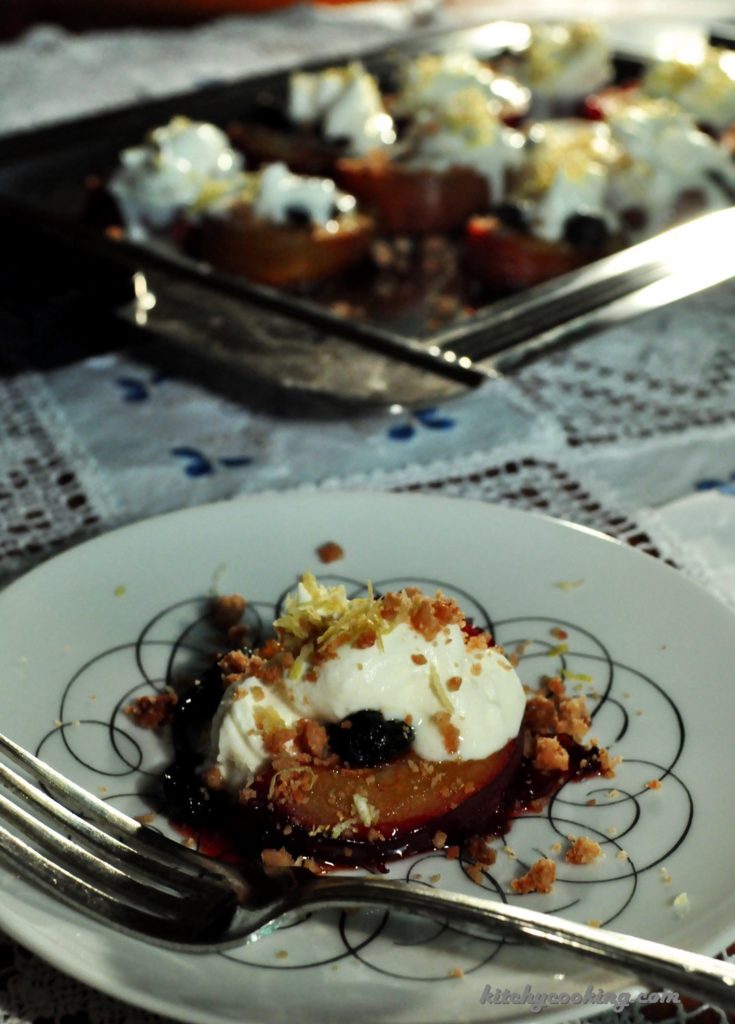 But it's not just the baked plums that make this dessert so special and holiday worthy. It's the dollop of whipped mascarpone and cardamom streusel. Yup, just in case baked plums aren't are decadent enough, Fine Cooking went and added a dollop of cream on top. See, there's no sugar in the cream so it actually cuts the sweetness of the plums making for a wonderful dessert that will have you licking the plate just to make sure you get every last morsel.
So with all this greatness, it sounds like a slam dunk, right? Wrong. There is one small problem: it's very, very messy! Unlike a cookie, this is not a finger food. I didn't realize that the first time I served it so, me and all my guests had whipped cream and plum juice running down their chins and hands. It wasn't ideal. But now that I know these plums must be served with forks and knives, I'll continue making it for parties and events because it's really that good. And if I'm willing to serve it at my next party, there's no reason you shouldn't serve it at your's.
If you're wondering where to get plums this time of year, there are some farmers markets like mine who might have them. But if they're out, Melissa's Produce will have the stone fruit again toward the end of the month… just in time for Christmas and New Year's.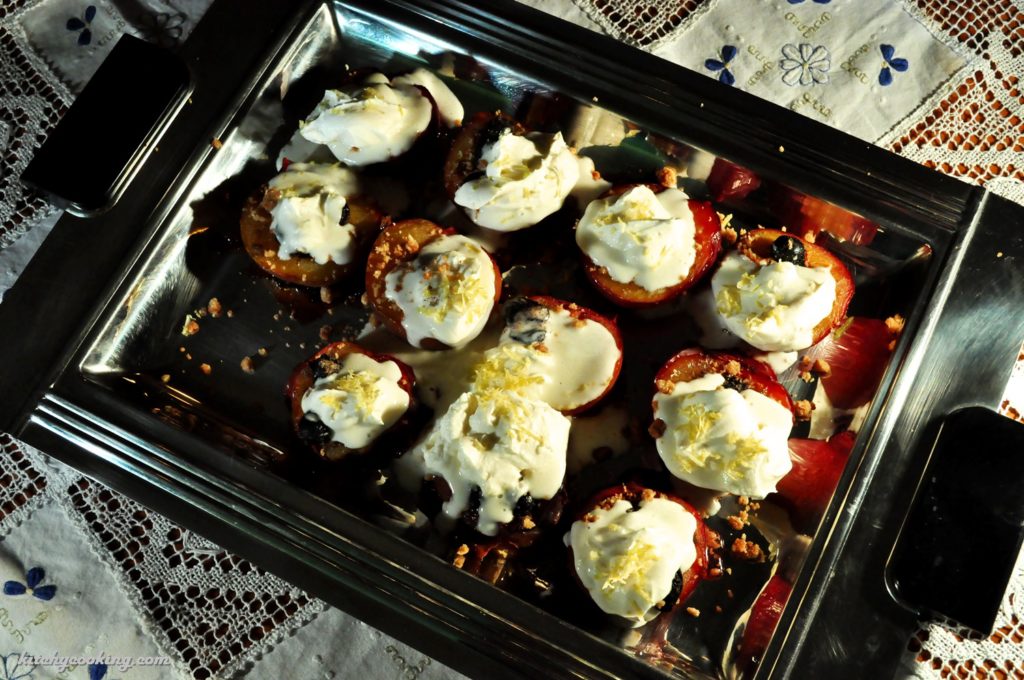 Baked Plums with Mascarpone Cream
Ingredients
1 tablespoon butter
1/4 cup flour
1 tablespoon brown sugar
8 plums, cut in half, pits removed
2 tablespoons raisins
1/2 teaspoon cinnamon
3/4 teaspoon ground cardamom
3 tablespoons honey, divided
8 ounces mascarpone
3/4 cup heavy cream
1-1/2 teaspoons lemon zest
1 teaspoon lemon juice
Instructions
Preheat the oven to 400°F.
In a small bowl, use your fingers to mix the butter, flour and sugar together until it resembles coarse breadcrumbs. Spread on a small rimmed baking sheet and bake, tossing once, until brown, about 5 minutes. Set aside and let cool.
Place the plums, cut side up, on a large rimmed baking sheet lined with foil.
Toss the raisins and cinnamon together in a small bowl. Divide the raisins and cinnamon among the hollows of the plum halves. Sprinkle with cardamom and drizzle with two tablespoons of the honey.
Bake until the plums are soft but still holding their shape, 25 to 40 minutes, depending on the fruit. Let cool about 10 minutes before transferring to plates.
While the plums cool, whisk together the mascarpone, cream, remaining honey, half of the lemon zest and lemon juice in a medium bowl until soft peaks form.
Sprinkle the fruit with the streusel and dollop with some mascarpone. Garnish with the remaining lemon zest and serve.
http://www.kitchycooking.com/2017/11/baked-plums-cream/