Asian Short Ribs in the Slow Cooker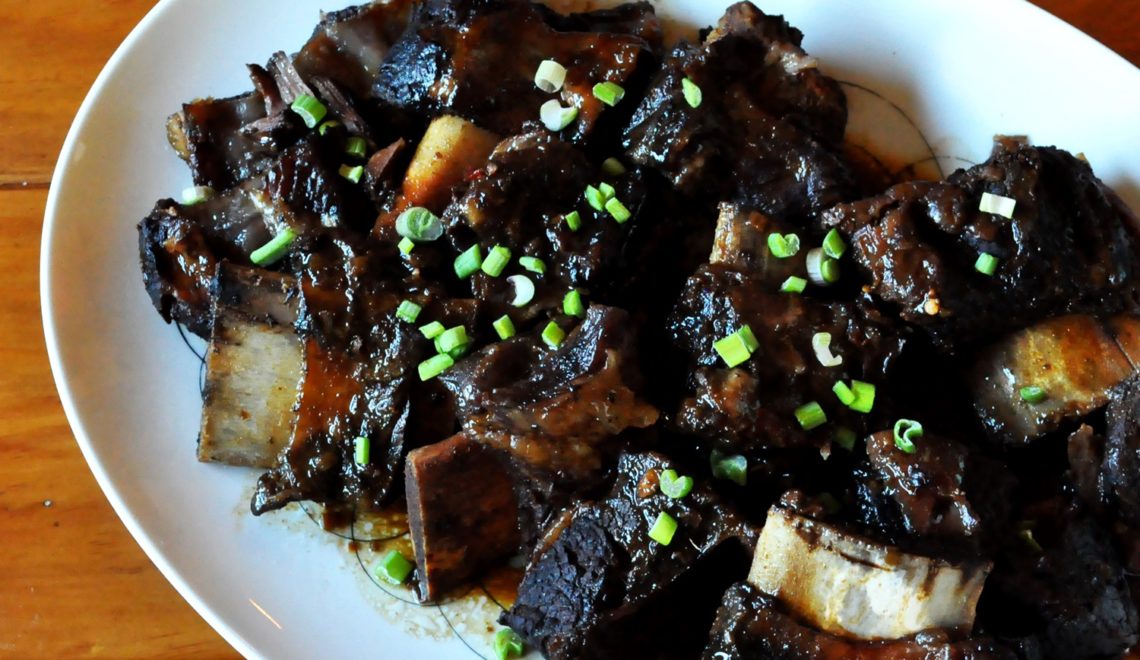 The holidays mean plenty of chocolate, heavy cream and rich foods. Between the family dinners and holiday parties there's just no escaping those decadent desserts, sparkling cocktails and rich entreés. But then we flip the page on another year and suddenly it's all about health. The chocolate goes back up on the shelf, those huge turkeys and roasts disappear from display cases and we focus all our attention on lighter, easier fare. Meals that don't require you to be on your feet from morning till night. Sides that are a simple salad or vegetable and meats that are a boneless breast or small filet. While these short ribs are neither breast nor filet, they are easy to make, full of spectacular flavor, require a minimal amount of effort and I absolutely love them!
Short ribs are rich, hearty and if made correctly, can be one of the more flavorful cuts of meat out there. I know they can be intimidating because they take a long time to cook. But that's the benefit of the slow cooker. Thanks to this nifty little machine you don't need to be home while making a wonderful dinner. You just drop all the ingredients inside, turn it on and go about your day. Then when you get home, not only does your house smell amazing, you have a delicious meal ready to eat.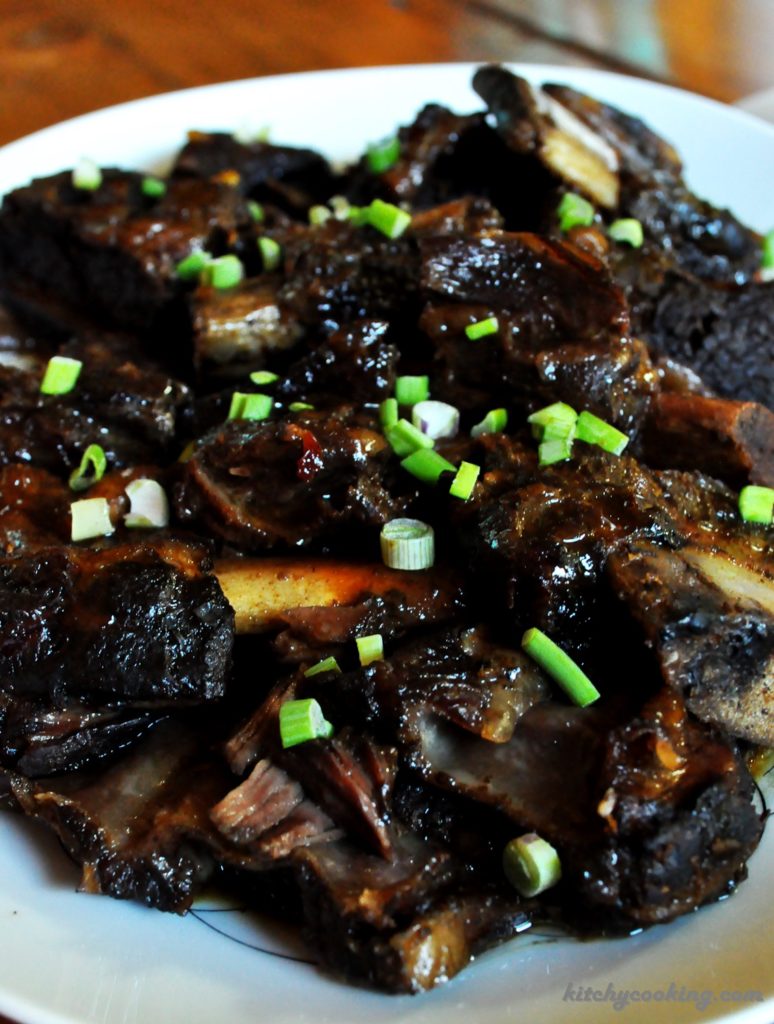 I love my slow cooker because it allows me to be the busy mom that I am while getting dinner on the table by six. But it's also because I can cook wonderful cuts of meat, like a brisket, short ribs or even meatballs without being stuck at home. These are tougher cuts of meat that usually take at least three or four hours to cook. So, you're options are either making sure you have no plans for the afternoon, or using the slow cooker. Who has time to stay home all day making the perfect brisket? Sure, that may have been a possibility 30 or 40 years ago, but today, most of us have jobs or PTA meetings or just your run of the mill errands. The point is, if you have a slow cooker you can still have these delicious meals and not be chained to your kitchen.
What makes these short ribs from America's Test Kitchen so great is the sweet and spicy sauce they soak in. The hoisin bring the sweet but distinctly Asian flavors while the chili-garlic sauce adds even more depth with some nice subtle heat. Of course if you like your meals spicier, you can simply double (or even triple) the chili sauce. Although  boneless short ribs are pretty easy to find these days, using bone-in is the only way to go. You may not be able to eat the bones, but they add a depth of flavor you just don't get from boneless. So, go with bone-in and once they're cooked just give the bones to the dog.
Now, I know short ribs may not seem like the healthiest fare after the holidays, but they're less greasy than turkeys and geese thanks to the fact that there's no crispy skin or serious fat. The fat that is in the meat usually ends up in the sauce and can be easily skimmed off the top just before you sit down. And since they're hearty ribs, they're quite filling, making them the perfect winter dinner option. So, instead of an arduous, fatty meal, that took hours to create, you end up with a tasty dinner that's full of flavor. Serve them over rice, and you have a winner any night of the week.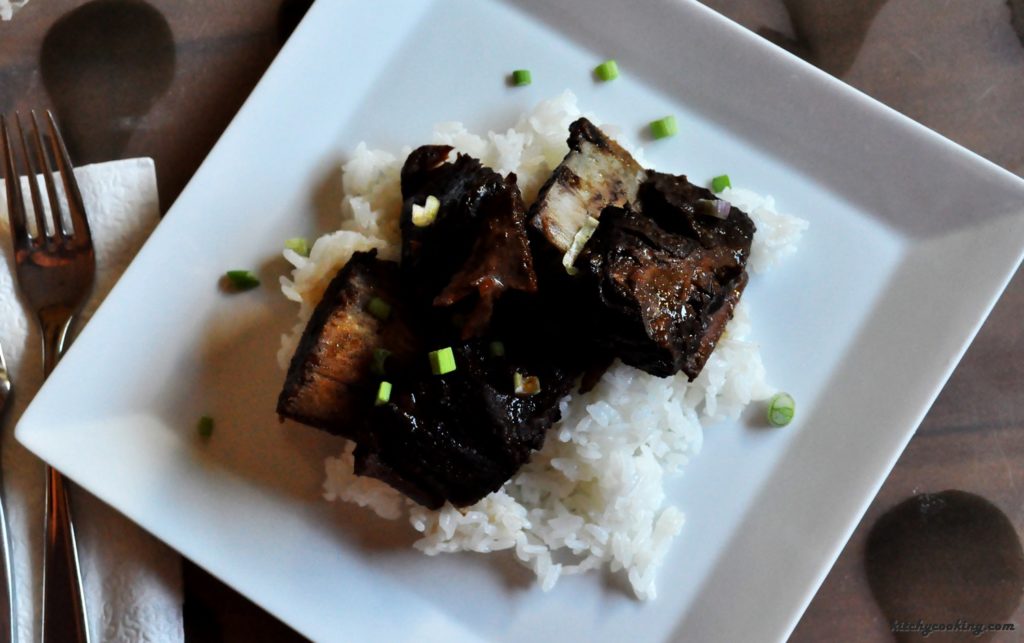 Ingredients
1 cup chicken broth
1 cup hoisin sauce
4 scallions, white and green parts sliced thin, divided
3 garlic cloves, minced
2-3 tablespoons Asian chili-garlic sauce
3 pounds beef short ribs
salt and pepper to taste
Instructions
Lightly spray inside of the slow cooker with vegetable oil.
Combine the broth, hoisin sauce, scallion whites, garlic and chili-garlic sauce together in the prepared slow cooker.
Season the short ribs with salt and pepper and nestle them into the sauce in the slow cooker. Cover and cook until the meat is tender, 8 - 9 hours on low or 5 to 6 hours on high.
Transfer the short ribs to a serving platter, tent with aluminum foil and let rest for 5 minutes. Using a large spoon, skim the excess fat from the surface of the sauce. Pour the sauce over the short ribs and sprinkle with the scallion greens. Serve with rice.
http://www.kitchycooking.com/2018/01/asian-short-ribs/