Chicken with Avocado Pomegranate Salsa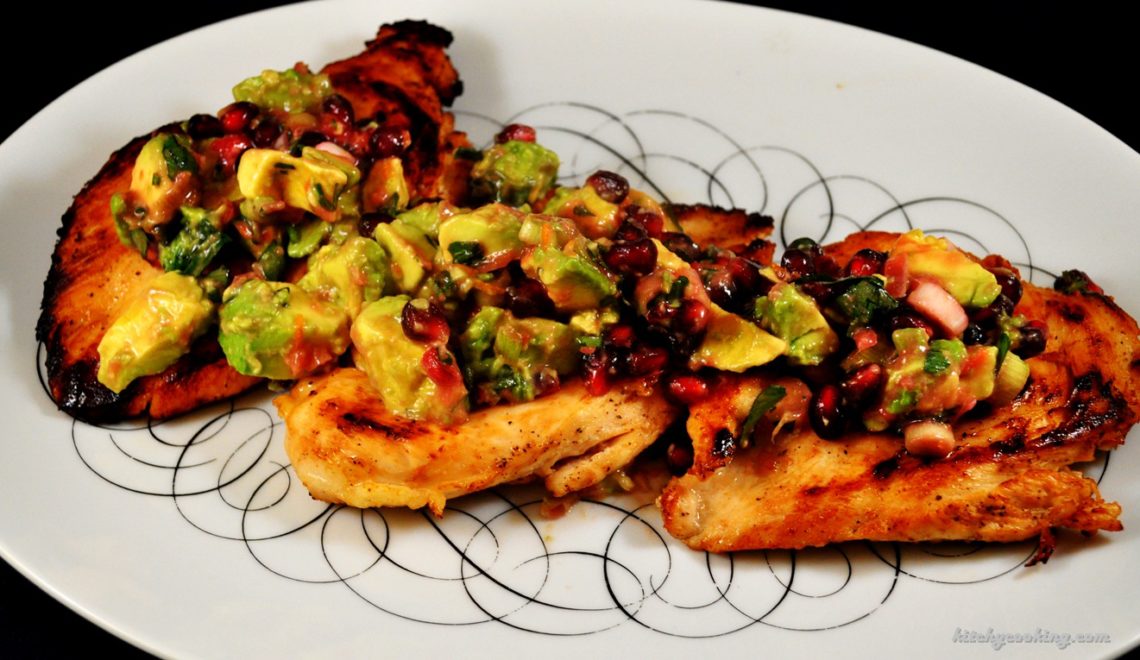 Monday through Friday, I'm pretty busy. I have to get the kids to school, attend various food events, get my kids to their after-school activities and get dinner on the table by six. So, when I'm that busy I look for a dinner that's not only a cinch to throw together but is delicious, too. These chicken breasts fit the bill and better yet, they come from my favorite cooking magazine: Fine Cooking.
If you follow my posts regularly, you know I get a lot of ideas from Fine Cooking, and they're almost always a hit. It doesn't matter if it's a side, a dessert or an entreé like this one. I chose this recipe because not only does my entire family love chicken, we adore avocados and pomegranates, too. Pomegranates are at the top of our list for their sweet, tart flavor and because it's one of the few fruits available this time of year.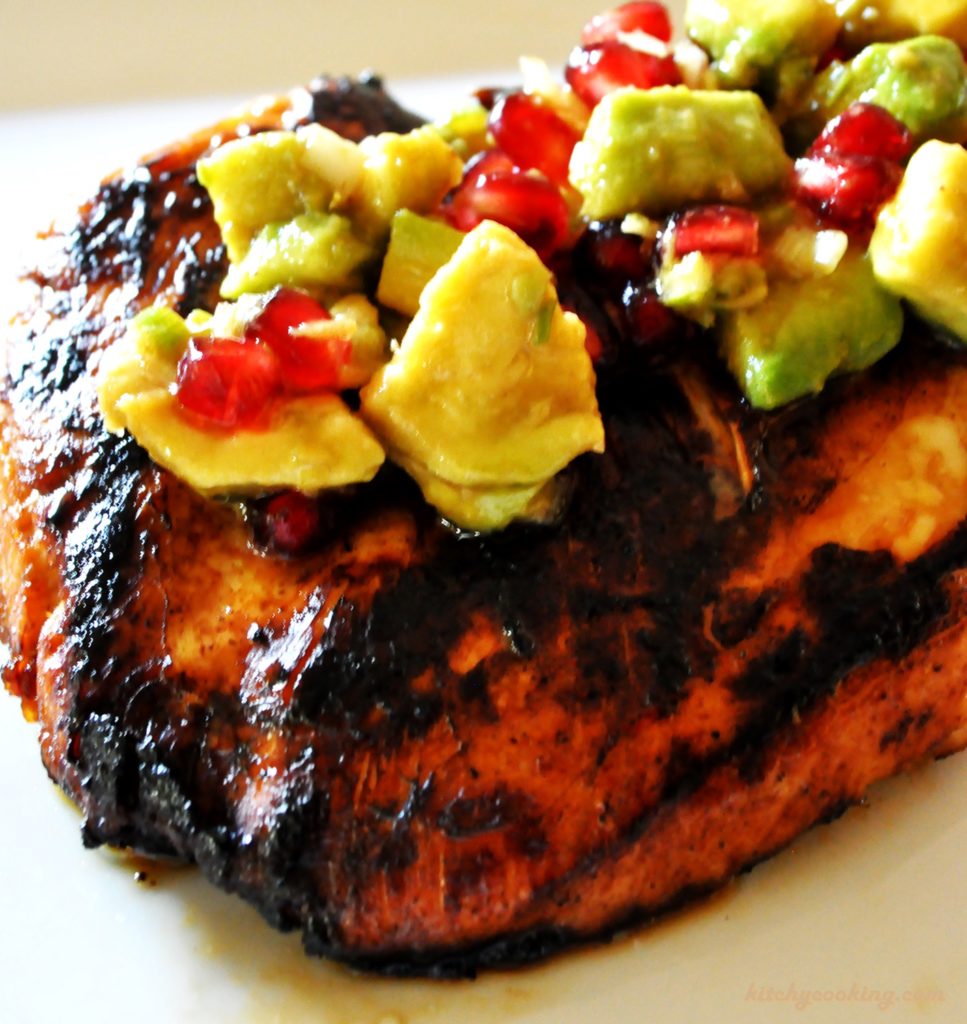 Winter Fruits
It's an unfortunate fact, but winter's a tough time to find good fruit. There just aren't a lot of choices, unless you love oranges and lemons. And while I do love oranges and lemons, sometimes those just aren't the best options. Sometimes you want something else, something that gives that great pop of sweet flavor, but goes well with a savory dinner dish. Pomegranates fill all those desires. But unlike oranges and lemons, the pomegranate arils not only add a great pop of sweetness, they also add a beautiful pop of color on an otherwise plain dish. Those bright red, jewel-like arils are so inviting in fact, a lot of times they aren't added for flavor as much as they're added to entice.
Pomegranates are available in grocery stores and farmer's markets alike from October until February. But finding them isn't the only thing you need to worry about, you also need to pick the right one. When I pick a pomegranate, I always go for the ones that are darker red or reddish-brown and feel heavy for their size. Those are the orbs that hold the sweetest, beautiful ruby-like treasures inside. Now, I know they're hard to break apart without creating a mess, which is why you can buy the arils on their own in plenty of stores. But the problem with buying the arils on their own is that a lot of times, half the batch is bad. The best way to go is to purchase a whole, ripe pomegranate and dig out those arils yourself. And if you don't end up using the whole pomegranate, just wrap it up in a plastic bag and toss it in the fridge for a snack or garnish the following day.

It's those ruby jewels of flavor that make this dinner dish family friendly, as well as healthy. You'd never know that a savory piece of chicken seared in a skillet with a simple salsa of avocados, lemon juice, parsley, jalapeño and that wonderful pomegranate would get so many smiles and make you stick to your new year's resolutions, would you? Neither did I. But now that I do and my boys clean their plates… this meal is a definite go to from New Year's to Valentine's day.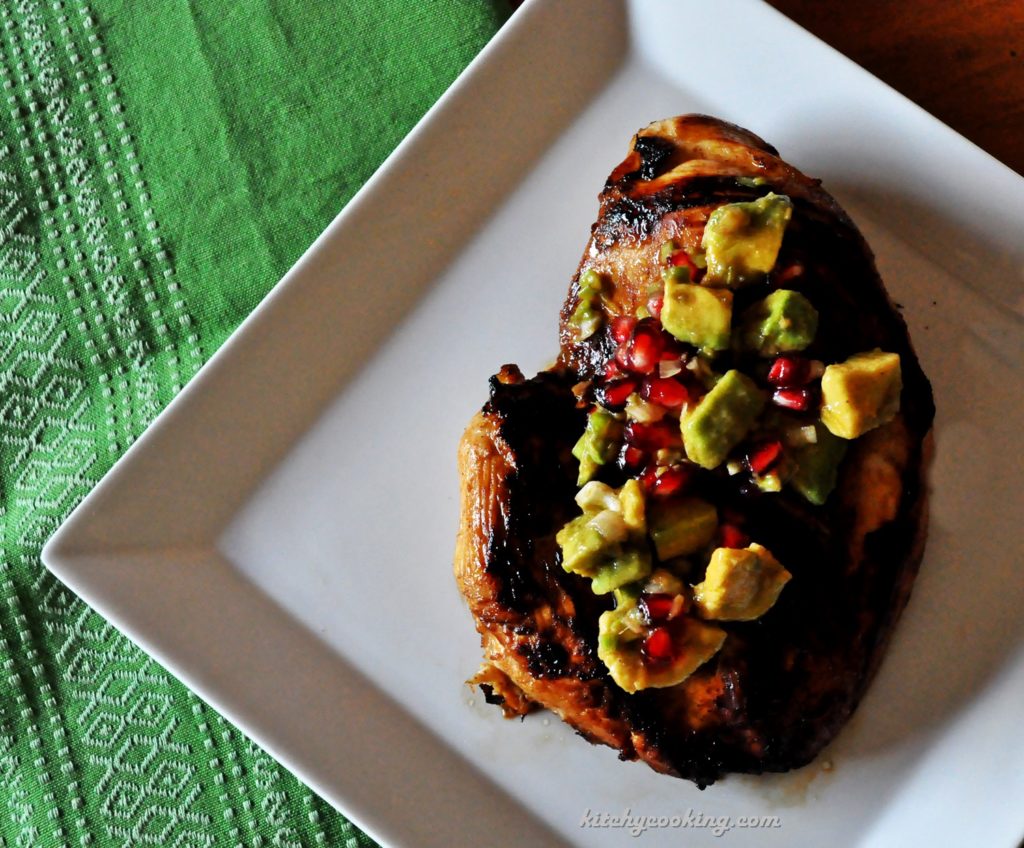 Chicken with Avocado Pomegranate Salsa
Ingredients
1/4 cup + 2 tablespoons lemon juice, divided
3 tablespoons olive oil, divided
1 tablespoon pomegranate molasses
4 boneless, skinless chicken breasts
zest of 1 lemon
1/2 pomegranate
3 scallions, white and light green parts only, chopped
2 medium avocados, pitted, peeled and diced
1 teaspoon finely diced seeded jalapeno
salt and pepper to taste
Instructions
In a shallow bowl, whisk together 1/4 cup of lemon juice, 2 tablespoons of olive oil, the pomegranate molasses, 3/4 teaspoon salt, and 1/4 teaspoon pepper and set aside.
Pound each chicken breast between a couple pieces of plastic wrap until about 1/4 inch thick. Add the chicken to the lemon juice mixture, turn to coat, cover, and refrigerate for at least 20 minutes and up to 1 hour.
While the chicken marinates, place the lemon zest and remaining lemon juice in a large bowl.
Pick the arils out of the pomegranate, discarding any pith, and add them to the bowl.
Add the scallions, avocado, remaining olive oil, parsley and jalapeño. Gently toss together with a rubber spatula. Season to taste with salt and set aside.
Heat 1 tablespoon of olive oil in a large skillet over medium heat. Add 2 of the chicken breasts and cook until golden, about 3 minutes. Flip and cook until golden on the other side and cooked through, about 3 more minutes. Transfer the chicken to a plate and cover to keep warm. Repeat with the remaining chicken breasts.
Serve the chicken with the salsa spooned over the top.
http://www.kitchycooking.com/2018/01/chicken-with-avocado-pomegranate-salsa/