Fair & Warmer Cocktail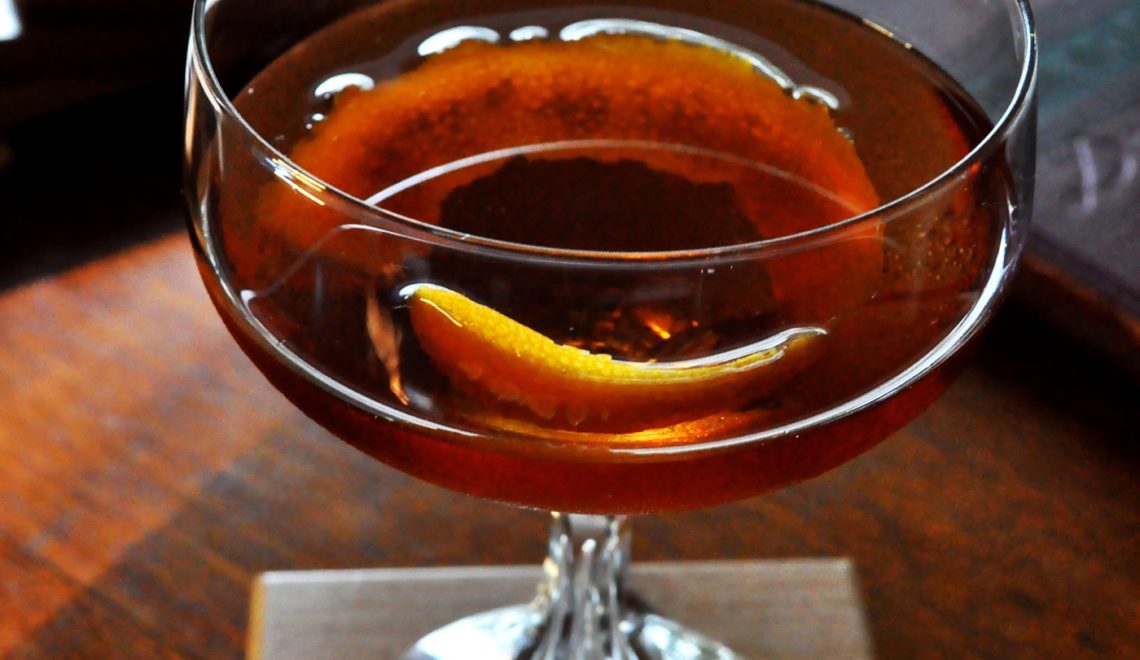 I'm a huge fan of Instagram. I love looking at all the pictures and discovering a story, a beautiful vintage piece of clothing or some tasty recipes for both food and cocktail. But sometimes it's not just about the pictures. Sometimes, the pictures become a challenge.
A gauntlet is thrown and then it's up to us to come up with a recipe that fits those guidelines. I already participated in one, when Mike, aka @mmydrinks, proposed we do a twist on the classic cocktail, the Last Word. This time around Dani DeLuna and Nic Titze have brought back their Tiki the Snow Away event. Every January for the past few years, Dani and Nic have made tiki drinks in January to… you guessed it, get rid of the snow.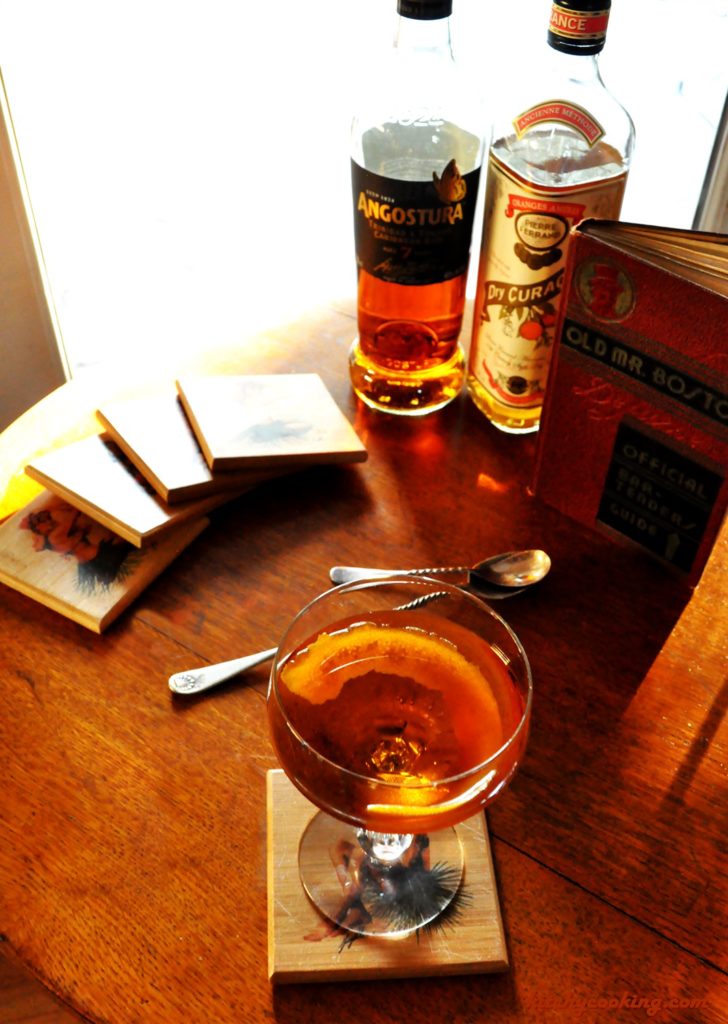 The story goes that ages ago a group of Polynesians lost their way and ended up shipwrecked in Scandinavia where it was so cold, they were in danger of dying. Luckily a group of villagers provided them with food and shelter. As a thank you, the Polynesians used their rations of exotic fruits, sugars and rums to create tasty libations for their hosts. Soon a party erupted. Everyone realized the temperatures were rising and the snow was actually melting. And Tiki the Snow Away was born. This tradition has supposedly been passed down for generations and is now happening in cyberspace.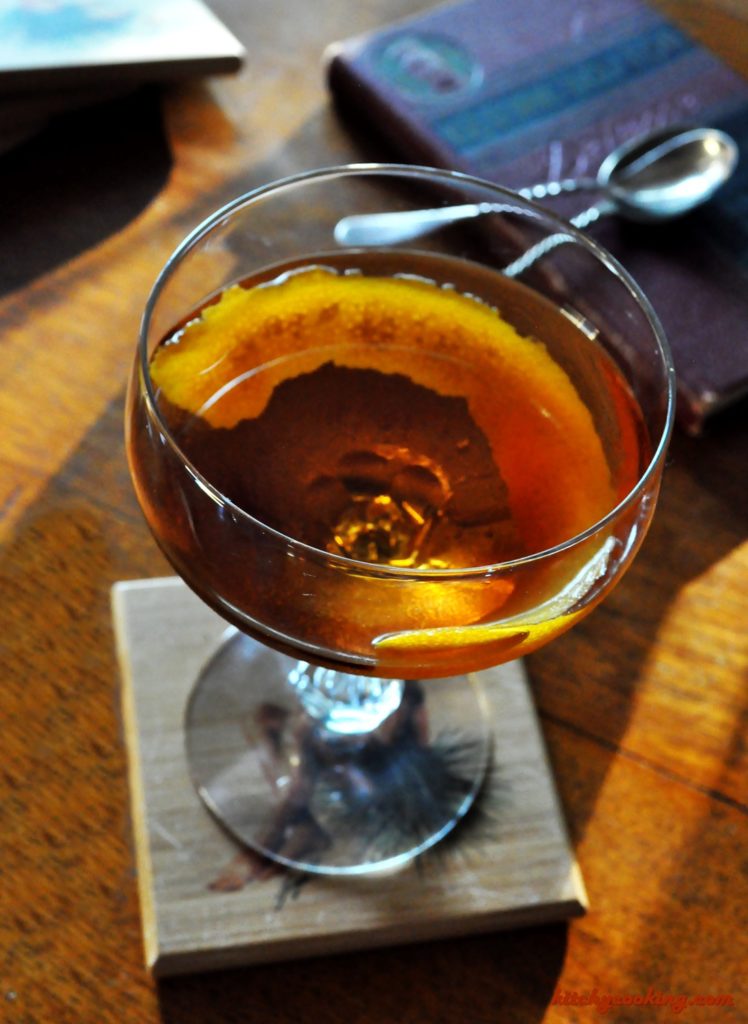 I've seen some beautiful photos and tasty cocktails in the past 11 days and since I love tiki drinks, I wanted to get in on the party. (The fact that I'm heading to the snow today, actually makes the timing perfect.) Now, while I could have gone with a classic recipe from the Smuggler's Cove cocktail book, I actually went a different way. I went with a rum cocktail that I found in my recent score: an original 1935 Mr. Boston. But what really sold me on the cocktail was the name. I mean, if the whole point of Tiki the Snow Away is to get rid of the snow, I can't think of anything better than a drink called a Fair & Warmer. And believe me, with nothing but liquor in this drink, this cocktail will definitely warm you up.
The original recipe called for one part sweet vermouth, 2 parts rum and 2 dashes of Curaçao, stirred up and strained into a cocktail glass.  It didn't specify any kind of rum, so I went with my Angostura 7 year, turned the two dashes into a 1/2 teaspoon and added a twist of orange. What I got was a sweet cocktail with hints of orange and spice thanks to the Curaçao and Angostura. It's delicious and definitely worthy of Tiki the Snow Away. The fact that it's only three ingredients, means you can whip this baby up in no time and have a nice tiki-type drink to get you through the next three or four weeks.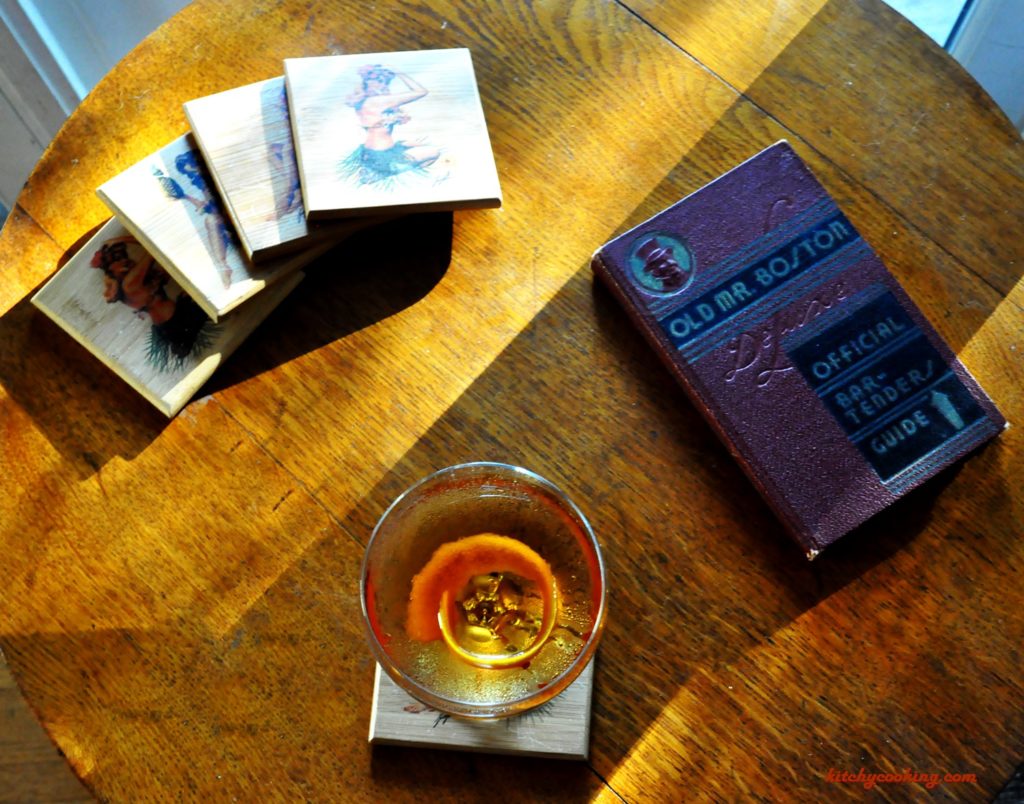 Ingredients
2 ounces Angostura 7 year rum
1 ounce sweet vermouth
1/2 teaspoon dry Curacao
Instructions
Pour all ingredients into a glass. Add ice and stir until chilled.
Strain into a cocktail glass, garnish with a twist of orange and serve.
http://www.kitchycooking.com/2018/01/fair-warmer-cocktail/